Suddenly mid-winter, I felt completely depleted. As an eating disorder therapist, I'm in the business of helping clients nourish themselves, though, in the dark of winter, I needed to be nourished myself. But where to find deep, soul-satisfying nourishment? I considered a Caribbean island, a cruise ship, even getting on a plane to go someplace warm, but they all seemed too far away with too many TSA indignities. I decided to get in my car and drive two hours to some spas.
As paradoxical as it sounds, I headed to The Berkshires, better known for its summer cultural offerings than winter spa services. Sure, it'd be cold and snowy, but winter, spring, summer and fall, western Massachusetts can be an oasis of nourishment.
No kidding. Today's spas are far from yesterday's fat farms. Tiny portions of tasteless rabbit food is still available, but, so, too, is hearty, farm-to-table fare.
So I got on the phone and booked four nights at three spas in and around Lenox: Canyon Ranch, Kripalu, and a historic boutique hotel: Blantyre. I would have booked four, but the spa menu at Cranwell is limited to lunch until Miraval transforms this golf resort into a premiere wellness resort.
Long story short, I didn't find everything I was looking for at any one spa, but I did find something at each. Along the way, I came to a better understanding of nourishment. For all my delicious findings, read on.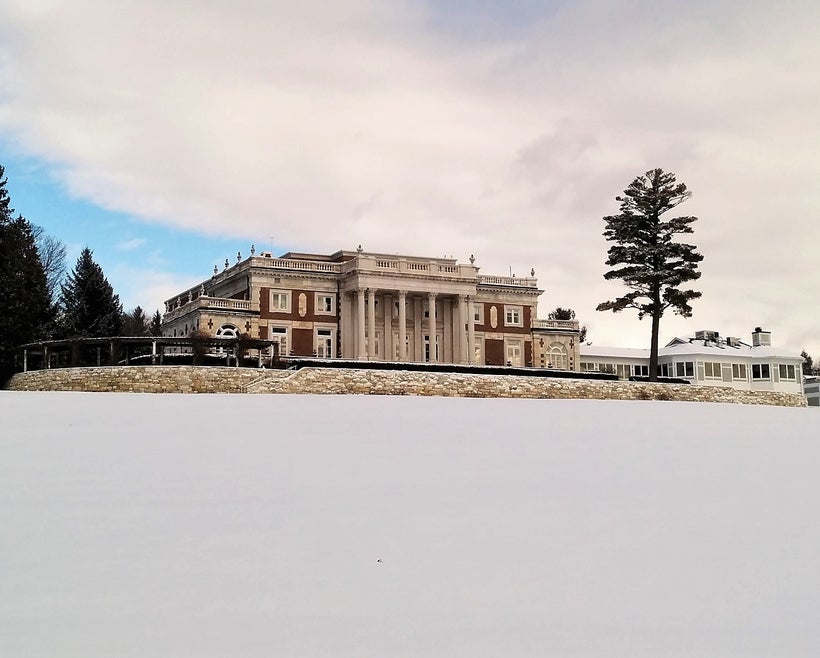 Canyon Ranch sounds like a foodie's fantasy -- three gourmet meals a day, nutrition lectures, cooking demos, plus yummy spa services – but I arrived at the exclusive weight-loss resort with no illusions. Last I visited two decades ago, I found the family-style meals with die-hard dieters to be so unappetizing, I left early.
So imagine my happy surprise when I sat down to dinner with like-minded guests who could talk about other things than dieting. The real surprise was the five-star, restaurant-quality cuisine. Each nutritionally balanced entrée was artistically presented and delicately-spiced, if not regionally inspired and locally sourced. My pasture-raised lamb with mashed butternut squash was a work of edible art. I could have done without the strict calorie limits (400 calories for entrees, 180 for desserts) and the guilty asides ("It's so much food, but it's healthy, right?). But after attending a hilarious comedy show with my new friends, I went to bed happy, albeit a little hungry.
The next morning, the food and fun continued: a hearty scrambled-egg breakfast, a brisk snow-shoe on the majestic grounds, a scrumptious lunch in the demonstration kitchen, a relaxing swim in the lap pool, a casual dinner in the café, followed by a deep-tissue massage in the spa.
While I enjoyed some exceptional dishes (the grilled pear salad!), I found the communal spirit and the recreational activities far more nourishing than the photogenic food. In fact, after 48 hours on the Canyon Ranch diet, all I really wanted was the fat, salt and sugar the creative chefs had deprived us of.
Kripalu Center for Yoga & Health
So I hopped five minutes down the road to Kripalu. While this popular yoga-based retreat center isn't exactly a "spa," the Stockbridge property made my itinerary because it serves up a holistic mix of spa services and healthy cuisine, not to mention yoga classes and the same magnificent mountain view. Compared to the Gilded-Age mansions at the heart of the neighboring spas, a stay at this old Jesuit monastery is relatively Spartan and affordable.
On previous visits, I'd appreciated the whole food, plant-based, Ayurvedically-inspired menu that accommodates every dietary restriction, but didn't love the buffet-style dining. Buffet cooking ain't pretty, nor are the cafeteria tables on which it's served.
After an exhilarating yoga class, I made my way to the main dining hall, where I found companionable conversation and a nutritious dinner of white fish with caper yogurt sauce. Come breakfast, when the Thai French toast moved me to tears, I knew I'd tasted deep nourishment. But why? No doubt, breakfasting in silence, a Kripalu policy, helped me eat more mindfully. But I routinely eat mindfully, so why else? Did the Kripalu diet simply satisfy my cravings for salt, sugar and fat? Did cooking in larger quantities deepen the flavor? Perhaps the posted cooking philosophy made all the difference: "Our foods help to create great joy and love for all." Maybe all of the above?
Hard to say, but I had high hopes that I'd understand this thing called nourishment by trip's end.
In fact, I expected the most from the least-known to me destination: Blantyre. Understandably, between the regality of the Tudor-style mansion, the splendor of the 117 snow-covered acres, the romance of fireside dining, plus a full menu of spa services, this historic Lenox property is the stuff that dreams and PBS dramas are made of. Which is why I invited my husband to join me.
If I could do it all over again, I'd uninvite my husband, chat up the other guests and invite Head Chef Joseph Schafer to serve me spa cuisine. After all, Schafer's motto is: "If you can think of it, we can do it." But the prix fixe dinner sounded too good to miss: canapes in the Great Room, dinner in the dining room, dessert in the music room.
Sadly, Schafer's New American cuisine was lost on my unsophisticated palate. If I were into Paleo, I might have reveled in the tiny portions of pan-seared squab and other exotic meats, but after Kripalu, not so much. The lemon poppy seed pound cake with lemon curd and mascarpone ice cream was to-die-for and my husband's company was sweet, but the exquisite service all but eliminated the communal dining experience I'd so enjoyed.
Which isn't to say I left Blantyre unnourished. Breakfast in the plant-filled, glass-enclosed conservatory was a sensual feast: the frozen winter views of the Berkshires, the heavenly serenade of a Mozart string quartet, the fragrant basket of fresh-baked croissant, the warm comfort of tea and milk.
If anything, my Blantyre stay helped me realize that nourishment is not just one thing. It's usually nutritional and flavorful, if not regional and seasonal. Far more important than classical preparation and beautiful presentation to me are meals that are mindful, communal, affordable and, ideally, reproducible.
If you'd like to reproduce Berkshire spa cuisine at home, click here for Canyon Ranch recipes, and here for Kripalu recipes.
Calling all HuffPost superfans!
Sign up for membership to become a founding member and help shape HuffPost's next chapter
This post was published on the now-closed HuffPost Contributor platform. Contributors control their own work and posted freely to our site. If you need to flag this entry as abusive,
send us an email
.