As Mercedes-Benz Spring Fashion week approaches, I'm expecting glitz and glamour -- the industry's almost fevered attempt to divert our attention from the reality of living in this retracted economy. Denim is going to be strung, twisted and reinvented. From the preview sketches sent by a few designers, color will once again explode from the catwalk.
We're greeted with an almost stillborn economy and a new global initiative to excite the shell-shocked consumer. Fashion's Night Out is a license to party like it's 2006. The industry is trying to get shoppers to forget interest rates are in a nearly un-manageable stratosphere. Those Alexander McQueen shoes and that Prada tote might just come out to cost more then two times what you paid for and payment might outlive the garment.
On the streets there's a sprinkling of new fall outfits fluttering about. Depression chic has turned into more then a Vogue forecast. The city hasn't been awash with the spring and summer trends, instead it's full of torn jeans, modified into shorts by consumers who can't afford to shop, but have needle and thread.
This is the paisley clad pink elephant in Fashions' parlor. Decked out in Louis Vuitton and branding. Marketing analysts have added a new category to their watch list of people to incite, the non-consumer. Who'd much rather repair and refurbish then spend.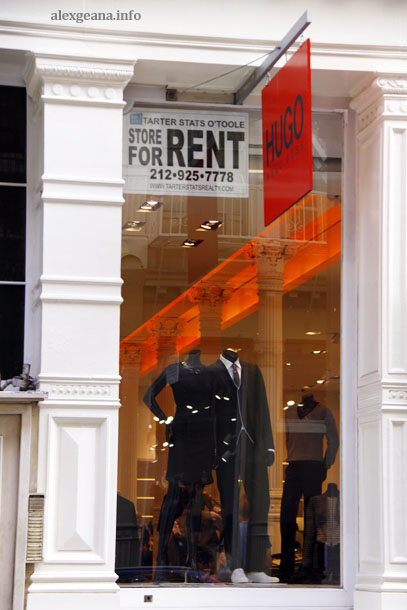 I've taken to walking the avenues of SoHo snapping shots of the fashionable. The empty stores remind me of a retail nuclear winter. Lehman Brother's our economic Chernobyl. Few of the tourists are laden with designer bags. Each block seems to have FOR RENT signs. Getting larger. They were once discrete. Now they rival the marquees of stores.
Once the stalwart of the midwestern mall and heartland market, Abercrombie and Fitch has lowered prices, Limited Brands has had shake-ups. These brands have been stung by a consumer who just doesn't have cash, since they're trying to figure out how to eat, pay rent and pay off their shopping bills from season's past. Fashion itself at times has lost its own industry identity and become detached from their customer and what they want.
The designers who spur innovation like Thakoon, Yeohlee and Proenza Schouler (the pair) have been hard hit by their supporting cliental. The customer who thinks it's trendy not to shop. Being empathic to their neighbor who's been taken by Madoff and his ilk. They've clapped their wallets shut and turned to their massive wardrobes for their personal shopping needs. Recycling and Vintage is in. Chanel will never go out of style and there are many suits for little old ladies digging into their own amazing store.
To defray costs and add another layer of exclusivity, Milk Studios and M.A.C. Have donated spaces to some of the most up-and-coming labels, in direct competition with the Tents. Yet they're out of the general spotlight created by fashion's centralized Bryant Park press frenzy.
The consumer has changed. All in one year. Or maybe even in seven months. Many publications have lost out on. Or, haven't adapted quickly enough, to the lightening pace of fashion blogging. Shoppers read breaking news online and often don't wait for the glossy magazines once the bibles of the industry to adopt a trend. Retailers also digest the online reports and can produce a garment so much quicker and cheaper then the innovative designer who created the look.
As Spring Fashion rolls out over a six to almost eight-month lead, the customer is tired of seeing the same idea and garment saturated in media.
After the Marc Jacobs show last season the bars were full of gay men sporting spiked hair and wearing glitter and bright colors. This fad quickly dissolved. At Max Azria's Herve Leger a model fell, highlighting bondage-like shoes. Women oddly adopted the style; in every cocktail party the black strapped and tightly woven high heels were selected form their arsenal of existing fashion. I asked one woman why she'd selected the look, she smirked, "it's in." This short-lived trend also faded. I'm not sure I'll be seeing Galliano & Dior, with their commitment to uncomfortable on women's feet this fall.
As everything changes, from the media who reports on the events and the shopper who needs to think twice about indulging in luxury, Fashion Week opens and I head for another season of coverage. Hopefully there's swag this time around.
Support HuffPost
A No-B.S. Guide To Life
Related
Popular in the Community