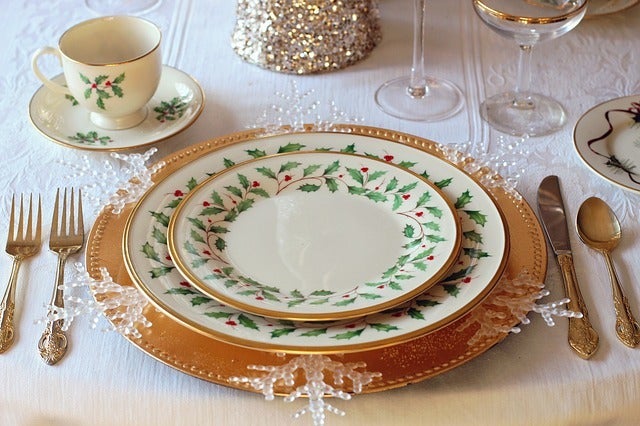 With the holidays ahead of us, I have had food on my mind a lot. The lasagna party my mom and stepfather put together for 30 of our closest friends, my new found passion for making Blue Apron meals for my family after long days in the office, seeing my friend Jenn offer a homeless man a decent meal at Starbucks the other day when he asked for cash. Memorable moments are often accompanied by strong coffee and memorable food. I write a lot about women in STEM, entrepreneurship, mentoring to drive employee retention and engagement and more. For our holiday edition, I am excited to introduce our readers to Judy O'Connor, CEO of Like Neighbors as Twomentor's featured Start-Up of the month. We love her business model on how we can all be a bit more neighborly this winter.
Julie @ Twomentor: Judy, tell us your story. How did you decide to take the entrepreneurial plunge?
Judy O'Connor (JO): In 2014, I wanted to provide dinner to an out-of-state friend with a critically ill toddler. This little boy spent an entire year in the hospital fighting for his life after a cancer diagnosis, while his parents quit their jobs and re-homed their pets in order to devote their lives to his care. The seemingly simple act of arranging a dinner delivery required a surprising amount of coordination with their local friends, the restaurant, and the child's father. I needed to know what the family liked to eat, where it should be delivered and when, which restaurants delivered in their area, how many people would be eating, and even the security code for the delivery person to enter their apartment complex. Once the logistics were ironed out and the meal was on its way, all I could think was, "It shouldn't be so hard to give or receive a meal at a time like this!"
The thought nagged at me for two more years while I ran the marketing department of a large public company in DC. I loved my team but wasn't very excited about our product, which had little impact on people's lives. Meanwhile, I kept meeting people whose lives could have been changed if I committed to making my dream a reality. I began to visualize it… an online platform that would communicate needs for meals, rides to appointments, babysitters and more. Family and friends nationwide would know in real time how they could help their loved ones, and they could order the services right then and there online.
In August of 2016, I decided to leave my job that December. Those months between Decision Day and Departure Day allowed me to prepare mentally and financially for the giant leap I was about to take.
Julie: It's the holiday season and most of us think about all the diet-breaking food and magical moments with loved ones with well, food. What have you learned about food and need since starting Like Neighbors
Judy: I've learned that while food can add to the joy of any celebration, its cost and preparation can also pose a significant challenge to someone recovering from surgery, receiving chemo treatments, or reeling from the loss of a loved one. In addition, the kind act of providing food can be complicated by distance, dietary restrictions, or lack of an easy, comfortable way for those who need help to communicate with those who can provide it.
Before launching Like Neighbors, I surveyed more than a hundred people who had received support from family and friends. When asked what type of help they appreciated most, meals received the top spot! Services like transportation and babysitting came in second, followed by messages of support and prayers, and then money. Clearly, it's that three-time-a-day, seven-day-a-week need to eat that becomes a struggle… but also provides a wonderful opportunity for others to offer meaningful, tangible support.
Julie: I love that your company has a social impact, it's something I would definitely use myself. Can you share a few stories on how people are using your site and how it works?
Judy: People are using Like Neighbors to help friends and family enduring all kinds of challenging situations. One sweet lady recently called us with some questions… Her son and daughter-in-law in another state had just had a baby and she wanted to send them dinner every night the following week. Others are using it to give and receive help while dealing with illnesses and injuries, or to help out elderly parents. We've also seen campaigns that support families dealing with job loss and military deployment.
Our site is easy to use, whether you're on the giving or receiving side. First, someone in need (or a friend on their behalf) creates a personal campaign page on LikeNeighbors.com, where they share their story and photos, and schedule requests for meals on a support calendar. Then they share the link with friends and family.
Next, their supporters nationwide view their campaign, and easily and securely place orders through our meal delivery partner, Galley. The meals come fully prepared but chilled, so they can either be heated up upon delivery or saved in the fridge. They're chef-prepared daily and are absolutely delicious, but still affordable: $45 family meals for four, $6 kids meals and breakfast boxes, or $13-16 single adult entrees. There are also nice add-ons like desserts and wine.
We just launched in September, with a delivery area covering DC, Maryland and Virginia. Our goal is to quickly expand geographically and add a variety of services so anyone, anywhere can give or receive support when it matters most – from meals, to babysitters and pet sitters, to transportation, housecleaning and more.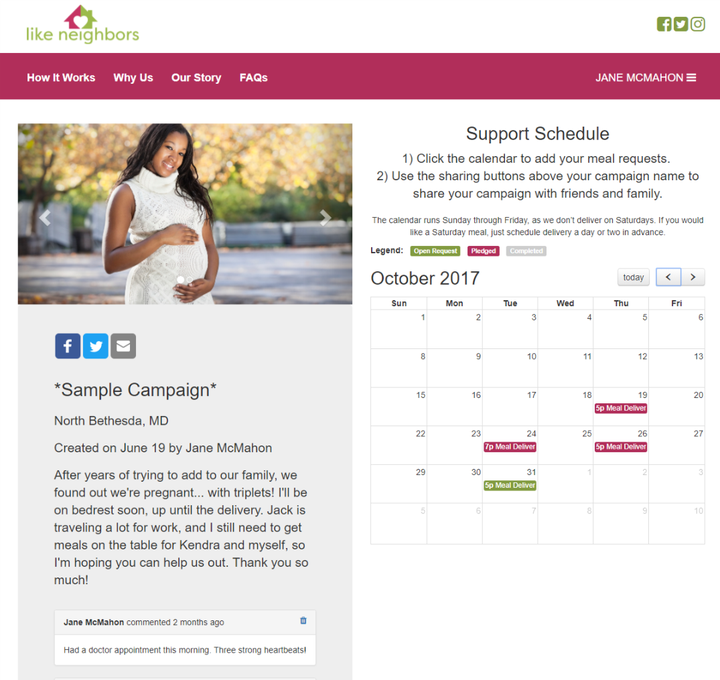 Julie: If you were standing right now in front of 100 female college students, what would be your message to them about entrepreneurship?
Judy: One of my favorite inspirational quotes is this: A goal without a deadline is just a dream. If you're serious about owning your own business, figure out a timeline that makes sense you for you personally and financially. Commit to a specific date… whether it's next year or ten years down the road. (I even installed a countdown app on my phone!) Then, write down what needs to happen between now and then. Who should you meet, what do you need to learn, and how much money do you need to save? During this period, seek advice and mentorship from both men and women. Read everything you can about your industry, start-up strategy, and how other female entrepreneurs are finding their voice and paths to great success. As a female entrepreneur, there were two books that I found incredibly inspiring: Million Dollar Women by Julia Pimsleur and You Are a Badass by Jen Sincero. After reading each, I wanted to stand up and yell, "I can DO THIS!"
Julie: Did you pursue investor funds or self-finance Like Neighbors? What led to your decision?
Judy: I self-funded year one, which included the development of the Like Neighbors platform. Rumor has it no one else is going to want to invest in you if you're not willing to invest in yourself, and that makes sense. It also allowed me to maintain control over the process, timeline and product, which was very important to me.
Julie: How has your day to day life changed from working at a corporation to solopreneur?
Judy: Owning a start-up isn't exactly stress-free, but I'm so much happier, healthier, and able to enjoy more time with my family. I definitely don't miss my hour-long commute, or the looks on my kids' faces when I would announce I had another work trip coming up. I'm also able to do things I couldn't do before, like take my son to weekday soccer practices and volunteer for a local animal rescue on Monday mornings. When I do work evenings or weekends, it's for my own company… and it doesn't even feel like work!
Julie: On those dark days- what helps you persevere?
Judy: I know I'm creating something meaningful that will help millions of people. Whenever I tell someone about Like Neighbors, their eyes light up and they start telling me a personal story that starts with, "I wish this was around when…" That always validates my belief that Like Neighbors is solving a problem that countless people face.
I also have incredible family support and friends who have encouraged me every step of the way. I know I have to see this through for myself, and for everyone who has believed in me, spread the word about Like Neighbors, connected me to key people, and even pitched in to help me for free… just because they loved the idea.
Julie: Do you have a mentor (s)
Judy: Contacting a mentor through SCORE was one of the first things I did. I knew I would need advice on start-up strategy, finance, and raising capital, so I found a mentor, Hal Shelton, who could provide all of that and more. He's given me so much excellent guidance, helped me with my financials (because math gives me hives), and made valuable introductions. He literally wrote the book on writing business plans, so that was a huge help as well! We meet every few weeks over coffee, and I walk away from each session with new ideas that I can't wait to explore.
Julie: Tell us your elevator pitch-- why should we all sign up today… and I mean… today.
Judy: Have you stared at your keyboard recently, feeling that no message can convey the heartbreak you're feeling for someone you care about? You wish you lived closer, could do more… but you don't really know what's needed. Or perhaps it's your own family that's dealing with something difficult this holiday season. Friends keep asking how they can help, but you're too overwhelmed to figure out the answer. LikeNeighbors.com can make the season brighter for everyone by eliminating the miles that separate those in need from family and friends who want to help. We're transforming a nation into a neighborhood!
Judy O'Connor, Founder & CEO, Like Neighbors
After more than two decades of developing and implementing marketing strategies for companies of all sizes across varied industries, Judy decided to apply her passion and experience to a business of her own. Realizing the logistical difficulties of giving and receiving support – such as meals or transportation – long distance, she founded Like Neighbors to eliminate the miles that separate loved ones during life's most challenging times. LikeNeighbors.com allows people to schedule and communicate requests for needed services, which are then purchased online by family and friends through Like Neighbors' partner service providers. Judy is a Phi Beta Kappa graduate of the University of California, Riverside, with a B.A. degree in business administration. She resides in Maryland with her husband and two sons.
Related
Popular in the Community