A Subway "sandwich artist" admitted today to putting his penis on the store's sandwich bread and posting the photo on Instagram.
The bombshell comes after HuffPost Weird News received several photos posted by two men in Columbus, Ohio, who work for the restaurant chain. Their Twitter and Instagram pages are festooned with photos of their exploits (see below). In several photos, Subway's signature bread is shaped into penises.
One of the men, Cameron Boggs, admitted on Instagram that "today at work I froze my pee" in a water bottle.
Boggs posted -- and later deleted -- the most incriminating photo, which depicts a man rubbing his genitalia on foot-long bread. It was posted on Instagram by username "weedpriest" with a caption that reads, "My name is @ianjett and I will be your sandwich artist today."
In an exclusive interview with HuffPost Weird News, Ian Jett copped to defiling the footlong, but denied doing the dirty deed at work.
"I would never do that at work -- it was at home," he said. "This isn't something I'd ever do at Subway. It was totally a joke."
PHOTO (Story continues below):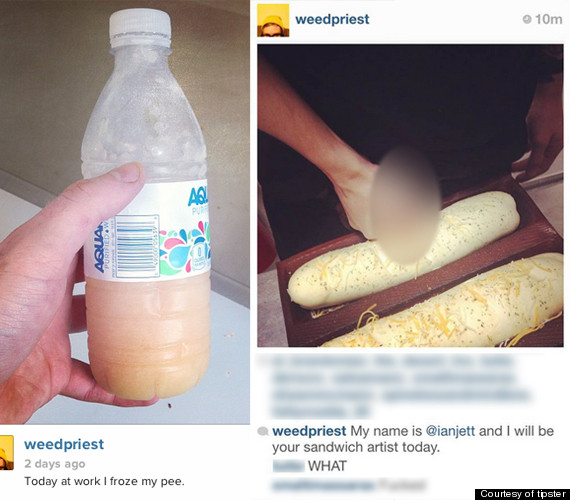 Boggs' other photo shows a water bottle full of a yellow substance that he describes as urine. Though you can't tell from the photo whether the frozen urine is inside a Subway restaurant, Boggs says it was.
Store employees confirmed that Boggs and Jett currently work at the Subway location at Tuttle Crossing Boulevard in Columbus. The chain's corporate office didn't return calls for comment by press time.
UPDATE: Boggs and Jett were fired on Monday, and a representative from Subway public relations released this statement:
This isolated incident is not representative of SUBWAY Sandwich Artists™. These actions are not tolerated and the franchisee took immediate action to terminate the two employees involved.
The anonymous tipster who sent in the photos was horrified by the pair's handiwork.
"I saw the frozen piss picture and thought, 'What is this guy doing?'" the tipster said. "Then came the penis picture. They're stupid enough for doing this in the first place, but then to post it to the world? It was a dumb move.
"I didn't send these to be vindictive," he added, "But something needs to be done. It's disgusting."
He said he turned in the photos after reading about another case of tainted food on HuffPost Weird News last week. Giusepp Scire, owner of Jersey Joe's Pizzeria in San Diego, denied on Thursday that he masturbated in the eatery's kitchen, an act that was reportedly caught on security footage by users on 4Chan.
A picture posted last week clearly shows a man with white hair, handling his pepperoni in what appears to be a pizza kitchen, but Scire said he was the victim of disgruntled ex-employees' pranks.
In June, a Taco Bell employee became instantly infamous and was fired after he posted a picture of himself licking a stack of taco shells -- at work -- online. Taco Bell apologized and noted that the employee didn't intend to harm anyone by appearing to salivate all over the shells.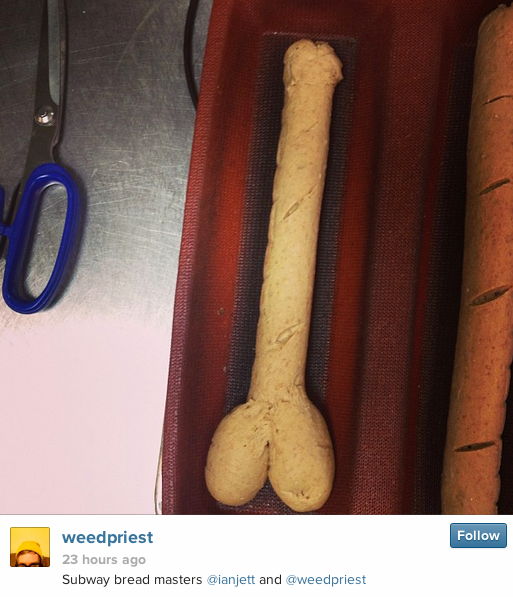 More Photos Of Defiled Food At Subway
Related
Before You Go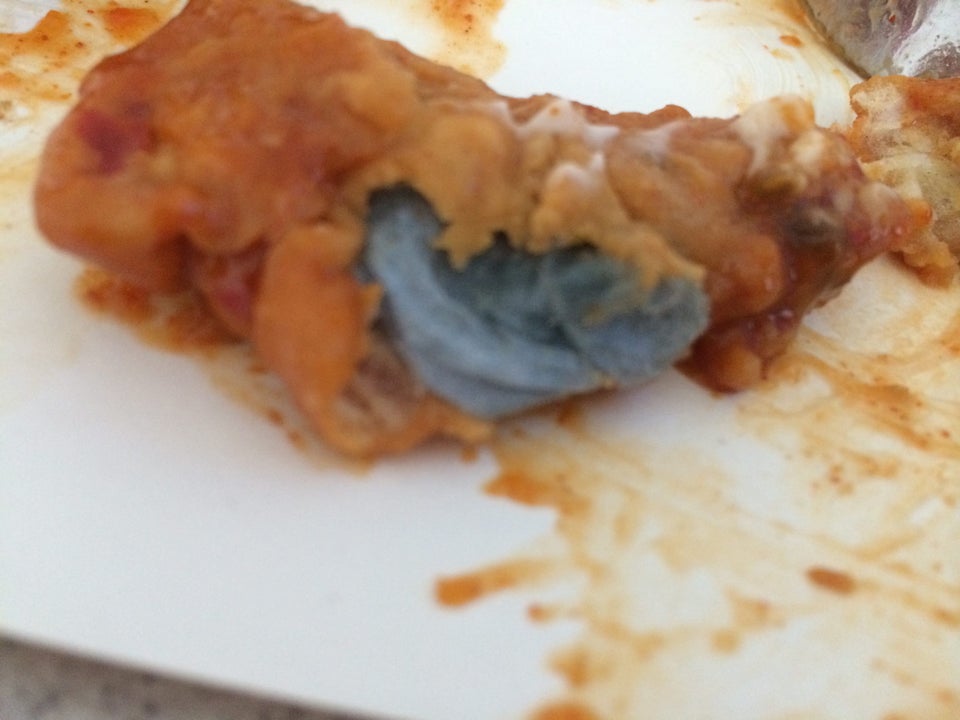 Mealbreakers
Popular in the Community