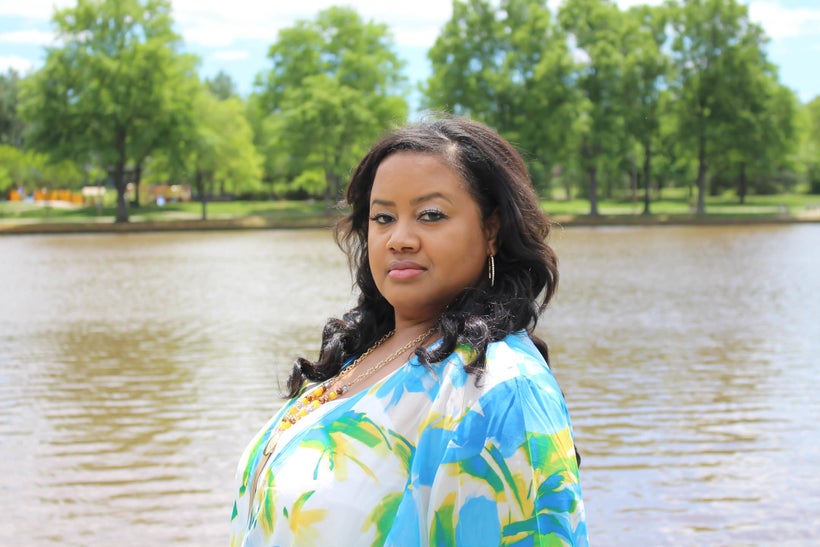 After a divorce forced her into single motherhood, Denise Rogers began blogging about the experience. Her posts garnered enough attention to create a following and earn her an invitation by producers at HuffPost Live to become a Community Correspondent. As a correspondent she interviewed celebrity guests including Nene Leakes, JWoww, Kelly Rowland, Macy Gray, Kelis, Donna Karen and Mo'Nique.
Rogers experienced a pivotal moment while interviewing reality television star Nene Leakes. "I didn't want to ask her a silly question about The Real Housewives of Atlanta, or what she was wearing. So I asked her if she foresaw her success when she was a struggling single mother. Her entire demeanor changed and [Leakes] offered some inspiring words of encouragement to single moms." This line of questioning would define the tone of Rogers future talk show, which aimed to provide quality content for viewers.
Premiering in 2014, Rogers launched The Society Moms Talk Show to provide a platform for women. She wanted to create a talk show that made a difference, by providing guidance to women in the midst of difficult life transitions. In 2016, the show racked up 4 Dotty awards from Bowie Community Media Corporation.
The success of the show did not come without hardship and strategic planning. Once divorced, returning to the workforce as a single parent proved difficult. After losing several jobs due to her inability to juggle the increased demands of motherhood, Rogers returned to her former passion – media.
Realizing she needed to create her own opportunities to successfully provide for herself and her children, Rogers retuned to school to complete a degree in Communications. Then, she researched her options until she found a local station where she could have the greatest opportunity for exposure and retain ownership of her content.
"My goal was always to own a production company and I did not want to spend unnecessary time and money taking classes I did not need." Rogers found a home at Bowie Community Media Corporation. "I pitched the show, emphasized my production skills and the rest is history."
To generate an income, Rogers started producing videos, commercials and sizzle reels. Three years after she began hosting and producing The Society Moms Talk Show, she launched WE-Are TV – a television production and entertainment distribution company – with her eldest son, Jordan Jennings.
"I always knew I could use Society Moms as a stepping stone to develop other television projects. Soon, potential clients began approaching me to help them gain exposure and take their brand to the next level. At WE-Are TV, we guide them from concept to distribution."
After nurturing her son's early interest in TV and film, he went on to study television production in high school and college. "Jordan has always had a strong interest in film and animation. As a child, he would make movies with his friends and he built his first portfolio at the age of 11. As a co-owner, he is now a director and full-time engineer working with me at the station and it has evolved into a family business."
Rogers recently expanded her programming to include new shows with a viewership that is international. "Early episodes of Society Moms aired on YouTube and I knew I did not want to continue producing free content. I took online classes and obtained the necessary certification to develop my app, so I could expand my viewership."
The WE-Are TV app can be downloaded to stream original programming on Apple TV and mobile devices. Viewers can watch The Society Moms Talk Show, Bobbie and Friends, Mind Your Business with Tamara Barnes, Biss Sports with Lou White and a new reality TV series, RAW Parkour with Andy Kappes.
"I am also excited to launch The TABLE, a new daytime TV talk show that starts production on May 24th. It was a challenge to cast a show with a diverse group of experts, but when this group came together to film the pilot – they had instant chemistry." The TABLE features three co-hosts, Kierra Wagstaff, Veronica Jeon and Jen Hecht who will bring in a different weekly co-host to discuss everyday topics that matter to women.
Check out a preview of The TABLE below.
Having a clear vision of her goals and making an effort to bring her ideas to fruition is part of what Rogers credits for her success. "I advise my clients to do something each day to advance their dreams and don't wait for permission or validation from others." What is her advice to aspiring mediaprenuers? "Explore all areas of production until you identify a niche and be open to finding a variety of ways to monetize your talent. Find untapped areas within your market and expand, renew and change the way things were done before you. That's the only way to leave your mark."
Denise Rogers is the Owner, Founder and CEO of WE-Are TV, a full service media production company. To learn more, visit WE-AreTV.com.
REAL LIFE. REAL NEWS. REAL VOICES.
Help us tell more of the stories that matter from voices that too often remain unheard.
This post was published on the now-closed HuffPost Contributor platform. Contributors control their own work and posted freely to our site. If you need to flag this entry as abusive,
send us an email
.