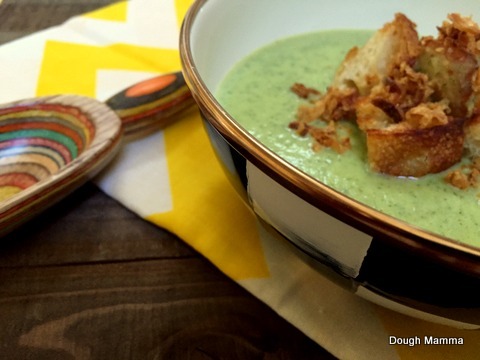 This delicious summer soup is a recipe close to my heart. Dana, my mother-in-law, made this soup for me in 2007 just days after my son was born. It was a hot year and I was even hotter from the postpartum sweats. I personally could have solved California's drought with my perspiration alone. I remember being gently awakened from one of my many naps and being guided to the kitchen table, sitting down before this beautifully colored green soup. I felt special, nurtured and loved. The first taste was wonderfully cool and comforting. Packed with rich flavor and a smooth yet supple texture, I could taste the ripeness of summer with each sip of squash. It was a healing tonic, full of vitamins and nutrients and yet low on fat; I could feel my insides smile with each and every bite. I was lovingly being nourished from within, slowly building up my former strength.
Unfortunately, to my own detriment, I have neglected to make this soup since and recently felt compelled to recreate this when my daughter's pediatrician prescribed me: more rest and a bi-monthly massage. I will gladly take her prescription, though in retrospect, I would have also loved a prescription for: a show to the Thunder from Down Under and an open bar. Oh well, perhaps next doctor's visit.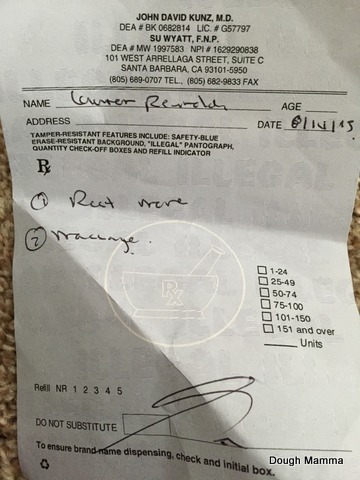 Yes, it's true. Elora was given gold stars for her growth and development but one look at me and Dr. Su was concerned. She told me not all postpartum looks like depression, sometimes it can feel like a caffeine overload. She told me if the "mamma bear" goes down, the whole family was gonna go down and I needed to make myself a priority. Isn't it sad how we often need permission to take care of ourselves? After she wrote me this prescription, I left with a little more skip in my step, feeling validated and part of the mothering continuum. I knew I needed to wave this prescription around my household, pointing to it as I declared, "see, see, I really do need more rest and relaxation." I also knew I needed to simplify some things, dinners being one of those on the list - and this easy-to-make recipe qualified.
Nourishing, comforting and cool, this soup will settle you down and warm your soul. With the last days of summer quickly drifting by, you can capture this season's essence in this soup and savor it with each sip. I highly recommend visiting your local farmers' market to procure the freshest and most flavorful zucchini since it is the main star of this soup. To add even more depth, top with a dollop of sour cream, croutons and fried onions for added crunch. Also, feel free to serve this soup warm if your summer isn't feeling as sweltering as ours.
Enjoy!


Title: Summer Squash Soup
Author: adapted from the lovely Dana Solomon
Prep time: 5 mins
Cook time: 45 mins
Total time: 50 mins
Serves: 4
Notes: I strongly recommend making this soup during peak zucchini season. When produce is at its peak, its flavor profile is maximized, which is of great importance when that particular ingredient is showcased - as is the case with this soup. This soup is naturally on the thicker side of soups. If you prefer a thinner soup, simply add more milk. This recipe makes two entree sized servings or four appetizers.
Ingredients
1½ pounds of zucchini (about three large) largely diced
2 cloves of garlic
1 Tbsp of finely chopped fresh herbs (thyme, sage and many others work nicely)
1 Tbsp of coconut oil
¾ cup of milk
1 tsp of lemon juice
2 Tbsp of cream
½ tsp of salt
salt and pepper - to taste
Instructions
Heat oven to 425 F.
Place diced squash, peeled garlic and herbs on a baking sheet. With your hands, mix in oil and distribute evenly. Arrange in a single layer - not crowding. Sprinkle with salt and pepper.
Bake for about 45 minutes or until golden hues appear.
Place roasted zucchini, garlic and herbs in blender. Add your milk, lemon juice, cream and salt. Blend on high for about 1 minute. Add salt and pepper to taste.
Top with sour cream, croutons and/or fried onions.
Serve cool, room temperature or warm.