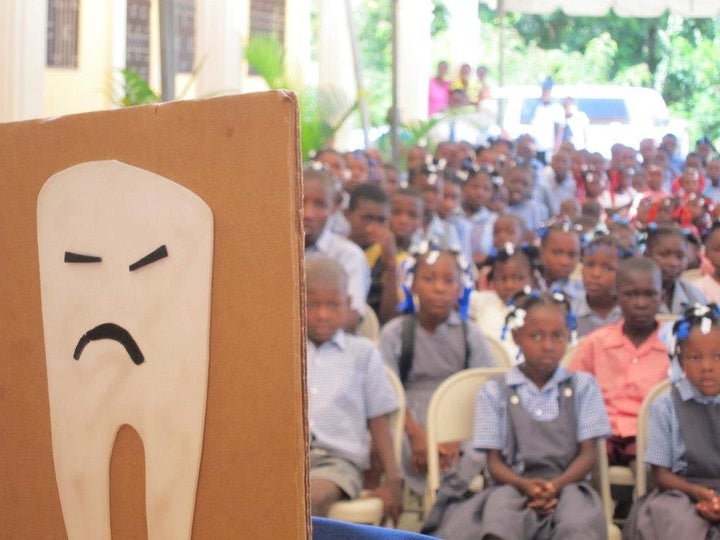 Hundreds of students clad in blue checkered uniforms sit in their school's chapel. It's a Friday afternoon and the 90-degree weather and impending weekend doesn't make any of them flinch at this mountain top school in Haiti's Central Plateau. In fact, they sit in heavy silence as a pair of Haitian dentists volunteering for the U.S. nonprofit, Tabasamu, shows them gruesome images of rotting teeth.
If the graphic images disturb them, the kids don't show it. Rather, many hold their gaze at the pulpit -- they are genuinely curious. With only one dentist for every 10,000 Haitians, and the majority practicing in Port-Au-Prince, few have ever been to a dentist or owned a toothbrush.
Like so many problems the country faces, nonprofits like Tabasamu step in to fill the gap.
"Periodontal disease and tooth decay are the most easily preventable diseases on the planet," Dr. Trey Wilson, 54, a New York City dentist and Tabasamu founder says. "It's a quality of life issue."
Tabasamu, which means smile in Swahili, is one of the few aid organizations in Haiti that addresses dental health education. And in a nation riddled with cases of cholera, tuberculosis, HIV, malnutrition and chronic poverty -- dental hygiene might not seem that important.
"Dental health is part of the whole complex of health. They're not separated, they're integrated," Wilson says.
Dr. Lesly Day Joseph, 27, agrees. The Haitian dentist and Tabasamu volunteer points to how gum disease can increase the likelihood of HIV transmission through kissing and how tooth loss can contribute to malnutrition. Dental infection also leads to blood-borne diseases and heart attacks, he adds.
Wilson, who initially provided free dental services to rural populations in Haiti and Kenya, was recognized as a CNN Hero for his work in 2007.
The long lineups of adults and children waiting at his countryside clinics became opportunities to teach the basics of tooth care, he says. He came to see education as a more effective approach than the limited number of cases he could treat. Within a couple years, his organization's mission shifted to solely focusing on free dental health education.
"We saw other organizations doing clinical work but none doing dental health," Wilson adds.
Dr. Elie Joseph, 26, a Haitian dentist who runs a mobile dental clinic sees this need firsthand. "They think there is a worm underneath the tooth that causes cavities," he says describing the mindset of some of his patients.
Tabasamu, which brings volunteers to Haiti once a year, has Haitian and American dentists perform educational puppet shows and demonstrations at schools and host separate workshops for teachers. They are taught what causes cavities, what foods to eat, and how to brush their teeth.
"Everybody knows they need to brush before saying 'good morning' to people," Dr. Lesly Joseph, says describing how Haitian culture approaches personal hygiene. "But some of them neglect to brush before sleeping, now they know it's important."
Since the 2010 earthquake, there are roughly 300 dentists in Haiti, according to Dr. Samuel E. Prophète, president of the Haiti Dental Association. Dental insurance doesn't exist in Haiti. Most dentists practice privately in Port-au-Prince, providing care to less than one percent of the population, according to the most recent WHO basic oral health survey conducted in 1999.
"There's no dental policy from the Ministry of Health," Dr. Lesly Day Joseph explains. Without a nationwide approach to dental care and the inability to visit needy rural communities due to the country's poor infrastructure, Joseph hosts two radio shows where he tells listeners how to take care of their teeth.
Dr. Elie Joseph takes a different approach. Thanks to a $10,000 grant he received last year, Joseph and his four colleagues travel to rural towns offering cleanings, fillings, extractions and fluoride treatments on a sliding scale basis. In one year his clinic has served 3,000 people, he said.
Despite their country's challenges, the young dentists remain optimistic and see a future for themselves in Haiti.
"In dental school we are examples for some people," Dr. Elie Joseph says describing how efforts like his and Dr. Lesly Joseph's are perceived. "I'd like to stay in Port-Au-Prince and show the Haitian people it is possible to succeed in life."

Support HuffPost
The Stakes Have Never Been Higher
Related
Before You Go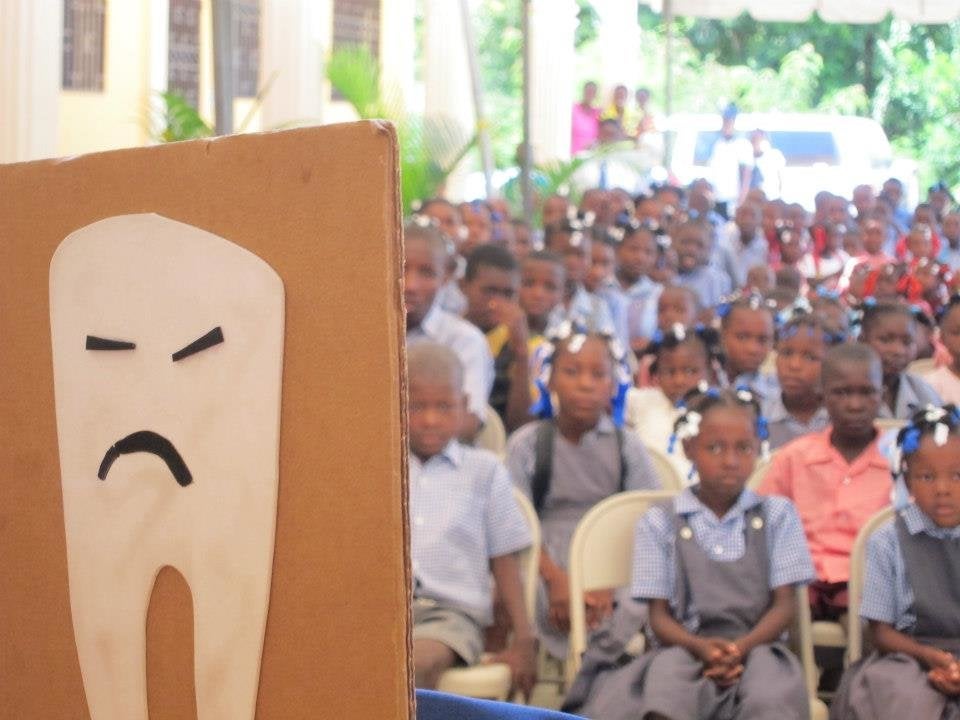 Tabasamu Trip to Haiti 2012
Popular in the Community