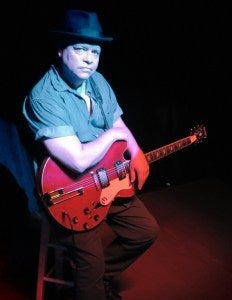 Black and white, it's the latest old new thing! – Phil Gammage
Sharing a cuppa and conversation at the Side Walk on Avenue A, you might not recognize Phil Gammage sans his guitar, a microphone, and signature nifty stage attire – which is how most New Yorkers identify this indie artist of renown who first came to prominence with The Corvairs and Certain General.
With eight acclaimed solo albums under his name, Mr. Gammage is navigating the tumultuous musical times we live in just fine. Phil is in-demand as a performer and collaborator, and his schedule shows no signs of slowing down. And he loves making records. In fact, Phil's latest slab, Used Man For Sale - to my ears, evokes comparison to Bob Dylan's 21st Century canon wherein the blues and roots are rendered in a timeless noir manner: a rare feat in an era where retro is vogue and all too prevalent.
"The appeal of roots music," ponders Mr. Gammage, "for a certain demographic and a certain type of person – well, it makes them feel very comfortable. It's melodic…a lot of it is acoustic based…and it also features old school songwriting. Some people can't stand it…some people are crazy about it! For me it's the style of music I've played, recorded, and sung for years. I'm associated by many people with the stuff I did in the 1980s playing rock guitar – but I really didn't stay with that very long…"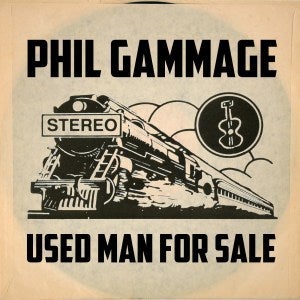 Noting the popularity of Americana in Brooklyn, Phil digs in. "This past year I've played at a lot of these honky-tonk brunches at Hank's Saloon. That's the scene out there…people are really into it – it's refreshing –some migrated from the rockabilly scene – but not so much the blues scene…they all kind of cross pollinate."
And there's more to Used Man for Sale than meets the ear. Mr. Gammage has once again taken to the video platform to enhance his current song-cycle. A self-taught cinematographer, Phil emphasizes to me that he loves working with visual artists – photographers, painters – "maybe they play music maybe they don't - but they have the best eye by far and I get the best results." He also revels in using archival footage from 1940s-50s in many of his videos. "Man, when you find the right clip, it brings it to another level!"
Gammage is never without a camera on his travels. When something, anything piques his curiosity – he captures it on film and warehouses the images. Fully accepting of the fact that nowadays most video viewing takes place on hand-held, mobile devices of dubious quality – his visuals are specifically tailored for the small screen.
As for his monochrome modus operandi, Gammage makes known to me that he perceives his recent trilogy of albums as "being in black and white." He explains "in a weird way I hear the audio in black and white – not that audio has color – it's just the whole moody vibe of it."
"Used Man For Sale" – the title track – is the fifth video from the album. "Used Man… is probably the closest thing to a pop song – it actually has a bridge! Lyrically I thought it was evocative of something of this age – not necessarily literally – about a man who is kind of at the end of his rope. I thought visually I could do a lot with that…"
Phil duly credits his collaborator - visual artist David Schell, who manages and curates the Green Kill Artist and Performance Space in Kingston, New York.
"We didn't storyboard anything! Gammage reveals. "David scouted all the locations – the rail yard – all that funky stuff, the houses…and some of it we just lucked out on – we were driving by and there it was! And for the end we shot some live footage out at Hank's Saloon in Brooklyn."
Phil beams when I congratulate him on his Astros championship. As a '69 Mets fan, I understand his restrained exultation – Nolan Ryan, Mike Scott, Ken Boswell, Carlos Beltran, Bob Aspromonte, Jesus Alou – we are simpatico. Indeed, the spooky mannequin figures in his Used Man video emanated from one of Phil's trips back to his native Houston.
"I try to find things that are not, in my opinion, cliché…which is a very hard thing to do. When I see old MTV videos, they look more dated than the songs sound…which in some cases is good, and sometimes it's not. I'm working in a niche that I was attracted to organically – there is no big master plan - but I feel that I do better work!"
Photo of Phil Gammage by David Schell
Popular in the Community