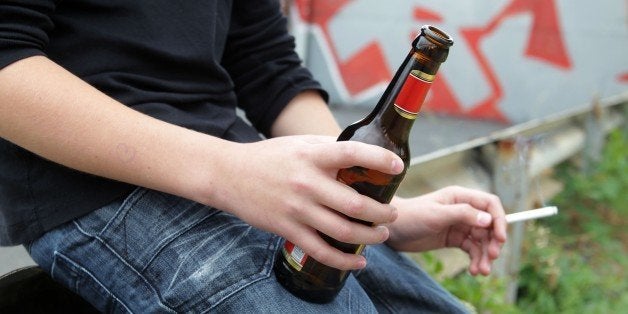 My son is seventeen and I am worried about how much he drinks on the weekend. He sleeps late and stumbles into the kitchen looking awful. I know teens like to party, but I'm concerned.
Although there are stacks of books with advice for talking with teens about worrisome drinking and/or partying, they all assume one thing: that teens will take to heart what their parents have to say.
But there is an essential element and that is this: We must create a climate of receptivity so our kids will be influenced by our advice.
Before you approach your son with "The Talk", ask yourself this question:
What would make your teen actually want your input?

Here are some possible answers:
• He has faith in your ability to manage your reactions if he tells you the truth about his drinking
• He trusts that you are on his side
• He believes you want to understand better what it's like to live in his skin

One of the ways I work with parents who are struggling to deal with a situation like yours is to encourage them to step outside their vantage point for a moment to consider the issue from the youngster's point of view. With that in mind, I am going to ask you what might seem like a strange question:
Why does your son's heavy drinking seem like a good idea to him?
Please be clear--I am not suggesting we want your son to drink! But until you visit his planet--the one where he believes drinking heavily on the weekends is somehow serving him--you won't be able to set a tone that ensures he will feel safe to speak honestly with you.
Perhaps your answers include, It makes sense that he drinks heavily on the weekends because he doesn't see any harm in it, and it's fun. Or maybe It helps him be more relaxed with his friends. You may also believe that he drinks heavily because he's depressed, or alcoholism runs in your family. If that is the case, all the more reason to have a conversation (or a series of them) so you can influence him long term, rather than just grounding him from going to parties for a few weeks.
You might begin the conversation with something along the lines of, "You've been sleeping really late on the weekends. It seems like you're partying pretty heavily and I'm concerned. Are you okay?"
The idea is to avoid triggering a defensive reaction in your son and to make it clear that you're willing to listen. When he does start talking, don't interrupt, criticize, or lecture. Just listen.
Rephrase some of the things he says. "So, from what you're saying five beers seems okay if you're not going to be driving." Or, "From where you sit, everybody drinks a lot and it's just part of being a teen." Give your son the sense that you're trying to understand his world.
When he's finished, ask if he's willing to hear your input. If you started the discussion from connection rather than storming his room in anger and you've genuinely listened, there's a good chance he'll hear you out.
"I understand that from your point of view, drinking heavily is just what teens do to have fun. And here are my concerns: A lot of people drink to numb themselves from feeling anxious at parties, or just not feeling very happy. Also, when you drink a lot, your judgment is compromised, even if you think you're fine."
You can add one or two other concerns but rambling on will only cause him to tune you out. Plant seeds in small conversations that feel safe to him and you will gain far more headway than having one long-winded lecture that leaves him rolling his eyes.
As teens become more independent, our ability to control them must give way to setting up a safe and close relationship that allows us to influence them. If they smell an agenda, they'll close down.
Hopefully, these ideas will help you deal with your son's drinking by working with him to address the underlying issues by establishing a safe climate for truthful conversation.