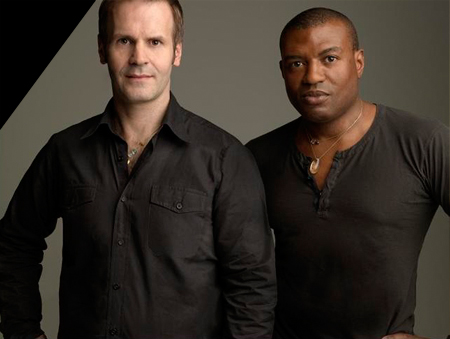 To discriminating jewelry fans, top jewelry designers David Rees and Ron Anderson of New York based Ten Thousand Things are rock (and precious stone and pearl) stars. Since their first jewelry designs -- among them, four small pearls on a delicate ear wire worn by Kate Moss in her first Calvin Klein ad -- Rees and Anderson have never veered into trend-driven territory, but have instead designed original, heirloom-worthy, achingly gorgeous pieces. The duo's use of unique materials and their trademark techniques, including delicate silver and gold beading on chains used in necklaces and earrings, have kept high profile customers like Maggie and Jake Gyllenhaal, Julianne Moore, Uma Thurman and Susan Sarandon coming back for more.
Chris Frey, a regular contributor to The Inside Source, eBay's digital style magazine, spoke to the designers David Rees and Ron Anderson, who've been collaborating since 1990, to learn more about their creative process and to find out what's up next. Check out the interview below or visit The Inside Source for more designer profiles.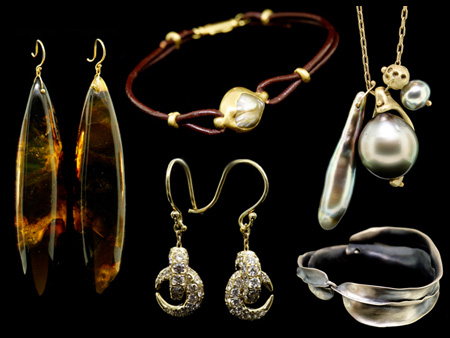 The Inside Source: What inspired the name Ten Thousand Things?

David Rees: The name Ten Thousand Things is taken from a line in the I-Ching [an ancient Chinese classic text] that, loosely translated, says, "From one thing begets the ten thousand things." We interpreted that to be an idea of infinite creativity and use it as our guiding principle and good luck charm!
The Inside Source: How would you describe your customer?
David Rees: We are very fortunate to have absolutely amazing customers whose support and appreciation has always been a great influence. I would say she is a jewelry lover and a design lover who appreciates and expects interesting objects, especially if she is going to wear them! I find our customers pay close attention to detail and appreciate all the elements we put into the jewelry. We have a lot of creative people who wear our things.
The Inside Source: Your designs are constantly copied. How does that feel?
David Rees: Oh, that's a good question!! Our primary motivation is to make original jewelry and we just keep on doing our own thing. So there is no problem for us when it comes to the knockoffs and poor imitations. We are always focused on the next new idea to build a collection around. We have a pretty rigorous design process and we are just trying to push our creative abilities and the aesthetic of our own collection, so that pretty much occupies all of our focus.
The Inside Source: What are some of the most unusual materials you've worked with?
David Rees: Some of our favorite materials are also among the most rare: Colored amber in blue, green and red, found in the Dominican Republic. American natural pearls from the Mississippi River. Black opal disc beads with amazing colors mined in Australia. Our favorite favorite would be the original Paraiba Tourmaline, which has since become extinct. When we started, it was more plentiful, but now it is gone. The color is unlike any stone you have ever seen. It's a blue like the most beautiful ocean.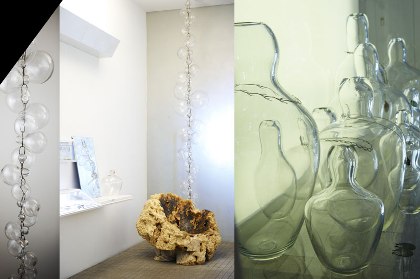 The Ten Thousand Things retail store in Manhattan.
The Inside Source: Can you tell us a little about your signature beading technique?
David Rees: When we developed the beading technique it was to make a new kind of chain. The idea was to use metal to create a little detail and texture on the chain itself and transform it into a truly unique chain. Really simple, but it turned out to be an enduring classic that continues to our most popular collection.
The Inside Source: What jewelry pieces do you wear most often?
David Rees: I wear the same three pendant necklaces I made for myself years ago from two of my favorite materials: a Montana sapphire crystal and a vintage Persian turquoise (which is the most beautiful turquoise color you can find).
Ron Anderson: I always wear two sculptural rings. One is a narrow gold teardrop that wraps around and pierces itself. I stack it with a big silver teardrop ring pointing in the opposite direction.
The Inside Source: Do you shop eBay?
David Rees: We do. Russel Wright Iroquois coffee mugs that are sooo hard to find!
Ron Anderson: Furniture and crafts like Native American pottery.
The Inside Source: Any upcoming jewelry design projects for ten thousand things you can share with us?
David Rees: For the past two fashion seasons, we have made jewelry for our friend Gregory Parkinson's presentations. It was a great opportunity to work with different materials and techniques and work in a different scale, too. So much fun! As a result, we have a new enamel collection that has been a blast to make and is aesthetically pretty interesting.
All photos courtesy of Michael Waring.