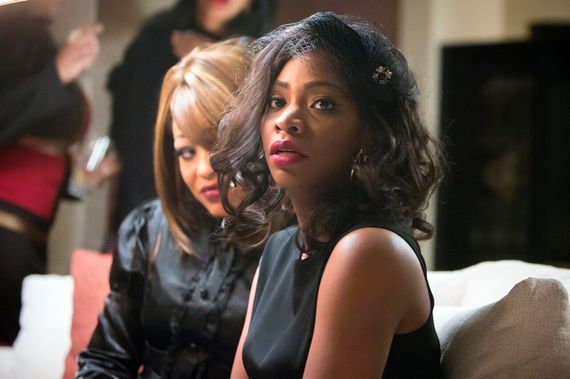 The waters of biopics can be very treacherous as we've witnessed lately but TV ONE says they are treading very lightly with their first original film, "Love under New Management:" The Miki Howard story starring Teyonah Parris. The highly anticipated film is set to air this Sunday June 12th on the network that has become the leading station for African-American centered programming. Much to my surprise the film is not another random rushed biopic. It is at a higher level, actually capturing the feel of Box office Bio- features such as Ray, Whats Love got to do With It and Selena.
Thankfully the casting department at TV One isn't nonchalant about their casting decisions. Casting Director Robyn Greene-Arrington obviously takes her job very seriously as the casting of Parris as Howard is a perfect fit. The gorgeous and trained earthy actress with a complexion to be envied is one of Hollywood brightest actresses recently starring in Spike Lee's Chiraq while appearing on Starz' Lebron James executive produced series, Survivors Remorse. Parris also received acclaim for her roles in Dear White People, and Mad Men. She illuminates brightly as Howard showcasing the beauty, pain and complexity, of the Grammy-nominated vocalist. The film captures Howard's illustrious career that encompasses billboard chart-topping hits such as "Come Share My Love" (1986), "Baby Be Mine" (1987), "Ain't Nuthin' In The World" (1989), "Love Under New Management"(1990), and "Ain't Nobody Like You" (1992). It is because of musicians like Howard that singers today no longer have to be confined to Blues, Soul and Gospel just because they are African-American. Howard's music is indelibly imprinted in the minds of those who respect R & B history and the contributions of the culture to the mainstream stratosphere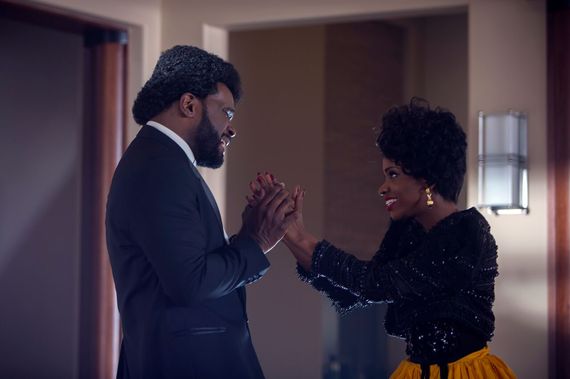 Parris confessed that she was nervous even reaching to Howard when she first got the role.
"It's a little daunting to tell someone's story especially someone who a lot of people love and admire," explained Parris in our exclusive interview. "It's daunting but it was exciting to just be able to play Miki. I really wanted to be a part of this story because you watch someone go through so much. Literally hit rock bottom not just once, a few times -- but pick themselves up and say 'that moment does not define who I am now and it won't define who I am in the future.'"
Love Under New Management is the offspring of TV One's "Unsung Series." Written by Christine Swanson, the feature captures Howard's story starting from being a 16 year old homeless teenager to becoming a hit-making star. It perfectly details Howard's meteoric rise to stardom. The scales were slightly unbalanced for the "child star" whose Cinderella story is more complicated than the typical happily ever after myth we all long for. As a young daydream believer whose heart remained wide open to all the infinite possibilities of love, Howard became a casualty of her own beliefs as she chased for a love that mirrored the magnitude of love contained within her heart. That type of purity and belief in love is rare to find and Howard learned this the hard way.
"I never had any preparations about the business and more importantly about love and relationships. I was clueless. I never dated or had an example of what a relationship between a loving man and woman was supposed to be like. I was just thrown out there and had no idea how to deal with all the things that come with fame," said Howard.
Howard dealt with vicious vultures, naive decision- making skills and an abusive marriage. As she struggled with the side effects of fame and all the elements that makes stardom not as glamorous as it seems- addiction of love and drugs became her outlet to numb the pain. The film captures Howard's much-buzzed about relationship with Gerald Levert that produced a string of classic hits as well as a few not so good relationships.
"What I learned most from doing this film is the importance of self-love and perseverance," said Parris. "You watch this young 15 year old girl and she has these huge dreams of being a singer. She goes through all of these trials and tribulations and ultimately she just wants to be loved. Through this and in my own lessons I've learned you really have to find self love and truly yourself. You have to really understand and appreciate who are you are and know who you are and what you have to offer people not just a man but people! This helps you have something to stand on. Know your value and what makes you valuable so you can always go back to this. In this film you'll see Miki loses sight of this and become swayed by different men but she fights her way through it. She perseveres and returns back to the core of who she is and that's what we always have to do."
Howard overcame her battles with addiction and abuse and she is in a happy place in her life sharing her lessons on faith pain and love "We need to have a conversation about many of the things that happened to me as a young woman coming up in show business and being an African-American woman," she shared. "I don't think we talk about enough things that are prevalent in our community, such as spousal abuse and trying to live up to expectations that are not our own."
Co-starring Darius McCrary ("Family Matters," "The Leftovers") as Gerald Levert, Gary Dourdan ("A Different World," "C.S.I."), LisaRaye ("Single Ladies") and Vanessa Bell Calloway ("Shameless"), "Love Under New Management" premieres June 12 8/7c on TV One.
REAL LIFE. REAL NEWS. REAL VOICES.
Help us tell more of the stories that matter from voices that too often remain unheard.