Whatever happened to simply observing? Life has always been demanding. But since laptops and smartphones smashed down our doors and took hostage of our attention span it seems to be getting harder and harder to get to where we need to be.
How do we cope? Recently I discovered a great analogue tool to fight back the endless digital demands. And we increasingly need anti-digital devices, since the web may be the last thing you look at before you sleep and the first thing you look at when you wake. I have to admit I know I have found myself attached to my smartphone on many occasions! A study by Tecmark found that the average American picks up their smartphone 220 times a day.
This lurch into digital addiction is the largest kindred shift in global human behaviour since the last ice age. And for many this insidious nature is creating a whole spectrum of issues that many people don't even realise they carry. I sometimes wonder: as we become ever more digitally connected to the world then are we not becoming more and more disconnected with ourselves?
Anyone who has met me knows that I have spent the last 8 years really reflecting and searching to understand and define my purpose in this lifetime. It has taken a lot of inward reflection, self-accountability and responsibility for my decisions and actions...
OK, I have made some very high-risk decisions like quitting my job, selling everything that I have owned to jump off cliffs into the unknown. I have always believed my dreams have been pulling me into non-conformist circles no matter how much I have tried to resist. As they say, having experienced failures means that you are well on your way to success (well I like to think anyway!)
My dreams of educating businesses to work authentically in line with their brand values have on many occasions overwhelmed me. I often find myself running away from my dreams by distracting myself with social media or Googling the daily news. I have been guided by some of the most incredible mentors over the years (they know who they are) and the key thing that strikes me is that they all have encouraged me to meditate, write, visualise my dream and plan ahead to actually make it happen. Having trekked some of the most amazing mountains in Vancouver last summer I started to really understand the power of dreaming and immersing myself in nature then putting actual pen to paper (away from the keyboard!)
I recently caught up with Mathew Bennett, a journalist turned product designer who has recently launched the Trigg Life Mapper, which is a paper diary positioned as "an analogue refuge for your most impactful intentions."
According to the press release this tool can:
Add greater perspective to long term thinking based on annual or monthly goals
Help discover our true intentions in life and work more effectively towards realising them
Allow us to work smarter and therefore work less
Help us prioritise more effectively and tackle the life-changing tasks first
Catalyse a deeper sense of gratitude through reflection
Harness observation to ensure we are always on the right path; for the right reasons
This last point really stuck with me. It is painfully obvious these days that very few people get to stop and take stock. Instead, we blindly thrash our way forward through a thicket of work and ambition, swiping away the tasks that block the path with our super fast laptops acting as swords.
And this thought reminded me of a quote from the late Stephen Covey, productivity guru that states: "As individuals, groups, and businesses, we're often so busy cutting through the undergrowth we don't even realise we're in the wrong jungle."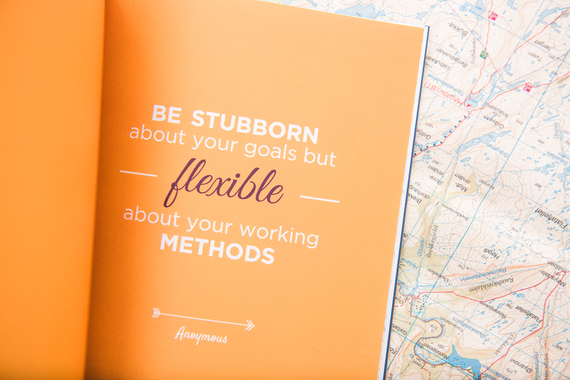 So how do you know if you're in the wrong forest? I found Trigg very useful to keep my bearings since it has several key benefits. Firstly, it helps you pinpoint the goals that will actually change your life, then it coaches you towards them each year and each week by holding them aloft from the rising tide of "busy" work or the fiddly tasks that pile up once Monday has found its stride.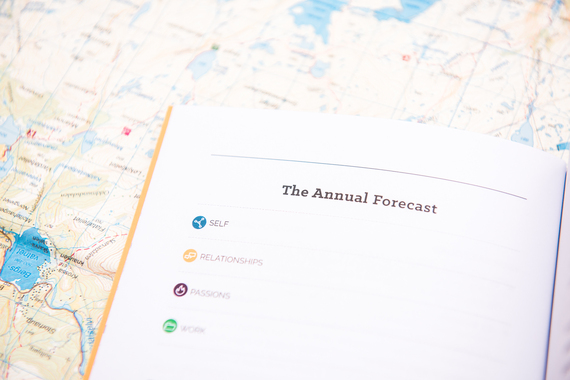 Secondly, it has a structured way of laying out each day so you focus on the right things; using a simple productivity quad printed on each day does this. I'd used this quad method before (Do, plan, delegate and drop) this was in no way a revolution but I'd never seen one integrated into a page-a-day diary before.
Thirdly, and more profoundly, Trigg nudges you to reflect at the end of the week. It does this through confronting you to inscribe a "hat-trick" of occurrences to be grateful for. You need to write them down, to say them, to externalise them. These companionable demands induce observation and force you to look backwards and appraise your path, your performance and your motivations.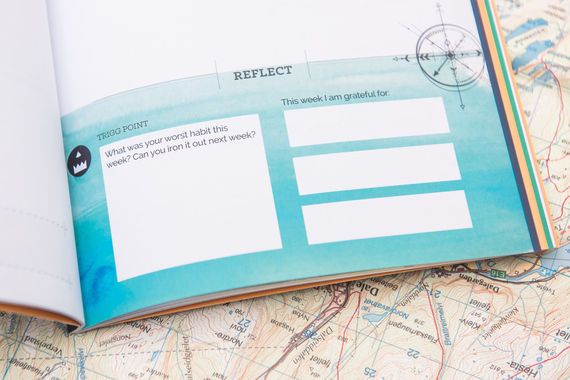 It was this coaching element that I believe everyone would benefit from. So to have a regular and structured way of this happening each week is so valuable.
And looking beyond the individual, as a society and race we rarely learn as much as we can from our mistakes. That much is evident by the disappointing and cyclic errors that irritate and confound us from politicians to our heroes before they fall to earth and right through to members of our family and friendship groups - if we looked back and considered our actions more closely we'd all be in a happier place I'm sure.
This week why don't you find a sanctuary of time and check in with yourself? So I decided to pledge, I cannot wait to get my planner, looking ahead I intend to make 2017 and beyond the best years yet! How about you? Get your copy here today there are only a few left!
Popular in the Community