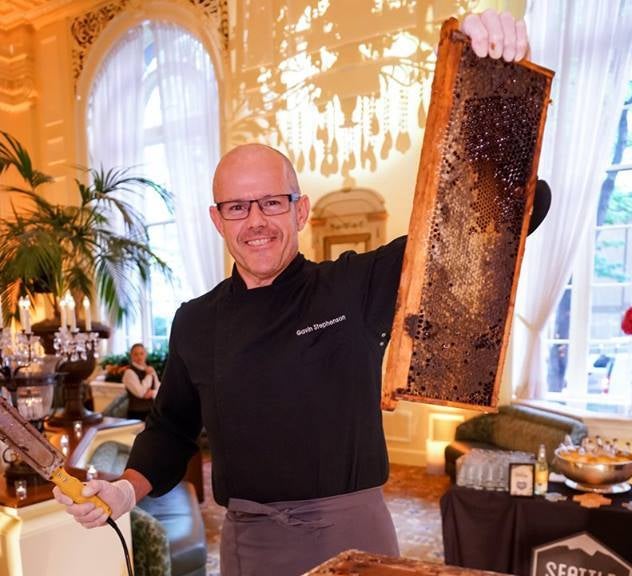 High above the Seattle skyline, Chef Gavin Stephenson loves to show-off his flourishing rooftop culinary kingdom. For the past six years, Chef Gavin has been keeping bees and starting an urban garden atop the historic Fairmont Olympic Hotel, where Stephenson has been the Executive Chef since 1999 when the hotel was still the Four Seasons. Now, the progressive hotel has added a Bee Hotel and a Pollinator to its very popular and now growing bee program.
In 2008, the Toronto Fairmont Royal York was the first hotel in the world to start an onsite bee program. Chef Gavin then installed his bees in 2011, with the aid of Ballard Bee Company's Corky Luster, making the Fairmont Olympic the first hotel in Seattle to hold urban hives on their rooftop. Today, more than 22 Fairmont properties around the globe have their own bee programs; including having a "Bee Butler" at the Fairmont Waterfront Hotel in Vancouver, who offers interested guests tours of their gardens and hives. Chef Gavin and his kitchen team have also expanded their urban garden this past year, truly creating a rooftop to table honey experience for their enthusiastic and hungry guests.
Hotel organizations like the Fairmont have taken up the "bee-cause" in order to help restore decades of a dwindling bee population. In the United States alone, the bee population is only half of what it was 70 years ago. More than $15 million dollars of U.S. crops are pollinated by bees each year. So, the need for bee growth and sustainability is a high priority, with Chef Gavin and his staff in Seattle answering the call.
With successful partnerships like Pike Brewing Company, that helped create their thriving honey beer and Seattle Cider, who bottles their hard honey cider, the classic hotel saw the need for a celebration. This past August, the Fairmont Olympic threw their second annual honey-infused "Bee Olympic" extraction party for clients and close supporters of the program and hotel.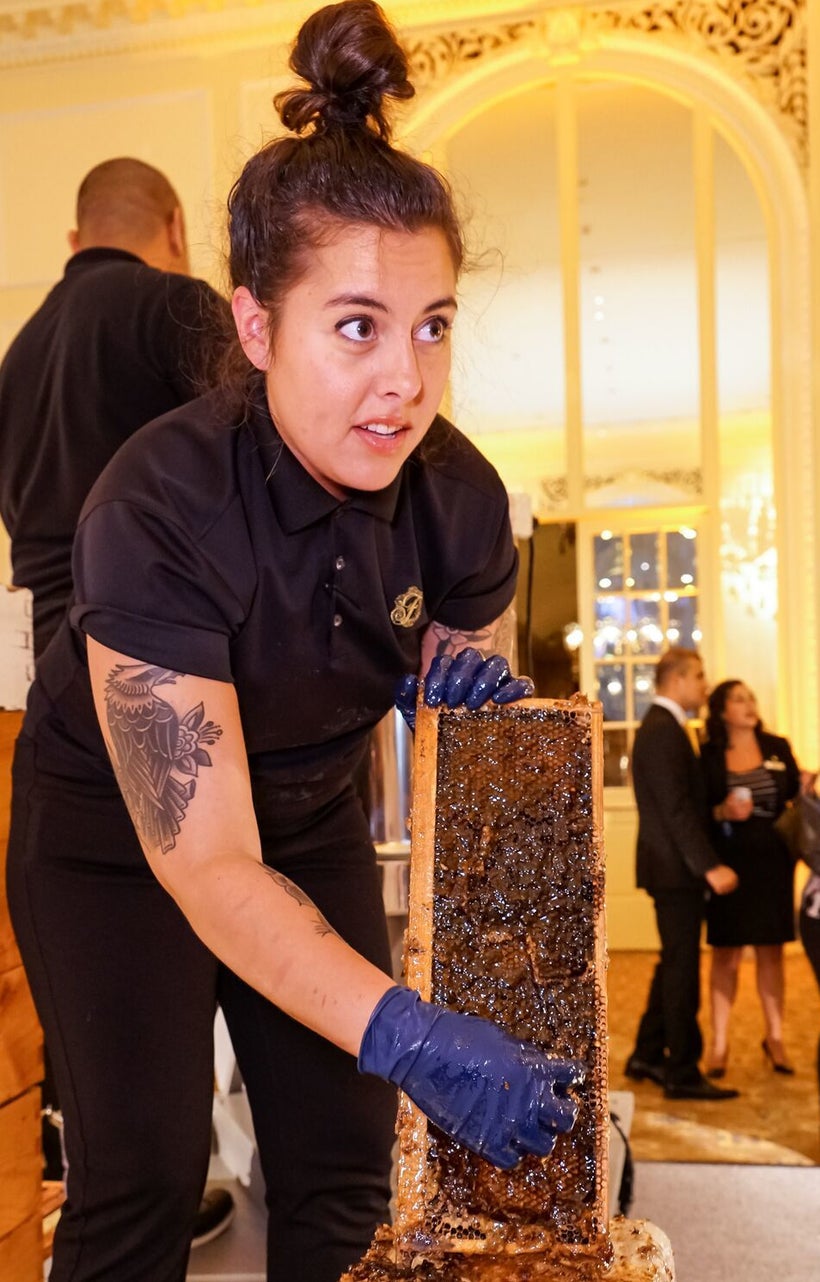 We caught up with the ever energetic and talented Chef Gavin as he and his stellar staff prepared for the buzzing bash, talking about all things bees; from their survival skills to their nectar choices, and why fresh pollen in a salad dressing might just blow your mind.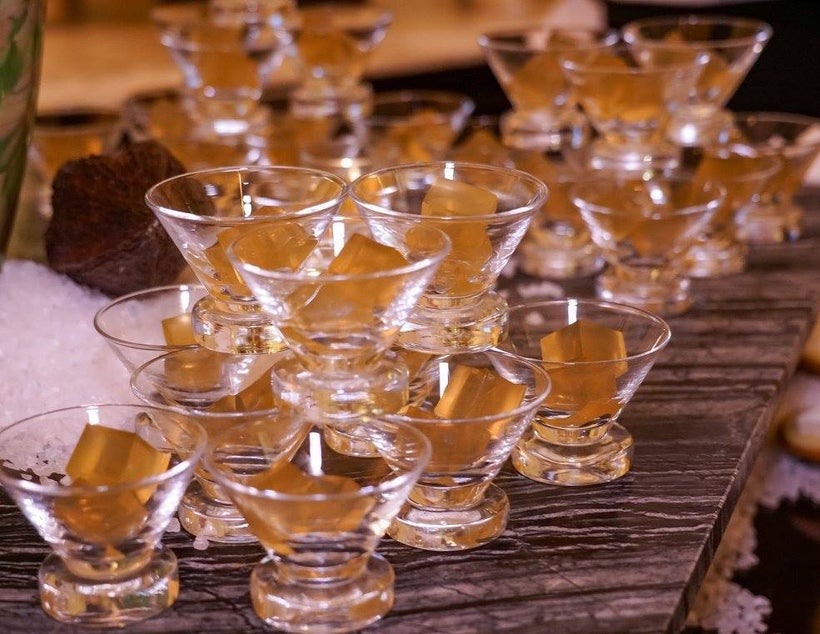 Jeff Game: How did you fall into beekeeping and having rooftop hives, and how has it made you a more creative chef?
Chef Gavin Stephenson: It all came to light over six years ago when I realized how important the bees are to the sustainability of us and pollinating everything we eat. I kind of fell into beekeeping because I thought it was the right thing to do for the shrinking bee population. Now, it's just a labor of love. It's hard to imagine not keeping bees. Watching the bees flourish, and now teaching members of my staff and others about beekeeping is very beyond rewarding.
JG: Why has fresh honey become so important to your culinary creations?
Chef Gavin: When the honey is coming straight out of the hive, and it's still warm, you can't replicate that. It's a something for your senses that you can never forget. It's opened my eyes to flavor profiles that I just could not imagine with honey and pollen. Fresh pollen in a salad dressing alone is to die for. You don't know why it tastes so good; it seems like a boring salad, but when you add fresh pollen, that's the purest form of protein we can eat, making the salad unbelievable. It has a flavor pallet that blows people away.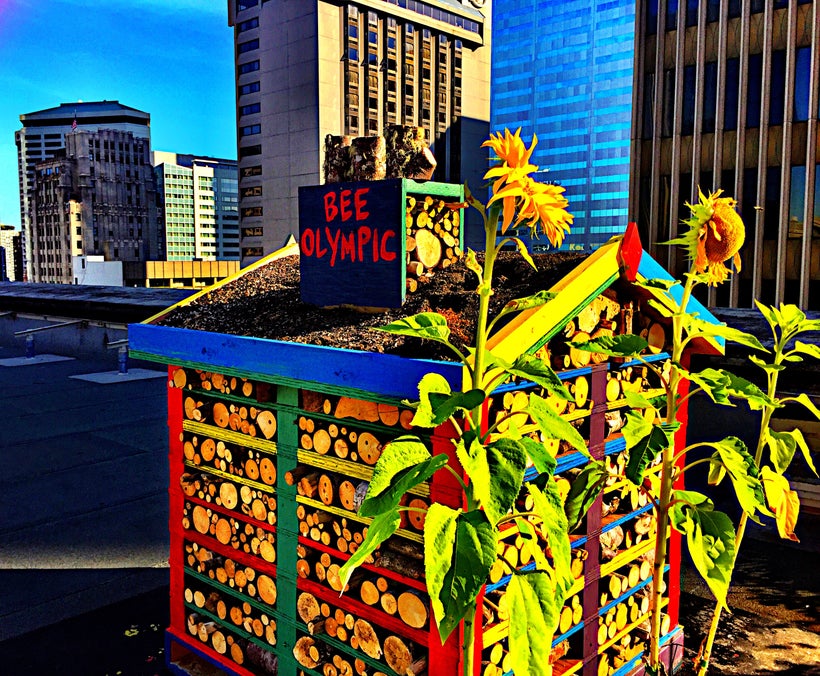 JG: Seattle is not exactly the friendliest city for weather. How hard is it keep your bees going during harsh conditions?
Chef Gavin: It's still Mother Nature. You think you're doing the right thing, but in the end, Mother Nature is still in charge. After six years of doing this, you kind of just know what do to and how to react to any situation or weather that comes along.
JG: Tell us how the flavor of the honey can change from season to season.
Chef Gavin: Every year our honey tastes a little different, depending on each hive. Bees have their own plans. One hive that is right next door to another hive can taste totally different from each other. It depends on what source they gather their nectar and pollen from, and how the hive gets along. Some hives could get their source from a maple tree, another hive from a raspberry bush, which then makes the honey taste like these sources.
JG: How do approach creating new honey-infused dishes each year after the honey extraction.
Chef Gavin: Every season I try and create new dishes. As chefs, we are all innovators. In my kitchen, we have 44 cooks, and they are all trying to come up with the next big thing. We've tried dehydrated honey to pollen dressing, and pollen coated fish. Each season is a new challenge to see what's a hit with our guests.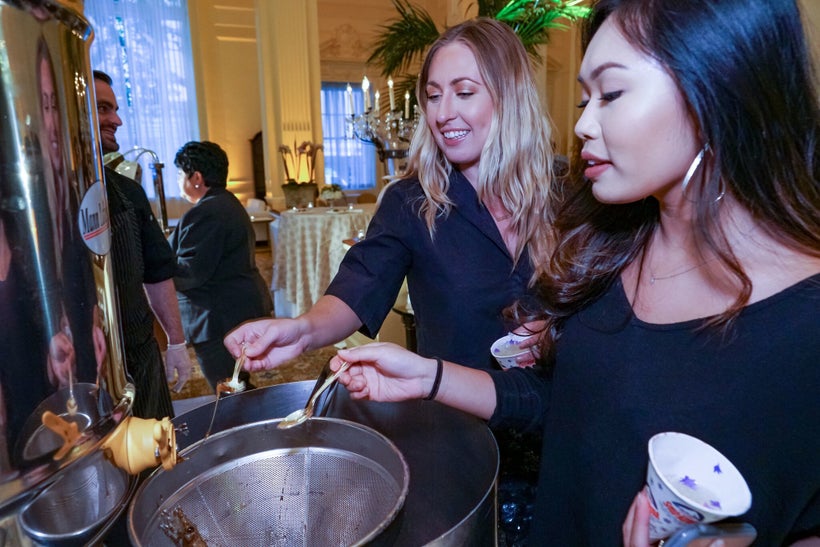 JG: How did the "Bee Olympic" honey extraction party get started?
Chef Gavin: After a few years, we started extracting our honey back in our kitchen, and it became a thing in the hotel, everyone would come to check it out from the front desk to sales, to our servers and bartenders. It was so cool and fun for everyone to watch and I always thought, 'man, we should do this publically'. Now for the past two years, we've thrown our extraction party and let our top clients and closest friends come and watch us extract right in the middle of our Georgian Restaurant while tasting unfiltered, unadulterated honey that was literally in the bee hive hours before. It is so amazing to have watched this project evolve into what it is today.
JG: Why did you and the hotel venture into the honey beer and honey cider business?
Chef Gavin: The whole bee program in this hotel has exploded. Our guests want to be a part of the bee experience of the hotel and whatever we have been making, people have been flocking to buy it, eat it, and now drink it. The bee program and our products have become a big part of who we are at the hotel.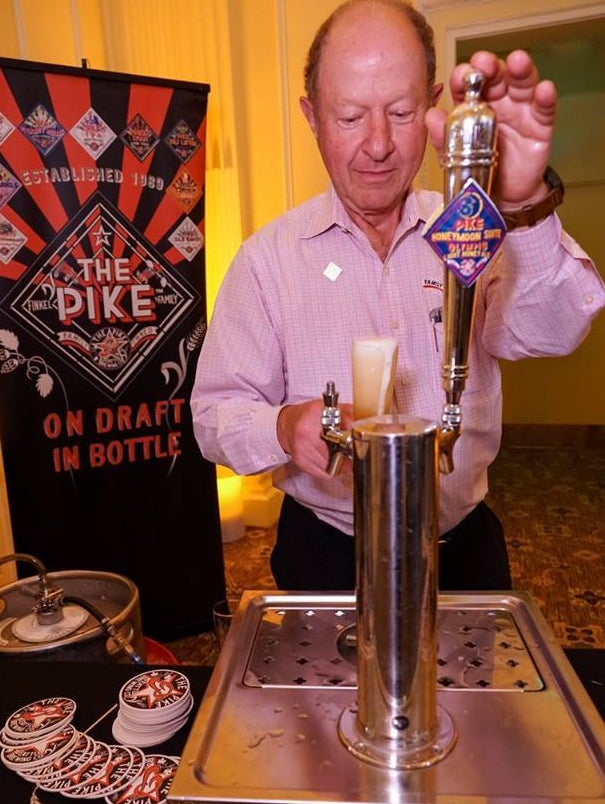 JG: Your partners, Pike Brewing Company and Seattle Cider credit you for being the driving force in creating these well-crafted libations.
Chef Gavin: We all want to make the best possible products, like our honey beer or honey cider. Partnerships with people like Pike Brewery and Seattle Cider are awesome because they want to do the right thing and never said no when we created the beer or the cider. We all worked together really hard until we got to the point where I was like, yea this tastes great.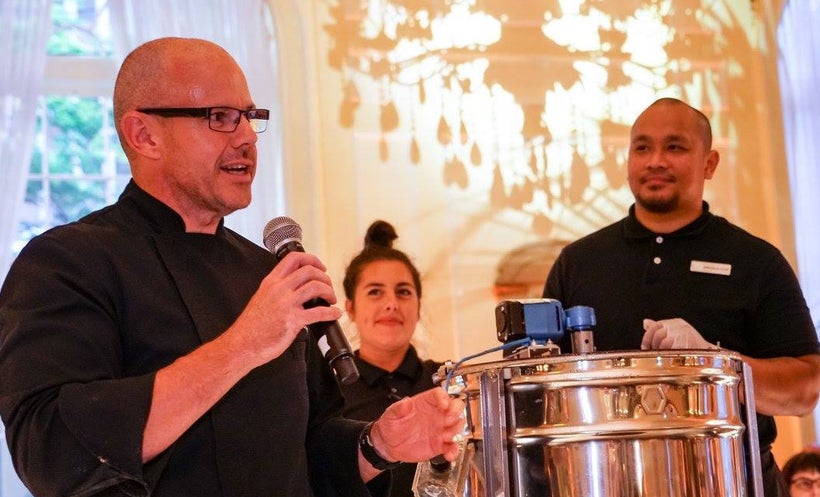 JG: What does the future of your rooftop bees look like to you?
Chef Gavin: We'd love to start an adopt a hive program, where I could mentor people in the local area that want have their hive. Not sure if it will ever happen, but it's a little philanthropic, grass roots kind dream I have.
After losing several hives this past season, Chef Gavin and his team were able to extract almost 350lbs of honey at this year's party, far less than last season's record high of over 600lbs of honey. Until they run out, Chef Gavin uses the honey to create many different culinary sensations throughout the year, from main dishes to desserts to pastries to glazes and amenities
Coming in 2017 with a partnership with local Seattle distillery Sun Liquor, and the genius brain of Chef Gavin, the Fairmont Olympic will launch their honey-infused vodka, sometime next year - as his bee empire continues to grow.
REAL LIFE. REAL NEWS. REAL VOICES.
Help us tell more of the stories that matter from voices that too often remain unheard.
This post was published on the now-closed HuffPost Contributor platform. Contributors control their own work and posted freely to our site. If you need to flag this entry as abusive,
send us an email
.