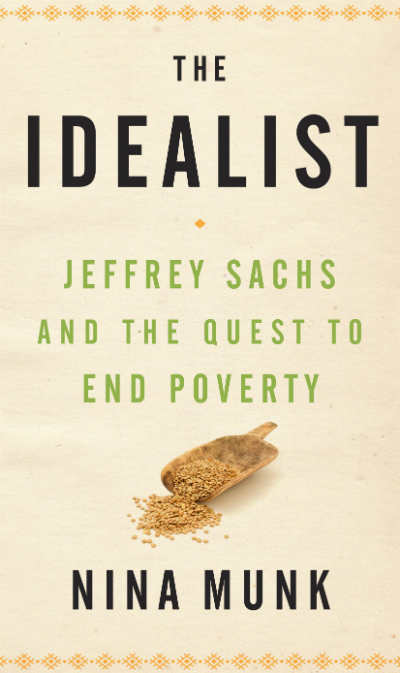 The following is excerpted from The Idealist: Jeffrey Sachs and the Quest to End Poverty, available this month from Random House. This is the second excerpt of three. To read the first excerpt, click here. ________________Dertu's aging borehole had broken down, and not for the first time. In this instance, however, the situation was especially dire: it was the dry season, and both generator-driven pumps had given out at once. There were no spare parts in Dertu, and no one had the skills to fix the pumps. And so, in a panic, Ahmed spent $1,500 of his budget to have a 9,000-liter (3,778-gallon) tanker deliver water to Dertu until one of the pumps could be replaced.
But 9,000 liters wasn't enough water for the thousands of thirsty people and animals that congregated in Dertu. Fighting broke out among the villagers. The driver of the water truck was beaten by an angry mob. A sixteen-year-old boy, accused of cutting in line, was stabbed to death. "It traumatizes me," Ahmed said. "This is about life and death. A human being is only orderly when things are in plenty."
Meanwhile, yet another famine threatened the region. "Horn of Africa: Exceptional Food Security Crisis" was the headline of a 2008 bulletin issued by the Red Cross. A combination of drought, poor harvests, and soaring food prices had combined to create "the perfect storm," as Sachs referred to it.
In an urgent e-mail to his bosses in Nairobi, Ahmed requested permission to buy a new pump. "This is to inform you that the two boreholes in Dertu suddenly broke down," he wrote, "and the local community are in critical/emergency water crisis. There is not even a drop of water at the village. Lives are in danger (both human and livestock). The stories narrated are very pathetic, e.g. pastoral mothers who left their young ones some 20-30 km away to get water by donkeys could not hold back tears when they found out that there is no water at the borehole to help their dear ones and themselves."
Ahmed needed 400,000 to 500,000 Kenyan shillings ($5,000 to $6,000) for a new pump. The Millennium project's Nairobi office was of course sympathetic, but in responding to Ahmed's request, they noted that repairing the pumps was no more than a short-term solution to Dertu's water problems. "I usually liken boreholes to babies who do not show signs of illnesses until they are critically or fatally sick," one of the coordinators responded knowingly. "This happens all the time with boreholes but investors never learn."
Back in 2006 the project had concluded that Dertu's population could be sustained only if multiple water sources were available--shallow wells, roof catchment systems, and huge water-pan reservoirs to harvest rainwater, for example. The project had allocated $23,000 to "empower the local community to manage these water resources," and yet with the exception of a few water tanks at the school and the clinic, no long-term solution had materialized.
Besides, the Nairobi office wanted to know, didn't Dertu's Water Users Association have its own money to buy new pumps? For each camel that drank at the borehole, herders had to pay six Ksh, money that was supposed to pay for fuel, maintenance, and repairs. Where had this money gone? Ahmed had no idea why the Water Users Association lacked money to replace the broken pumps; he only knew that the people of Dertu needed water desperately. If money was being embezzled, as some had begun to suspect, he knew nothing about it.
Everything in Dertu was proving more expensive than the Millennium Villages Project had planned for: fuel, staple foods, building supplies. The value of the U.S. dollar had fallen and prices had soared since the project's launch in early 2006. Ahmed was almost out of money; he faced budget cutbacks in the coming year, and the people of Dertu felt cheated. More and more of his time was now devoted to pleading for additional funding from the Millennium Villages Project and from any other donor he could think of.
Construction of the boys' dormitory at Dertu's school had been completed, but there was no money left over to buy mattresses. At the health clinic, the new maternity ward was two- thirds complete, but the contractors refused to finish the job unless they were paid more than the sum they'd originally agreed to. The laboratory technician demanded a raise of 10,000 Ksh a month, about $120--and when his demand was not met, he quit, with the result that there was no lab technician in Dertu for almost a year and the clinic's microscope, donated by the Millennium project to diagnose malaria and TB, gathered dust, literally, and sand. Dertu's one itinerant schoolteacher now had 392 students, and there was no budget to hire another teacher.
There were other setbacks. The project's attempts to diversify Dertu's food supply had been for nothing. For Dertu's demonstration farm, Ahmed had planted row after row of sorghum, a cereal crop more tolerant of drought than corn, but the seeds were devoured by a swarm of Red-billed Quelea-- "locust birds," as they're known in Africa. They darkened the land like storm clouds, huge ominous flocks swooping in to devastate the fields. As for the eighty-four hoes and eight spades that Ahmed had given out to promote farming in Dertu, they disappeared without a trace.
A "kitchen gardening" program, meant to encourage the women of Dertu to grow kale and tomatoes in burlap sacks, hadn't worked either. The high saline content of Dertu's groundwater was to blame, someone said. The women had received no proper training, someone else explained. Somalis didn't like kale, another person told me.
One way or another, Dertu's agricultural experiments were not a success. "Dertu should be green by now," observed Ahmed. "We've given away five thousand seedlings, but people don't understand the importance of trees. There is not a culture of tree plantings."
For the first time since I'd known him, Ahmed looked discouraged. I arrived in Dertu one day just as he was leaving for Nairobi. The purpose of his trip was to raise money to buy six hundred goats, part of a "restocking" program to donate livestock to Dertu's poorest residents. The Millennium Villages Project had promised the goats long ago, but by this time there was no money for them in the budget, and the people of Dertu were resentful. "The community is on our neck," Ahmed said. "They say, 'You build, but you never complete.' "
Popular in the Community