With the hype and chaos of Black Friday still smoldering in the rear view mirror, I have once again found myself bewildered at the state of our nation's consumer market. Fights for deals have turned Black Friday from an amusing race for die-hard shoppers to a free-for-all where aggression and rudeness prevail. It seems like there are a small group of individuals among these avid shoppers, willing to risk physical injury to obtain 40% off of a cheaply made fashion article or techie gadget. It is easy to imagine most of these items in a landfill in the not so distant future, slowly disintegrating, and far removed from their frantic purchase date. These products, like the unsustainable "cheap" labor driven economic models they rely upon, will quickly be discarded and replaced with equally cheap versions of themselves. This has me pondering the increasing importance of quality products... the type of products that were largely absent from the recently pillaged Black Friday aisles.
As the owner of an American-made handbag company, I am constantly considering these factors during my creative process. I am a strong believer that there is definitive correlation between local production and the economic health of a region. So it is important that, as I walk the walk and manufacture all of my products here in New York City, I also make sure the quality of my products exceed those of my French and Italian made competitors. To do this, I begin by focusing on my design aesthetic and functions, considering things such as the length and width of tote handles and ensuring that the bag hangs probably for maximum comfort, regardless of the weight of the bags contents. Other considerations like unique stitching details, serve as both function and design, distinguishing our product from others. The resulting product is something that epitomizes quality to me, and if I have succeeded, to my customer as well.
The locally produced and rich heritage of French and Italian made handbag collections had served as my early inspiration, and today they continue to act as my benchmark in terms of well made, quality handbags. I do not consider the hundreds of other brands, with European and American sounding names, to be in the same category. Their "Made In China" labels belie the North American or European origins their names attempt to convey. And while the details of China made products have improved under the strict guidance of its Communist party, the repressive and labor exploiting plants are very much at odds with my definition of quality.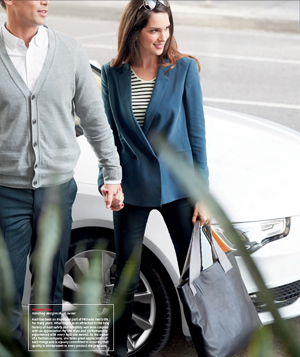 Recently we sought out an automobile company to partner with on our first collaborative tote line. We had a strict criteria that the company have similar views on quality to ours. That's what led us to Audi, a brand whose attention to quality and responsible production practices are beyond exceptional. Their innovative and world class production facilities are designed to minimize waste, improve sustainability, and adhere to high labor standards. As the recent beneficiary of "Germany's Most Highly Regarded Company" by Germany's Manager Magazine, Audi is well known for their top-notch production practices. Collaborating on a tote to compliment their line of 2013 autos was a joyful experience and we were thrilled that Audi shared in our enthusiasm for keeping the line New York made.
The notion that the definition of quality should encompass not only how a product looks, feels, and functions, but also how it was made, is spreading. This viewpoint is certainly not the norm in America, but it is something that continues to gain traction among the educated and thoughtful consumer who seeks out quality goods produced in quality production facilities. Perhaps Black Friday can act as a catalyst in promoting quality products by starkly illustrating how a non-thinking consumer can quickly become a dangerous one.