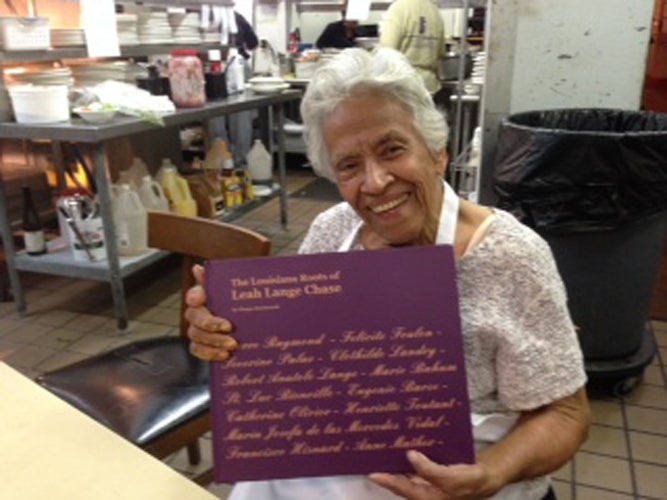 Legendary chef, restaurateur, activist, and patron of the arts, Leah Chase, may be 94 years old, but that doesn't mean she's slowing down. These days, the New Orleans luminary can be found everywhere from the National Museum of African American History & Culture to Beyoncé's 'Lemonade' video.
Though she is entirely self-made, an exploration of her heritage makes her seem almost pre-destined to be a stand-out representative of her home state. After all, her family history is the history of Louisiana.
Miss Chase's family tree meanders back through Louisiana for generations, primarily in the parishes of Orleans, East Baton Rouge, St. Tammany, Tangipahoa, and Pointe Coupee. In fact, only one of her great-grandparents was born elsewhere, and even he started life nearby in Pass Christian, Mississippi. And her roots are classic Creole. As might be expected, French surnames abound, but her Spanish ancestry is also evident.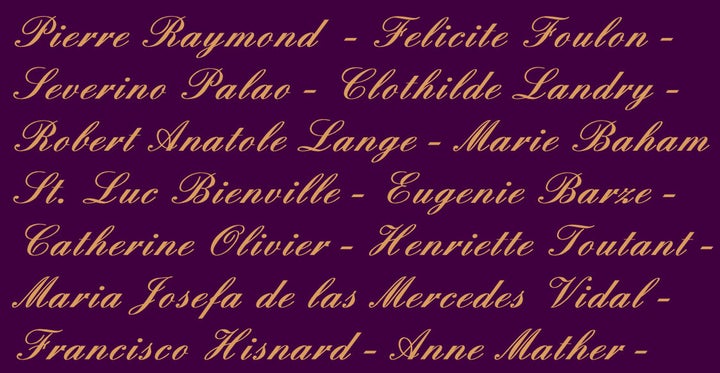 Among Miss Chase's more intriguing ancestors are one of the first African American members of the Louisiana state legislature, a fellow who purchased the freedom of several relatives, a gentleman who served as the military legal counselor to the Spanish governor, and a great-great-grandmother whose cause attracted the attention of the then governor of Florida and future American President, Andrew Jackson. To share the entirety of her family saga would require a book, but here are some highlights.
Free Before Emancipation
Roughly half of Miss Chase's ancestors on both her mother's and father's sides of the family were free before Emancipation (compared to approximately ten percent on a nationwide basis, though many Louisiana families would have had higher-than-average figures).
Pioneer African American Member of Louisiana Legislature
One great-grandfather, Robert Anatole Lange, was one of the first African American members of Louisiana's legislature during Reconstruction and served 1868-1870. His political career and other aspirations regrettably came to an abrupt end due to a fatal accident at the age of 27 in March 1870, the same month he joined the Public Education and Penitentiary committees of the state legislature.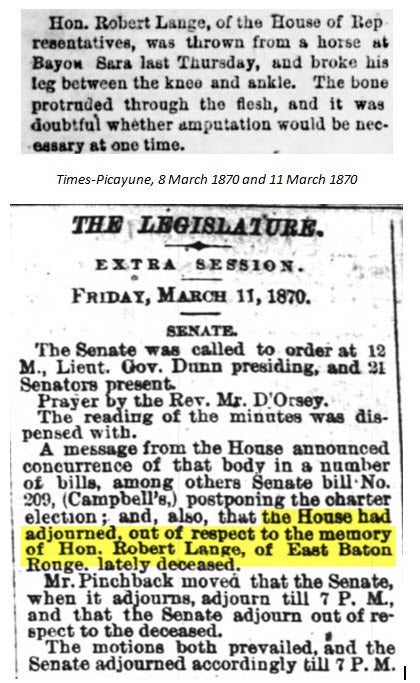 Literacy and Anglicization
Another of her great-grandfathers, Pierre Raymond, left a pair of Freedman's Bank records, the first in 1867 and the second in 1869. Taken together, they reveal his "light brown" complexion, New Orleans birth, carpentry trade, and details about his wife (Clotilde Landry), mother, siblings and children. Better yet, they both include his signature. There is conspicuous improvement in his writing between 1867 and 1869, suggesting that he only had the opportunity to learn to read and write after Emancipation. During that time, he also began shifting from Pierre to the anglicized version of Peter.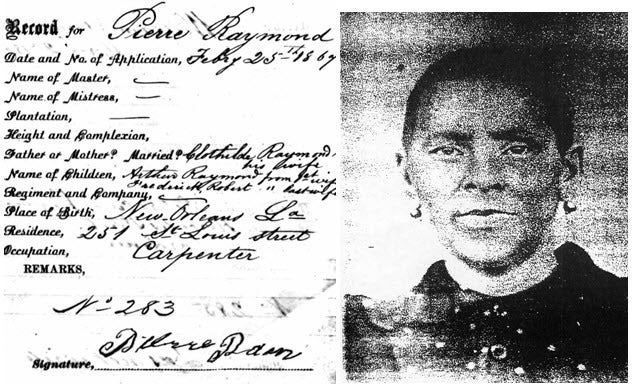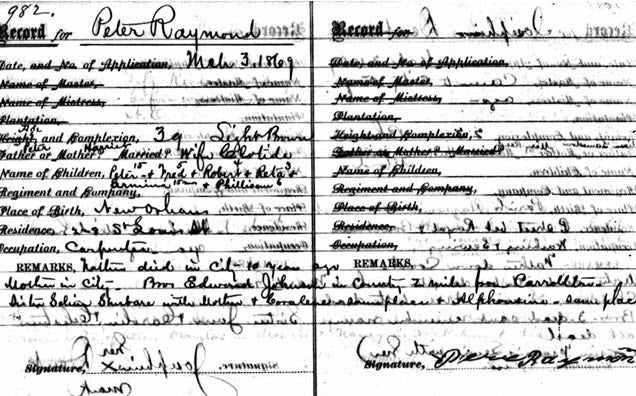 Multicultural Roots
The 1821 estate of one of her great-great-great-grandfathers, Alexander Lange, reveals that he owned a house and property, as well as a mahogany armoire, two pairs of andirons, and "8 spoons and 9 forks, silver." The documentation is a mish-mash of English, French and Spanish, reflecting Louisiana's multicultural roots and recent history at that time.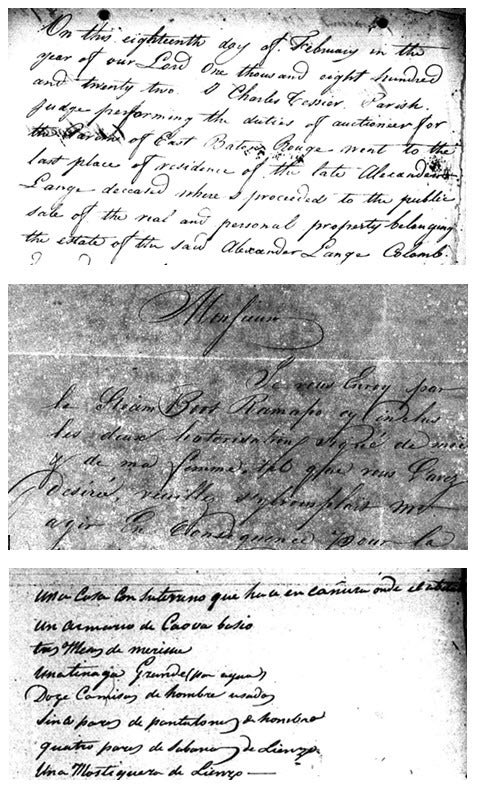 Buying Freedom
In 1800, an enslaved woman named Charlotte was freed according to the terms of the will of a deceased planter. In 1803, the same year as the Louisiana Purchase, a "free person of color," Julien M.L. Bienville, purchased St. Luc and Mary, ages eight and five, in order to free them (Spanish law, in place at the time, allowed the enslaved and others to buy freedom). These siblings were Charlotte's children. While it is uncertain whether Julien was their biological father, it seems likely, as he was regarded as such and they used his surname. St. Luc would become Leah Chase's third great-grandfather.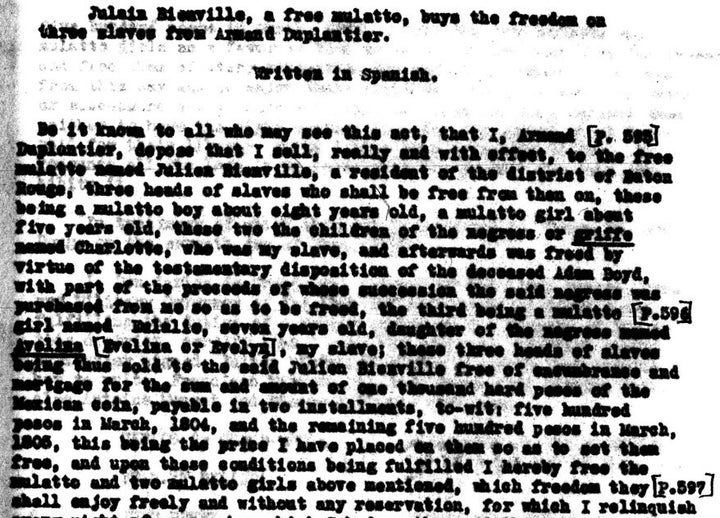 Spanish Forebears and Strong Women
Yet another cluster of Miss Chase's family, emanating from a great-great-grandfather named Severin(o) Palao, features in a number of books regarding mixed families in the South. His father and maternal grandfather were both from Spain, and his Louisiana-born mother, Maria Josefa de las Mercedes "Merced" Vidal, brought an intriguing family history into the fold, starting with her grandparents, Francisco Hisnard and Maria(na) Grondel.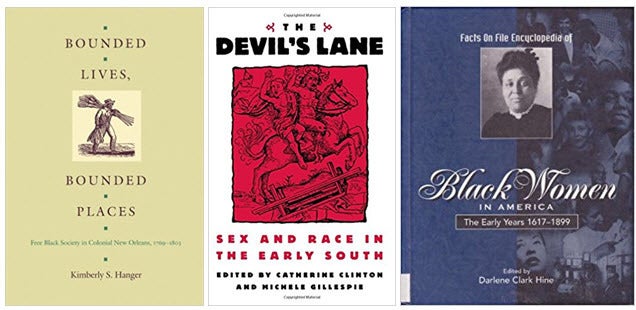 Though they were not able to marry in the legal sense, Hisnard and Grondel were a long-time couple who had three children in the 1770s and 1780s. Their middle daughter, Eufrosina, would follow their example, uniting with Don Nicolas Vidal, a Spanish official and counselor to the governor of the colony, from the time of his arrival in the early 1790s to his passing in 1806. When he died, the women in his life fought hard for their share of his estate, the mishandling of which would eventually lead to a confrontation between the one-time Spanish governor and future American President, Andrew Jackson.
But Eufrosina Hisnard and her daughter Merced Vidal, Miss Chase's 4th and 3rd great-grandmothers, never backed down. It's clear that they were forces to be reckoned with, and their legacy lives on in Leah Lange Chase, a remarkable descendant they would undoubtedly be proud to claim.
Related
Popular in the Community