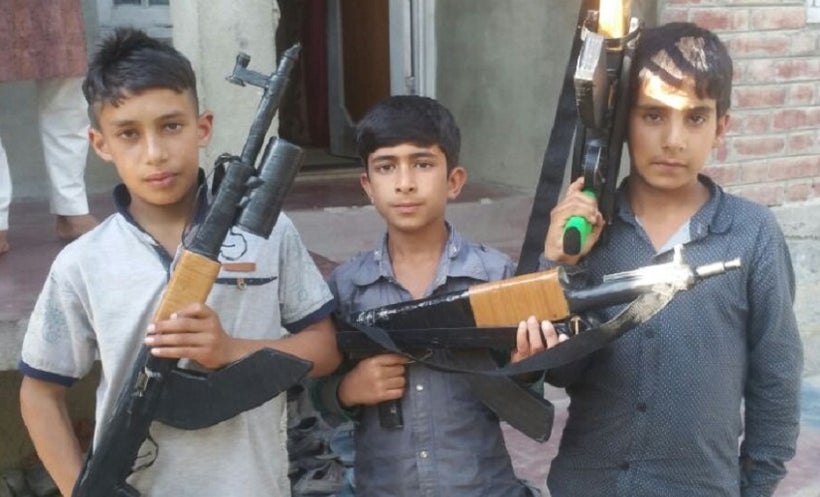 Nine years old Hashim pulls out his "gun" from the box kept next to his school bag. Cleaning it thoroughly, Amina his mother, puts her hand on his head. Hashim steps out of his house and walks through the street full of silence to meet his companions. Hashim, commander of his "rebel" group, is nine.
As he reaches, he is warmly welcomed by his companions with the guns over their shoulders and soft hands pointed upwards. Yes, they have toy guns in their hands instead of cricket bats. It looks like the games have changed.
In Hashim's village, in south Kashmir, a Pro-Freedom rally will be held in which thousands of people of nearby villages from every Islamic sect will participate. These are rallies in against the Indian rule in Kashmir. Hashim's group "rebel" will be guarding the rally to make it a successful rally.
"I am the commander of my village," says Hashim, who has now put a green fabric over his forehead, with a six letter word "Burhan" written on it. Walking towards the rally ground, he assign a specific position to his each companion.
I don't feel free here, had there been a real gun I would have picked that, I feel a sense of protection through this," he said, while he gets a word of blessing from the people pouring into the rally ground. The people, young and old are fascinated by the scenes of these kids and appreciated them.
"We are inspired by the Burhan Bhai," he says referring to the Hizbul Mujahideen commander, Burhan Muzaffar Wani, who was killed on July 8 in kokernag area of South Kashmir. Since Wani's killing, Kashmir is shut and more than 90 people, mostly youth have been killed by the government forces. "He is our hero, we want to look like him and we want to tell the world that he is dead but they should see there are more Burhan's in Kashmir," he adds.
After four hours, of raising freedom slogans in the rally along with thousands of people and raising their rifles, the group meets and poses for photographs. They pose like the same as Wani and his associates did in the popular photograph that took the Internet by a storm last year.
"I know nothing is going to happen with my gun, but it will surely send the message that if we are not liberated, I can pick a real one once I grow older," says Ahmed, a 10-year-old chubby face boy with deep black eyes.
Despite being young they are well aware of the politics around and can deliver lecture on the cause of Kashmir problem. 
"Tell Modi," referring to Prime Minister Narendra Modi, Hashim, surrounded by his group with raised rifles says, "He should give us freedom. That is why we have picked up guns and In Sha Allah (God willingly) we will get it." Replicating, the tone of Burhan Wani, he says, "the youth that are being killed shouldn't be.
In Kashmir, children who are yet to learn alphabets have memorized slogans that reverberate in the streets here. As the Kashmir situation is turning ugly day by day, children seem to have created their own world out of this conflict. In fact, they have chosen their hero and that too not any cartoon character, but a militant commander. Their imitation reflects a larger crises prevailing in the Valley.
There is Hashim in every village now, with his rebel friends and their favorite game is Army-Militant, not Cricket or Football.
Children like Hashim are the future of Kashmir and the politics of the region will decide whether they will live in peace of violence.
Calling all HuffPost superfans!
Sign up for membership to become a founding member and help shape HuffPost's next chapter
This post was published on the now-closed HuffPost Contributor platform. Contributors control their own work and posted freely to our site. If you need to flag this entry as abusive,
send us an email
.