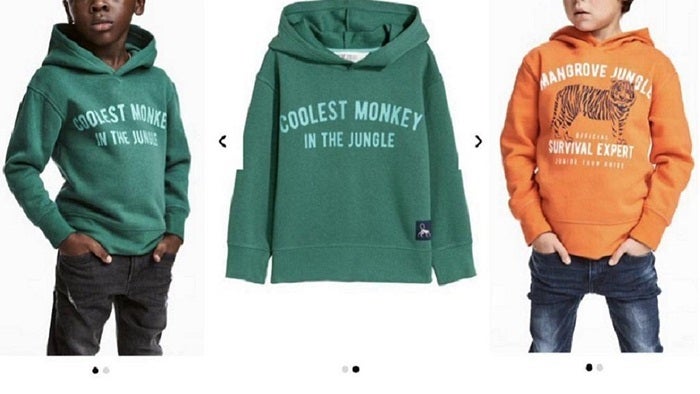 I woke up this morning, and the first thing I saw was a picture of a black child in a hoodie with the words "Coolest Monkey in the Jungle." My initial reaction was one of shock and then things got even more upsetting when I realized it was an ad for a hoodie being sold by a multinational company H&M. This situation reminded me of an advertisement by Dove a few months ago that showed a female of African American descent using Dove and then becoming caucasian. Dove took a lot of hits for that ad and today H&M has been taking a lot of fires as well.
Canadian R&B superstar The Weeknd said today he was cutting ties with H&M over the ad, saying he was shocked and embarrassed by what he saw, and that prompted him to end their arrangement. Now I am not here to tell you things you already know; I am pretty sure by now you have heard about this and had your view. However, based on how frequently this seems to be happening I have a few questions that might make me somewhat unpopular.
H&M, just like Dove, is facing a lot of outrage online about its decision to air this ad, as they should be. However, I am wondering, does the outrage stop with the companies that run these types of ads? Like Riley Freeman said, at what point does personal responsibility become a factor? Should we not also be outraged by the models who consciously make the decision to put their image and own brands behind these racially insensitive ads or, in this case, the parents of the child model?
I remember the whole "Oscars So White" debacle that resulted in a boycott of the 2016 Oscars because no black actors were nominated ― many activist were calling for Chris Rock to boycott as well. Chris Rock was the host of the awards, he did not boycott and during his opening monologue he joked that he decided to remain as host despite calls to step down because he does not want to lose another job to Kevin Hart. Katt Williams during a stand-up performance related an experience about when he was invited to the roast of Flava Flava. He talked about how he thought the roast was so racist based on some of the things they said, calling Flava Flav a flying monkey with other disgusting names. However, at the end of the show, Flava Flav came in smiling and congratulating them on the show. Katt asked them if he wasn't upset about what they were saying about him and, according to him, Flav didn't care what they were saying. His response to Katt was "they just "gotta pay me." If they are going to call me all these names anyways, they might as well pay me.
I mention these because I am wondering if this is the same situation with the models in the ads for these companies. Is it a case where they are getting paid, so it doesn't matter what the ad is about or what it represents or how racially insensitive it is? Is it a case of money talk, bullshit walks? Does The Weekend cutting ties with H&M mean anything if these models do not take a stand and say they will not pose for these racially insensitive ads?
I don't think the outrage needs to stop with the company, I think the anger needs to extend to everyone involved, the parents of the kid models, the adult models and every stakeholder who had a part to play in this ad appearing on our TV and phone screens or anywhere you see it. Maybe there is a need for a mindset shift where morals trump money, or perhaps not everything's meant to be racist. Either way, it's time we start holding, not just the companies, but the models responsible for these ads, just my two cents.
REAL LIFE. REAL NEWS. REAL VOICES.
Help us tell more of the stories that matter from voices that too often remain unheard.
This post was published on the now-closed HuffPost Contributor platform. Contributors control their own work and posted freely to our site. If you need to flag this entry as abusive,
send us an email
.