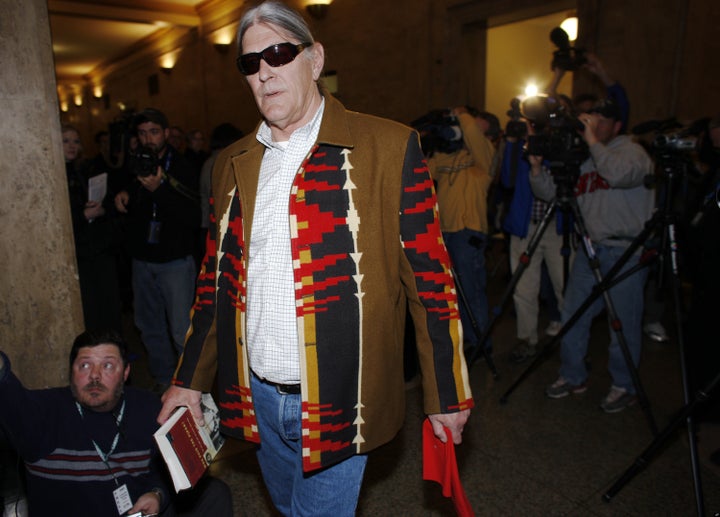 Make no mistake. Disgraced University of Colorado professor Ward Churchill deserved to be fired. To be rather blunt, and as has been well documented over the last several years, he just wasn't that good at his job. But as fate would have it--and as a Denver jury concluded--he was fired for the wrong reasons. While the media provided a brief mention of an appellate court's denial of his plea to get his job back, too many reporters failed to tell the more important part of this story: the decision may hurt future public employees seeking redress and accountability over legitimate job losses and discrimination.
Regardless of one's view of Churchill, you've got to give him kudos. The man can stay on message.
He has never once strayed from his commitment to fighting against the Man (while also curiously disclaiming himself as one). Now, unless the Colorado Supreme Court takes up his cause, the blue suits in the boardroom may get the last laugh.
Fortunately, not all reporters were asleep at the wheel. As Law Week reported this month, the Colorado Court of Appeals' decision to deny Churchill's reinstatement as a CU professor could significantly impact the way courts treat public employment cases in this state.
As University of Denver law professor Alan Chen told Law Week, the development could create a vehicle for public employers, including universities, to gain greater immunity from their actions:
Judicial immunity is absolute, so where it applies, it doesn't matter whether the decision makers violated a constitutional right, or how clear that violation might be, the person whose rights are violated simply cannot get judicial relief. This part of the opinion is troubling, because most government employment decisions (or any employment decisions) are not typically made through judicial or quasi-judicial bodies. But the Churchill decision may encourage government executives to set up judicial-like bodies to review constitutionally questionable employment decisions to protect themselves from suits in future cases.
While I question much of Churchill's thesis, my greater concern was not about the viewpoints he expressed but that it even took the essay for Churchill to be investigated in the first place. In 2005, I co-authored an analysis of CU's legal options. Titled "No License To Lie: Standards For Impartial Judgment in the Ward Churchill Investigation," I laid out many legitimate reasons for termination, including demonstrated professional incompetence, his neglect of duty, resume fraud and his flagrant, persistent failure to meet minimum standards of professional integrity.
It wasn't until 2007 that CU finally canned Churchill, a decision praised by many and condemned by radical faculty members. CU publicly maintained that he was fired not because of his controversial political views, but due to other legitimate evidence relating to his professional misdeeds.
Churchill fought back. In 2009, Denver jurors heard his wrongful termination case, after which they agreed with Churchill's attorney, David Lane, that Churchill was fired not because of the above legitimate concerns, but rather as retaliation against his decision to exercise constitutionally-protected free speech.
While I rooted for CU during the lengthy trial, I now find myself more concerned about something much more important than one crappy professor's civil rights. We should all be concerned about the health of our judicial process.
Taking emotion out of the equation, here's what we've got. A public employee was fired. Jurors said he was fired unlawfully. And now, we've got a Court of Appeals' response saying that CU's elected decision making body, its Board of Regents, should be immune from the consequences of failing to fire this employee for the right reasons. Maybe jurors got it wrong. After all, Lane is a force to be reckoned with in the courtroom, known for winning unwinnable cases representing some of society's most despised public figures (full disclosure and of ultimate irony: Lane is now also my lawyer, where through a federal civil rights lawsuit, I'm one of several plaintiffs arguing that Colorado lawmakers violated the constitution by imposing unconstitutional restrictions on petition rights). But the political debate over whether jurors were correct doesn't excuse the Court of Appeals from its obligation to uphold the law for the rest of us.
As Chen explained further to Law Week, the Court's finding that the university's investigation into Churchill's behavior did not constitute an adverse employment action could provide public employers greater cover in future efforts to retaliate against protected speech.
"Even if the decision makers found misconduct on his part, the evidence seemed to indicate that the investigation wouldn't have been initiated but for Churchill's controversial speech. This part of the decision has troubling free speech implications as well," he said.
The Court's determination that CU's actions didn't constitute an adverse employment action let CU's Board of Regents off the hook for Churchill's legal bills. I cannot believe I'm saying this. Deep breath here. CU should pay.
Ultimately, CU is to blame for the case even getting this far. Time and again in the years prior to Churchill's now infamous essay going public, Churchill's fellow professors, as well as his students, and others outside the academy, raised serious questions about his behavior.

Instead, CU blindly promoted Churchill through the academic ranks rapidly, doing so in spite of the fact that he lacked basic professor credentials, believing somehow that this white dude parading around as a member of an American Indian tribe legitimately furthered the university's desire for ethnic diversity on its faculty.
Now we're left with a court decision that does nothing to encourage our universities to reevaluate their almost theological obsession with diversity at all costs. The Regents are off the hook for Churchill's speech, leaving them little incentive to think twice before treating other employees similarly in the future.
"There are all sorts of manners, some overt and some subtle, in which public employers can retaliate against their employees for engaging in speech on public matters," Chen said. "The more the law allows them to disguise their actions, and the harder it makes it to prove pretext, the greater the jeopardy to public discourse."
As Lane has recalled to reporters, he lost the popularity contest once and for all when he made the decision to stick by Churchill. Even his criminal defense clients, including accused murderers, have questioned the morality behind this commitment. But if law is morality, than Lane may just be on the right side of wrong-headed justices here.
Churchill needed to go. And he's gone now. But what we're left with something may make us all a little worse off. Should public employers be able to fire you because of what you say? Sometimes, yes and sometimes, no. When a jury says no, however, and a Court reviewing your case says your boss shouldn't be held accountable, something is wrong with our judicial system.
Something tells me we haven't heard the last from Churchill. He'll keep fighting until he can fight no more. We can only hope that in the meantime, CU will head back to class (thankfully not Churchill's) to brush up on its obligations under the Constitution.
Jessica Corry is a Denver-based attorney with Hoban & Feola, LLC, and also serves as director of the Independence Institute's Campus Accountability Project. She is currently working toward completion of her first book, Victim Nation, as a Phillips Foundation Robert Novak Fellow.
Support HuffPost
The Stakes Have Never Been Higher
Related
Popular in the Community