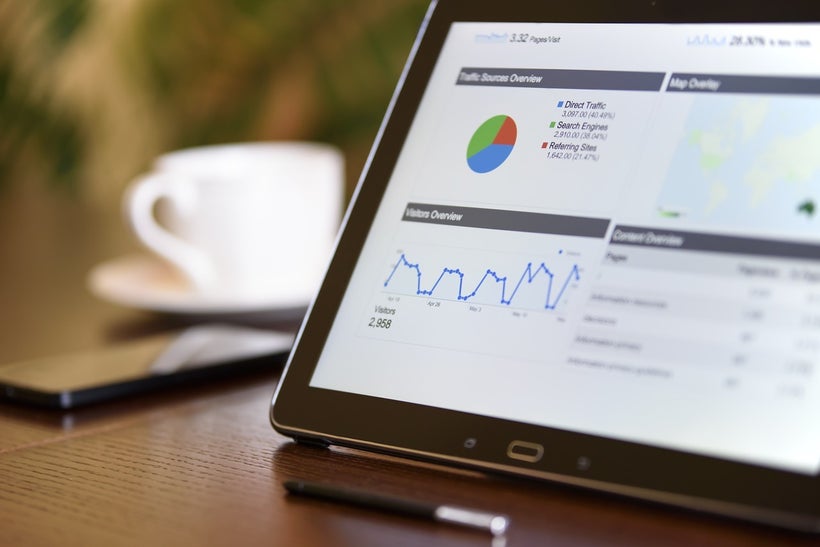 Our screens are flooded with data every single day.
And the surge isn't slowing down anytime soon. According to IDC's Annual Digital Universe Study, the amount of data around the globe is anticipated to increase tenfold by 2020.
This represents a MASSIVE influx of information.
And while this data is critical for making effective business decisions, it can be paralyzing in its raw form. Too much data can be just as incapacitating as no data if it's not organized in an easily digestible layout.
This is where visualization comes into play. Innovative technology has made it possible for business professionals to view real-time data with visualizations that reveal the story behind the numbers.
You no longer need to resort to guesswork when it comes to future business initiatives.
This guide will explain how data visualization works, examine who stands to benefit the most from it, and outline 23 different types of data you can visualize to gain incredibly powerful insights.
Data Visualization: What is it?
Data is usually presented in a text-based format after its initial extraction. With data visualization, information is presented in a visual context to enhance understanding around key metrics and cut down on time required for analysis.
Patterns, trends, and correlations that might otherwise go unnoticed become easily discernible in this visual environment.
This is typically achieved through dashboarding.
Dashboards make it possible to organize key performance metrics so that they can be analyzed, monitored and used to make critical business decisions. Some of the visual components that they employ include:
Charts
Sliders
Gauges
Checkboxes
Maps
And More
The types of dashboards available can vary greatly, but there are three primary kinds of dashboards. They consist of:
Operational Dashboards: This type of dashboard is mainly used for monitoring purposes. This can include keeping track of events, processes, activities and goal completions as they occur in real time.
Strategic Dashboards: These dashboards are also referred to as scorecards and are usually organized in a top-down fashion to view the progress that is being made toward the achievement of planned business objectives.
Tactical Dashboards: If you need to measure and analyze the performance of specific activities, processes, and projects, then the tactical dashboard is an ideal option.
Now that we've outlined the basics of how data visualization is used, let's move on to explore who uses it the most and the benefits associated with it.
Who Should Use Data Visualization?
The applications of data visualization are so broad that there are very few, if any businesses, that would not benefit from it. However, there are some key roles that find it especially useful for their distinct purposes.
The following list outlines some of the chief individuals that may want to take advantage of data visualization:
Executives — Waiting for reports -- overflowing with the biases of every department -- can result in corrupt data, Data visualization allows you to see both the high-level data and granular metrics that you need to base your decisions on in real time. View your data on any device, wherever you may be, to maintain visibility into your organization while empowering your team to act on your insights.
Managers — Without the right tools to manage your people, it can be more than a little challenging to deliver optimal results. Visual dashboards simplify the process of communicating with both executives and employees while providing you with real-time insight into the day-to-day happenings. Benefits like the ability to collaborate around real-time data, share files in one central location, and import data from 3rd party applications can have an immense impact on business communication. When you bring your department's data together with metrics from all areas of your organization, you can witness the precise ripples that stem from your decisions.
Analysts — When your job depends on transforming raw data into actionable insights, the tools at your disposal are a crucial component for delivery. Bringing your data together and viewing it with customized visualizations has the potential to significantly cut down on time spent combing for insights. Eliminate manual reporting, share your discoveries and get real-time feedback.
Relaying data to the individuals that need it is practically unfeasible when you're trying to collect and make sense of the scattered information in your organization. You can now sync your data on one platform and transform it into intuitive visualizations that give you the edge you need to transcend expectations.
What Am I Missing Out On?
Data is key to making solid business decisions.
By manipulating this data into visualizations, we can eliminate the frustration of attempting to navigate scattered reports and dig right into the meat behind the numbers. Some of the chief benefits of data visualization include:
Simplified Business Collaboration: Maintaining an accessible and secure data platform allows for unhindered communication to keep everyone connected throughout the process. Exchange information with team members through private and public messages, file and data sharing, and data extraction from third-party applications.
Real-Time Access: This benefit applies to both extraction and collaboration.The ability to access your data as it's flowing in, and share it with your team, makes it possible to execute business strategies just as the opportune moment presents itself.
Closed-Loop Attribution: Leaky data can wreak havoc on your campaigns and deplete marketing budgets without producing any tangible results. With data visualization, you can clearly tie your investment to revenue and optimize your strategies to ensure optimal outcomes. Real-time insights are no longer a luxury in this rapidly shifting business climate, they have become a necessity.
Feeding the Bottom-Line: Take action that is supported by data. Visualizing the data around your campaigns makes it possible to quickly distinguish the activities that are generating results from those that are not. Once you have this insight, you can focus your marketing dollars on the most fertile channels and see an immediate lift in ROI. And when you can demonstrate the value that your chosen strategies are bringing to the bottom line, the question of where to direct additional resources will require very little contemplation.
Notifications Around Key Metrics: Unanticipated market fluctuations can result in significant losses or missed opportunities. Even a lag of fewer than 24 hours can have a major impact, which is why the advantage of timely alerts and notifications cannot be overstated.With data visualization, you can pinpoint key metrics and thresholds and then create alerts around them to notify you of changes that require swift action.
Seamless Accessibility: Your team may use a broad array of tools but the data from each channel should be easily accessible from one centralized platform. Modern professionals need a seamless connection to their data. And with the right data visualization tools, you can tap into this information wherever and whenever you want to consume it.
Customized Data Delivery: When it comes to data, there is no such thing as one-size-fits-all. The right tools make it possible to satisfy your unique business needs by giving you the ability to import your data from any source and compile it into custom visualizations.
Every business professional will make use of their data visualization tools differently, which is why we created the following list. Here are 23 types of data you can customize to satisfy your business needs and goals.
23 Types of Data You Can Enhance with Visualizations
What types of data can we extract the most value from with visualizations?
Conclusion
Your data has more to offer than you might realize.
Extracting the insights that it holds is dependent on your ability to access it -- wherever you might be -- organize it, compare it, and collaborate with your colleagues so that you can take action.
Rather than keeping your data in silos, you can pull all of it into a single platform and transform it into visualizations that meet your precise business needs.
Get notifications when your metrics hit predetermined thresholds and view your data in context with everything else that is taking place in your organization so that you can make more informed decisions.
Are your ready to meet the answers to your most pressing business questions?
Calling all HuffPost superfans!
Sign up for membership to become a founding member and help shape HuffPost's next chapter
This post was published on the now-closed HuffPost Contributor platform. Contributors control their own work and posted freely to our site. If you need to flag this entry as abusive,
send us an email
.