Fast, savvy and (mostly) cheap fix-up.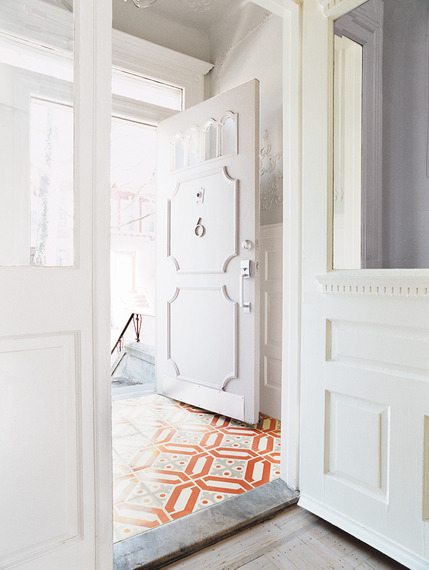 1. First impressions are key, so pay special attention to your house's approach: A front door cheerily repainted and with a new knocker, flanked by potted plants, prepares visitors to be wowed by what's inside.
2. Stick to cosmetic changes, and stay away from any structural renovations that require elaborate permits or architects and can quickly devour funds. Hire your own subcontractors to save money and to keep an eye on the budget.
3. Spend money on top-of-the-line appliances like Viking ranges and Sub-Zero fridges for high-end flair that raises a property's selling power.

4. Bathrooms and kitchens deserve upgrades, not overhauls. Avoid reconfiguring the plumbing (unless you want sticker shock), replace old built-ins with inexpensive freestanding units (such as those from IKEA) and swap sinks, faucets and other fixtures for a quick fix.
5. Repaint or refinish existing surfaces. Replacing woodwork and floors is a huge undertaking, but many need only varnish or polish to look like new. See what's underneath your floor before you decide to lay down a new one, and strip a window before going as far as removing it.
6. Switch out doorknobs, light fixtures and other hardware. These details go a long way toward enhancing a house's appearance and can be done with nothing more than a screwdriver. (Look for vintage light fixtures at flea markets or on eBay.)
7. Color and design choices should be simple. Everything looks better after a coat of white paint, and a neutral palette and basic style are most appealing to prospective buyers when it comes time to sell-a blank canvas allows people to project their own fantasies.
8. Opt for off-the-shelf products where possible. Design with standard sizes and elements in mind; custom features are expensive and often require pricey installation.
9. Use modest materials in high-design ways to give spaces instant impact. Basic wood doors get luxe shine from multiple coats of high-gloss paint. Concrete floors look great and are much cheaper than wood. An affordable sheet of zinc creates the perfect backsplash.
10. Landscape smartly. Plants mask a multitude of sins. Instead of making major changes to the hardscape, spread wood chips and position shrubs and flowers to liven up the views from windows and draw the eyes out.

More on Domino.com: