"That's why I react funny when people ask me 'So how's retired life treating you?,'" Andrea revealed during a recent phone interview. "I'm like 'Are you kidding me?' These days, I'm actually busier than I was during my last few years at Disney. I'm not sitting at home watching 'Lucy' reruns."
What's taking up a lot of Deja's time these days is his passion project, "Mushka." Which is this half hour-long hand-drawn film that's set in the Soviet Union of the 1970s and features an unlikely pair: Sarah, a young girl, and Mushka, a Siberian tiger.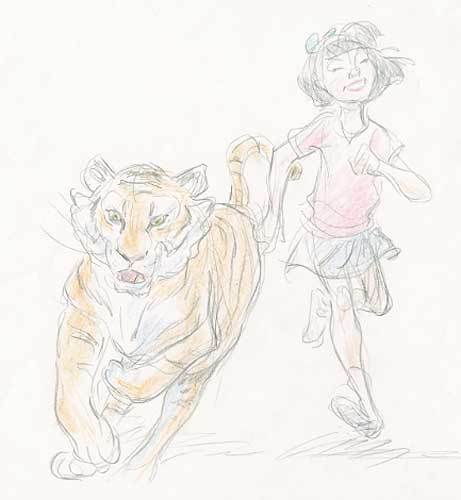 "I sometimes wish – for my first post-Disney project – that I could have chosen something a bit more manageable. A story that I could have perhaps told in an animated film that was just 5 or 6 minutes-long," Deja mused. "But 'Mushka' isn't that sort of story. It honestly needs 30 minutes of screen time to be told properly. So that's the length of the movie we're now making."
Now please notice that Andreas used the term "We." That's because Deja has enlisted his old friend Peter Moehrle to do visual development on "Mushka."
"Peter and I met while I was down in Orlando working at Walt Disney Feature Animation – Florida on Lilo & Stitch, " Andreas explained. "Peter was a background painter on Lilo. And he did such a great job on that film that – as I was getting 'Mushka' going – I reached out to Peter and asked if he'd like to be part of this project. And even though Peter's busy these days teaching in Seattle, he did have enough free time to some visual development on this movie. And Peter really did a fantastic job of establishing a look, a style for Siberia & Russia of the 1970s."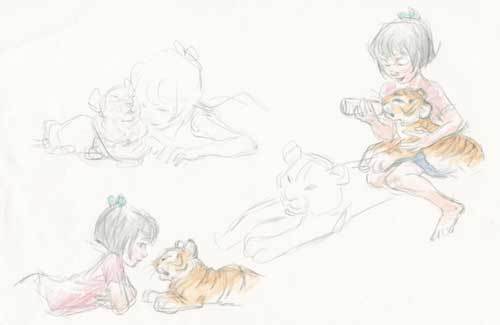 So here was Deja, hard at work on establishing a production pipeline for his passion project (" 'Mushka' 's going to have a very unique look," Andreas enthused. "It's going to look as though it were entirely composed of pencil-shaded character drawings") when – back in the Spring of 2016 – Michael Labrie, the Director of Collections at The Walt Disney Family Museum, reached out with a most intriguing offer.
"Now I know Michael from 'Leading Ladies and Femme Fatales,' that Marc Davis exhibition that I co-curated for the Disney Family Museum," Deja recalled. "But he wasn't calling about me co-curating another exhibition. Michael was wondering if I'd be interested in showcasing some of my own work in this one gallery at the museum."
Which was obviously a very flattering invitation. One that Andreas initially planned on politely refusing.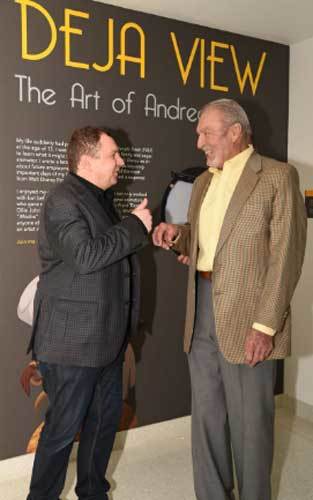 "The space that they were offering to me was the exact same area where The Walt Disney Disney Family Museum had recently staged an exhibition of Mel Shaw's work. And while it's obviously a gigantic honor to be invited to display your own work in this manner, I would never consider my own work to be of the same quality standard as a Marc Davis or a Mel Shaw or any of the other great artists & animators that The Walt Disney Family Museum has previously showcased ," Deja stated.
But Mr. Labrie was hesitant to take "No" for an answer. The Museum felt his great work needed to be shared, and Andreas eventually agreed to allow this exhibition to go forward. But not before establishing a few ground rules.
"One of the things that I wanted be a part of this exhibition was the portfolio that I had submitted to Disney Feature Animation back when I had first applied for a job at the Studio" Deja said. "I wanted people to see what my artistic drawing standard was like in 1979 & 1980. "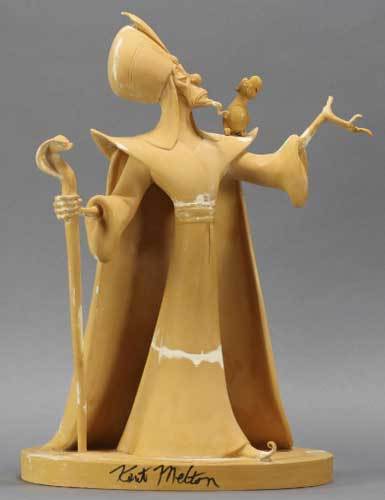 Of course, this exhibition also features macquettes & rough animation drawings of Andreas' memorable trio of Disney Villains: Jafar from Aladdin, Scar from The Lion King, and Gaston from Beauty & the Beast. And what with Disney's live-action reimagining of that Academy Award-winning feature currently burning up the box office worldwide, Deja took a moment to look back at the creation of this character who claims to be " … roughly the size of a barge."
"Gaston was probably the toughest character I ever had to draw. But that was largely because of the degree of realism the studio leadership was looking for. They didn't want Gaston to be some sort of cartoony villain. And – as I recall – when I was first drawing Gaston, I did make him a bit more cartoony with a large Captain Hook jaw and a pencil-thin mustache," Andreas remembered.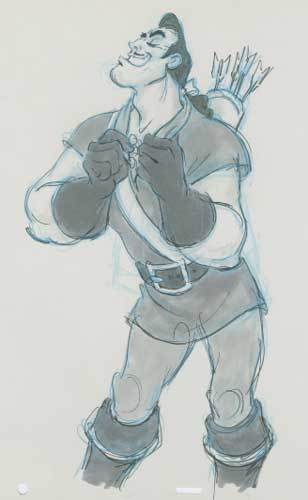 Which wasn't what the then-Head of Walt Disney Animation Studios was looking for. This is why Jeffrey Katzenberg asked Deja to drop by his office during the early days of production on this film.
"That's when Jeffrey told me that – to his way of thinking – the underlying theme of Beauty and the Beast was that 'You can't judge a book by its cover,' " Andreas continued. "And with the Beast, you had this character who was outwardly scary-looking but was eventually revealed to have a good heart. So in order for there to be balance in this film's story, Gaston had to be this handsome guy who the audience would eventually find out was evil through & through."
And for this concept to come across graphically in Beauty and the Beast, that then meant that Gaston couldn't be cartoony. That – in order for the audience to be surprised when this character's darker side was revealed midway through this movie – he would have to be drawn as this incredibly handsome fellow.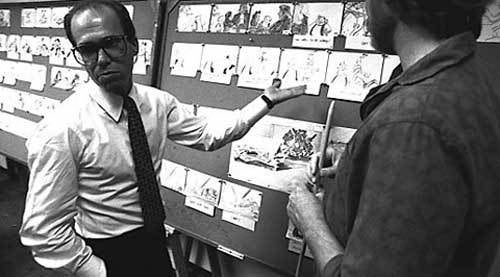 "And I remember telling Jeffrey that this was going to make Gaston so much harder to draw & animate. And he just threw up his hands in standard studio boss fashion and said 'Well, nobody said that this was going to be easy,'" Deja laughed.
And Katzenberg – as it turns out – was right. Drawing Gaston in a more realistic, handsome manner wasn't easy. It made this character far more challenging for Andreas to work on. But in the end, Beauty and the Beast greatly benefited from all that extra effort.
"When you really think about it, Disney has had beautiful female villains before. Maleficent from Sleeping Beauty. Likewise the Queen from Snow White. So Gaston got to be the first male Disney animated character to go down this route, have his handsome exterior mask what was dark & sinister inside," Deja said.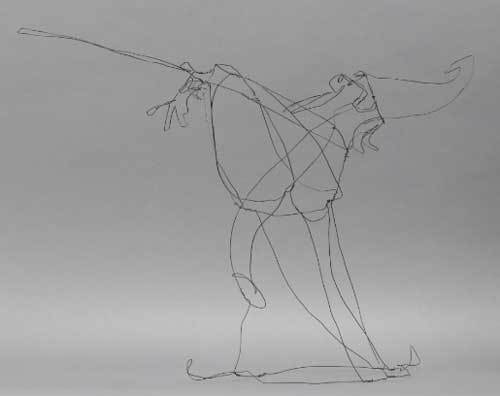 Andreas isn't one to shy away from challenges. As one can clearly see as they walk through "Deja View: The Art of Andreas Deja" and explore all of the pieces that The Walt Disney Family Museum currently has on display. One only has to look at Andreas' wire sculptures or his sketchbooks to realize that this is an artist who's still growing, still moving forward.
"When I look at the exhibition that Michael and his team have mounted , what strikes me is how my drawing style has changed over the past four decades," Deja stated. "My drawings aren't as dark now as they once were. The stuff I'm doing for 'Mushka' right now has a lightness, a looseness to it that my drawings didn't have before."
And speaking of Andreas' passion project: What's "Mushka" 's ETA for showing up at a film festival near you?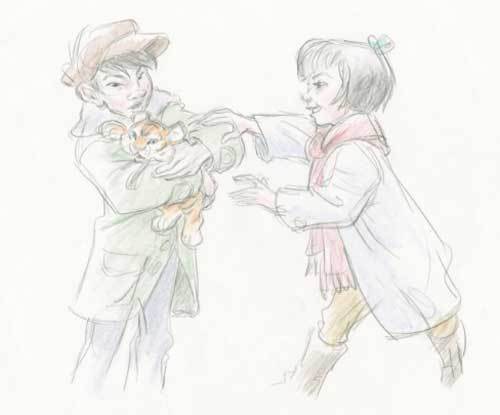 "I've got a very small team of people working on this project now. We've just started effects animation," Deja reported. "We're looking to have most of this movie animated by the end of the year and then move into post production in early 2018. That should allow 'Mushka' to start making the rounds on the festival circuit next year."
Of course, if you're really not willing to wait 'til 2018 to see what Deja plans to do with Sarah and a Siberian tiger … Did I mention that this passion project makes up one entire wall of this new exhibition at The Walt Disney Family Museum?
"And what's great is that Michael and his team took this one piece of 'Mushka' pre-production art that I sent along of a Siberian forest with snow & bare trees and they then extended it across this entire wall as a backdrop. It really is quite stunning," Andreas enthused.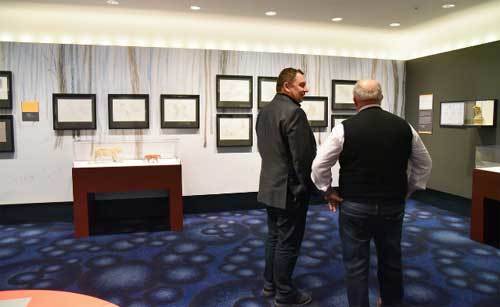 "Deja View: The Art of Andrea Deja" continues at the Walt Disney Family Museum through October 4, 2017.
Popular in the Community