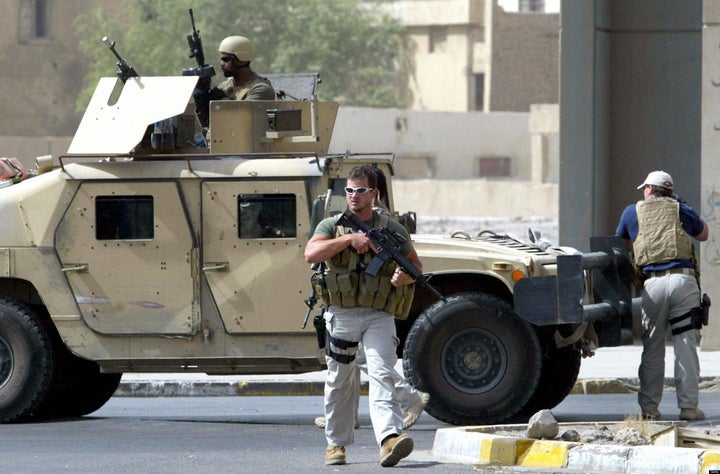 Three years ago this week, heavily armed Blackwater security contractors working for the State Department went on an unprovoked shooting spree in a Baghdad square, killing 17 unarmed Iraqi civilians and wounding 24.
The five hired guns were acting with impunity -- literally. A 2004 U.S. order, issued a day before Iraq was ostensibly given its sovereignty back, declared that foreign contractors within Iraq would not be subject to any Iraqi laws. Earlier this year, a U.S. judge threw out a criminal case against the guards on a technicality.
The Nisour Square massacre, as it came to be known, was the culmination of a series of incidents of civilian abuse by private security contractors in Iraq exposing what Melina Milazzo, a lawyer with Human Rights First, calls "a gap in both law and culture."
In the intervening years, Iraq kicked Blackwater out of the country and passed a law that ends immunity for at least some private security contractors. At the same time, changes in U.S. law and policy have led to greater agency oversight and coordination over contractors in Iraq and Afghanistan.
But according to a new report from Human Rights First, many problems remain unaddressed.
Meanwhile, the Obama administration is increasing its dependency on security firms. To make up for the withdrawal of American troops in Iraq, the Department of State plans to more than double the number of private security contractors it employs there, from 2,700 to 7,000. And more contractors of all types are headed to Afghanistan to support the troop surge there.
But according to Milazzo, who authored the new report, there is still some ambiguity regarding whether the U.S. has jurisdiction over all private security contractors in Iraq and Afghanistan, and "it would be reckless not to clarify that criminal jurisdiction before deployment."
The reporting, investigating and prosecuting of wrongdoing by contractors all remain areas of concern, she said. For instance, she said, the Department of Justice does not appear to be pursuing these cases enthusiastically.
"There've been very few contractor cases brought despite allegations of serious abuse," Milazzo told the Huffington Post. "And there've been even fewer contractors cases brought for civilian harm in Iraq and Afghanistan."
Among the report's 19 recommendations:
* Congress should enact the Civilian Extraterritorial Jurisdiction Act (CEJA) of 2010 (H.R. 4567, S. 2979) to expand criminal jurisdiction over and increase investigative resources for serious crimes committed by U.S. contractors.

* Agencies should require oversight bodies to track all serious incidents reported, investigate and remediate when necessary, and maintain all supporting documentation relating to such actions taken.

* The Department of Justice should commit additional resources to investigate and prosecute contractor crime and formally announce that prosecution of contractor crime abroad is a Justice Department national priority.

* The Departments of Defense and State, as well as USAID, should develop an effective system to track the number of contractors and subcontractors employed by each agency, and report regularly to Congress and the public.

* The U.S. government should ensure federal agencies have adequate uniformed and civilian workforce to perform contracting, acquisition, audit and inspector general functions.
Blackwater Worldwide changed its name to Xe in 2009. Under that name, it continues to operate in Afghanistan, where it was recently awarded a $100 million contract to provide security at CIA bases in Afghanistan. And as the New York Times reported earlier this month, Blackwater has also "created a web of more than 30 shell companies or subsidiaries in part to obtain millions of dollars in American government contracts after the security company came under intense criticism for reckless conduct in Iraq."
Indeed, two Blackwater security personnel working for a subsidiary named Paravant, which had obtained Pentagon contracts in Afghanistan, are currently on trial in Norfolk for shooting to death two Afghans in May 2009, in what prosecutors describe as a drunken rage.

Popular in the Community