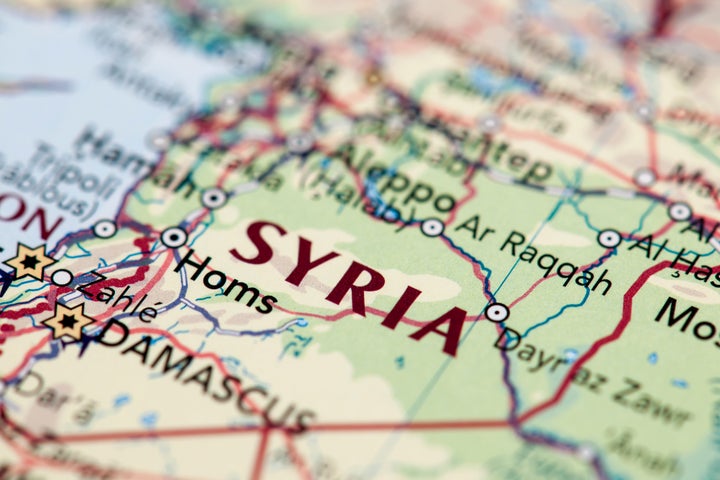 Moaddamiyeh has been an early hotspot for anti-Assad demonstrations and the following government oppression. The town has endured the siege of the Assad regime since the end of 2012, and it is one of the towns hit by chemical weapons in August 2013. Despite all the violence, these activists believe in the principle of peaceful. And after five years of the Syrian revolution, their stories and experiences must be heard, their words reflect their struggles and hopes. Ten stories will be told through their voices.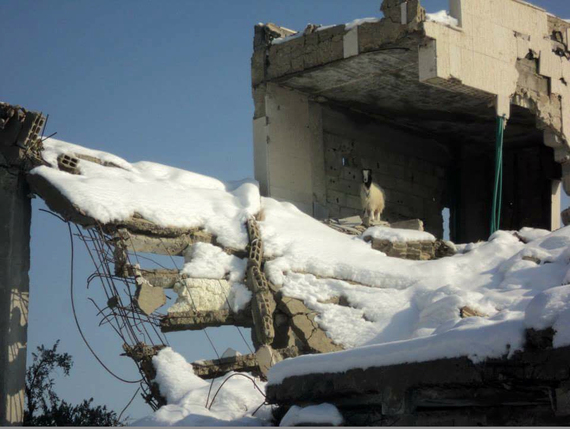 A ruined buliding by the regime's shelling on Moadmaiyeh. Moadmaiyeh 2015. Photo: Ghassan
Ghassan Abu Ahmad had been an employee at the cultural centre of Moaddamiyeh since 1998 when he witnessed the first few months of the Syrian revolution. He wanted to quit his job immediately to be a part of this civil movement. Ghassan is a father of three and he is living with his family currently in Moaddamiyeh.
"I've witnessed the role of both Assad, the son and Assad, the father. So, I wasn't one of the people who thought in 2000 that Bashar Al-assad might be better than his father. We knew that the son's role was only an extension of the father's oppression, which I had witnessed personally since 1979 and later on in Hama massacre 1982. But what Bashar Al-Assad was trying to do was pretending that he is better and he is the one with open mind while following his father's steps at the same time. My friend was detained by Hafez Al-Assad for 13 years and now his son is detained by Bashar Al-Assad since 4 years."
Ghassan felt the severe discrimination in Syria and it seemed to him that all the important positions in Syria were held by the regime's supporters, especially in Damascus as the regime was trying to build its empire there in order to be totally in control.
"I really liked my work at the cultural centre. We had a big library and I didn't have a huge workload, so I spent most of my time reading. The cultural centre in Moaddamiyeh is in the same building as the town hall."
The cultural centre of Moaddamiyeh was on the third floor while the town hall was on the first, but from the window of the third floor one can see and hear a lot. The first demonstration took place in front of the town hall therefore this later became the spot where Assad's forces gathered to plan all their raids and bring detainees to the town hall before sorting them out to other intelligence branches.
At that time Ghassan was still working in the cultural centre and nobody was able to figure out that he was staying upstairs way longer than he was supposed to. Sometimes he was spending the night at the office turning off the lights and sitting quietly in the dark next to the window with his mobile to text his friends in other neighbourhoods of Moaddamiyeh about the situation or if he was able to see, who exactly they had arrested. He was sending normal messages with special codes they were using between them so that nobody else could understand. Ghassan was determined to help as much as he could and he was very disappointed with the people who stood with Assad or decided to remain neutral.
"I always hated to be grey. Life for me was black or white, and the same goes for opinions, so you have to take your choice to be with the oppressed people or the oppressor. That's why I needed to participate because I had and still have a clear opinion about what was going on. The first time I chanted in the demonstration it was like being born again. I didn't care whether I'd be coming back to my wife and children after every demonstration or whether the intelligence forces were going to come to the third floor and find me hiding every night telling the people about their actions in details.

It was an unbelievable feeling, we were chanting as one person in the demonstrations with one heart and all the discrimination in the demonstration was demolished, we were all Syrians who really wanted a change and a better future, I honestly didn't care and I wasn't afraid because this revolution is the thing that seemed impossible for us and now we are able to see that the Syrians did the impossible and broke the barrier of fear."
In the next months, things started to get harder and Moaddamiyeh started to witness a lot of fast-moving events. Many people were killed in the demonstrations and Ghassan started to film everything he was able to, using his simple phone.
"I now have thousands of photos and videos I've taken in the last 5 years. I wasn't really active on social media platforms, but I was always giving some stuff to my friends who are active online to publish the material."
After the massacres Moaddamiyeh witnessed in 2012, Ghassan and a group of activists worked on documenting the damage that had been caused by the regime's forces in the town. Ghassan was always holding his camera and filming everything he was able to see. People may think it might be kind of late for someone who is almost 53 years old to be a photographer now, but Ghassan proved that wasn't true at all.
"It was really important to document everything we were and still are witnessing. I wish I had the chance to film everything I witnessed in my entire life. It was a long journey and only now with documenting everything and speaking out about it, I can see the point of being an eyewitness."
Ghassan chose to take his fate with that of Moaddamiyeh's and took the decision to stay under the siege.
"Everything that happened and still is happening is affecting me in some way, but I have a lot to do and I'm trying to work and only through my work I can avoid all the sadness and desperation around us. When my father was killed by a sniper shot. I documented his funeral, which wasn't really a funeral due to the shelling and snipers. I didn't cry, I had a heartbreak deep inside me but we don't have time here for grief, we need to carry on and work harder."
Ghassan is working on a project to document all the testimonies and the interviews that he is able to collect from the people under siege hoping that one day the truth will find its way to the world.
"We need to continue what we have started, we just can't do half a revolution, we need to complete standing up against all the oppressors in Syria now. The oppressors whoever they are must go!"
Calling all HuffPost superfans!
Sign up for membership to become a founding member and help shape HuffPost's next chapter