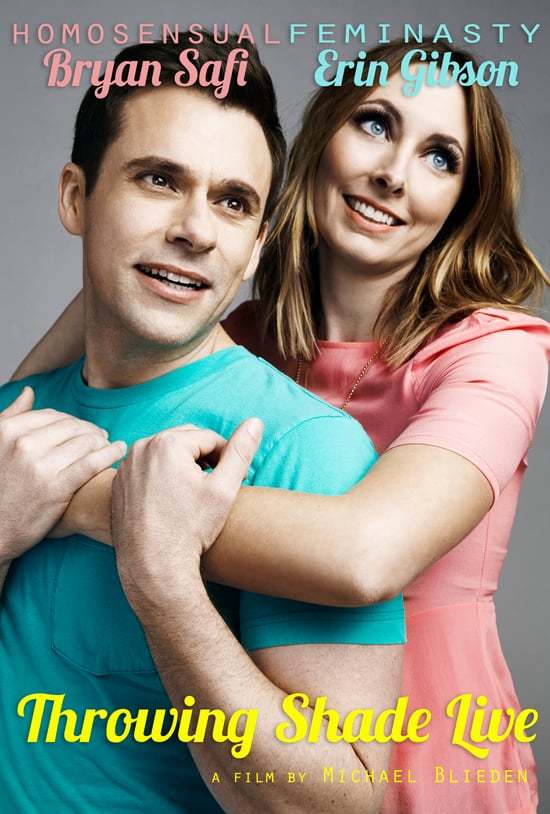 A common discussion theme today is how comedy masks sadness, with famous faces bolstering the message in rare and uncharacteristic interviews away from the performance arena. The late Joan Rivers was a rarity for her generation, airing her flaws and fessing up to insecurities - very often in response to public criticism. Gen X and Millennial comedians are quicker to come clean today, the latter a bit more notorious for oversharing. In this regard, people like to cite Lena Dunham who has a unique style that separates her from her contemporaries; she is indisputably polarizing whether you love her or hate her. Enter Erin Gibson and Bryan Safi who cannot be compared to anyone else because they offer a blend of quick-witted whimsicality with discussions about the issues facing us today. They share a lot with listeners (and viewers of their shows), but it feels refreshing and natural rather than potentially cringe-worthy and overboard. They don't shirk awkward subjects or the pain from their own pasts that helps them lay it out for us and they do so with panache. Their podcast Throwing Shade became a sort of movement with its cult-like following that led to a TV show. Erin and Bryan are the real deal - the major plus is that they're also incredibly funny.
Throwing Shade gives us the week in review through a podcast centered on current events mixed with pop culture. The comedic duo have their signature wit, often forming a joke around a play on words or even about one of their advertisers (They make Mail Chimp in particular sound like one terrific gal)! Their new documentary Throwing Shade Live provides a candid look at life on tour for Erin and Bryan. There are no elephants in the (hotel) room as Erin even points out that it is her ex husband behind the camera (she states that her ex is remarried and beat her to it, but it's OK because they're great friends!). She is newly engaged and is open about her fear of the unknown and whether she can succeed at marriage, calling to mind a 70s Erica Jong with a humorous spin.
Bryan reflects on knowing he was different from other kids before he could articulate clearly that he was gay. There was a time as a child when he ordered a strawberry milkshake and the flavor immediately elicited smug looks between adults. He was later chastised for his choice of flavors. This self awareness and reflection is also a notable characteristic of Erin, who is not only Bryan's comedic partner but his best friend and confidant. She recalls growing up "dirt poor" and a budding ardent feminist. She once punished a wannabe date for two-timing her close friend. The strategy didn't necessarily make sense in practice, but it makes sense now as she tries to articulate the method to the madness. That's essentially the theme of this documentary: Finding our footing in 2017, speaking out on women's issues, gay issues, societal issues.
The film director is Michael Blieden (Comedians of Comedy, Broad City, Late Night with Jimmy Fallon), the above-mentioned ex husband! It offers clips from Throwing Shade's 2016 live shows, backstage footage and interviews with audience numbers (a discussion with women about the unjust requirement of wearing high heels to work is particularly notable). It also includes Erin and Bryan's tales of making prank calls to hate groups and there is even a musical number.
This 70 minute film is too good to spoil, so I will stop here and add that it's also too hilarious and poignant to miss. For everyone living in a modern world and adjusting to it with growing pains, and anyone who knows that real comedy is about authenticity, spend the time getting to know Erin and Bryan better. The world of Throwing Shade is about facilitating the discourse we need to have but that often avoid and seeing that conversation through.
Related
Popular in the Community