So, what happened on Sunday is that the guy who used to wear Biblical eye black stickers adorned with John 3:16 threw for a career high 316 yards on 10 completions (for a 31.6 yards per completion average) in an overtime playoff win over a heavy favorite? Really?
Making it increasingly difficult to write off his talents and not write about his religion, Denver Broncos quarterback Tim Tebow threw for that noteworthy total while authoring another miracle finish. With Tebow's game-winning pass parting the Pittsburgh Steelers' defense like the Red Sea, the Broncos prevailed, 29-23, in overtime.
While it was Broncos wide receiver Demaryius Thomas that did most of the heavy lifting and strong stiff-arming on that 80-yard scoring play, Tebow had someone else to thank before Thomas in the frenzied postgame atmosphere at Mile High.
"First and foremost I just want to thank my Lord and savior, Jesus Christ. He's done so much in my life," Tebow said after the game. "And I also want to thank my teammates for the effort that they put out there and just showing so much character -- whether it's good; whether it's bad -- all year, and then our coaches, who every game, whether I'm doing good or bad, stick with me, and I'm very appreciative of that."
Asked about the play his wideout made to end the game, the humble Tebow described Thomas as someone "who makes me look a lot better than I really am."
Even Tebow's most vocal critics would be hard pressed to prove he didn't look good on Sunday. With the Steelers stuffing the box and daring him to beat them with the pass, he did just that when it mattered most. There were still moments where Tebow's accuracy was a problem (late in the fourth quarter on a key third down, to be precise), but the play calling seemed tailored to his strengths -- 10 rushes and 10 completions. And, when it was all done, it was hard to ignore that 316 in the box score.
In the sixteenth verse of the third chapter in the Book of John in the New Testament, Jesus says to Nicodemus, "For God so loved the world that he gave his one and only Son, that whoever believes in him shall not perish but have eternal life."
While Tebow has, thus far, only delivered a division title and a playoff win to Broncos fans, he certainly has many people believing in him. In Denver, they are even seeing halos above the field at Mile High. Whether those 316 yards and that 31.6 yards per completion are divine stats or just an unusual coincidence, here are several more notable numbers from Tebow's performance against the Steelers. Anything else here that stands out? Was his quarterback rating perhaps the number of acres owned by Mary and Joseph?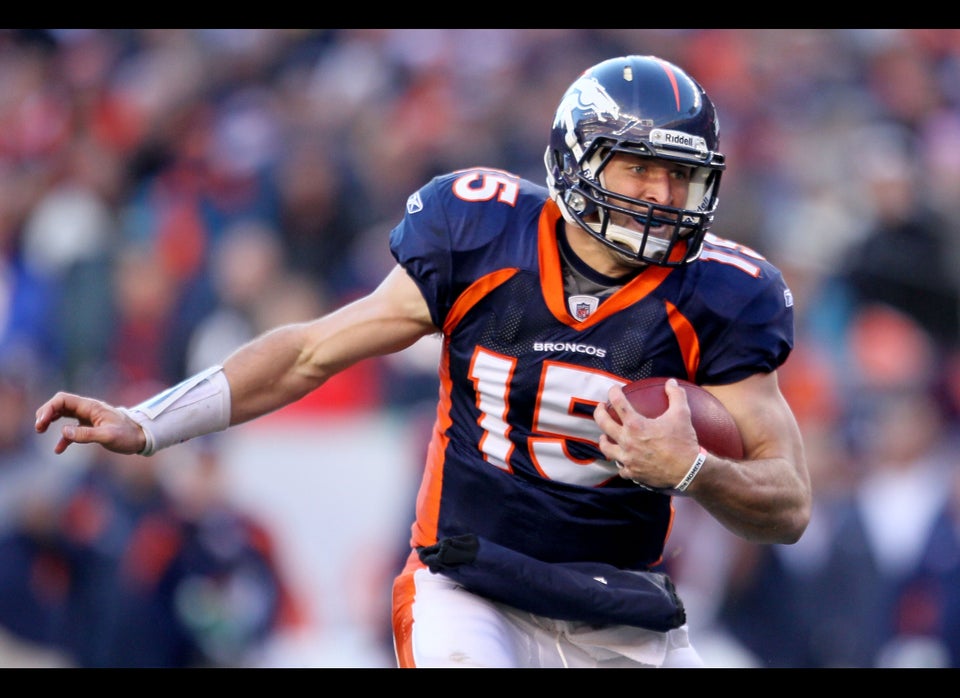 Tim Tebow By The Numbers
Popular in the Community