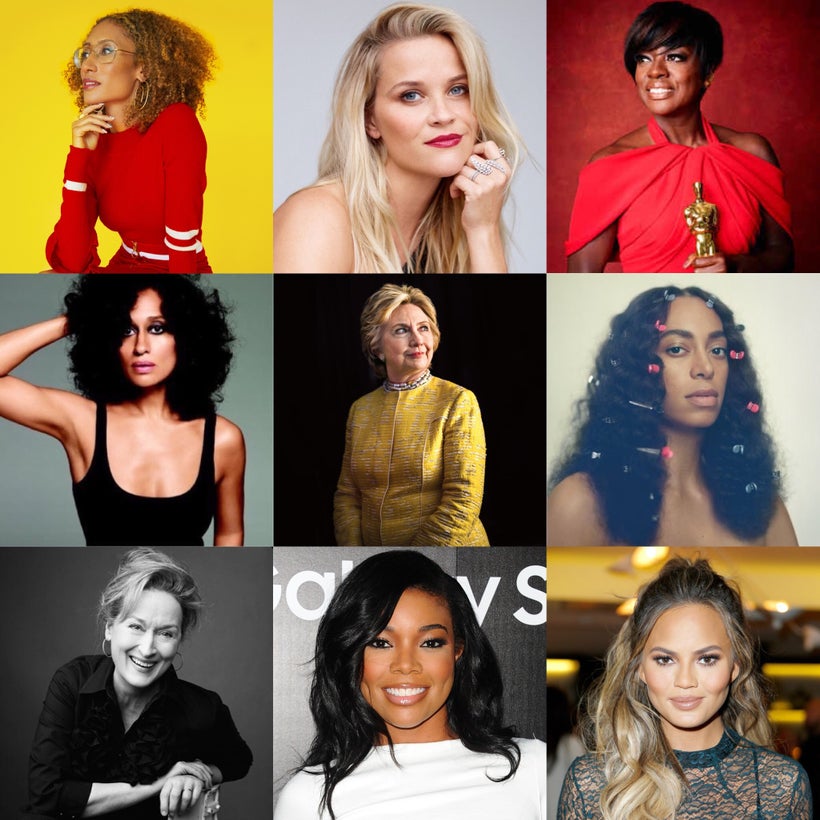 What a difference a year can make for women. 2017 kicked off with the Women's March and - later that year - the #MeToo movement. Issues around sexual harassment in Hollywood was brought to the forefront in Hollywood. And just a day into 2018 300 powerful women in entertainment banded together to support #TimesUp, an initative to fight for equality for Hollywood and blue collar workers. As it states,
The message is clear that the clock has been ticking on the abuse of power and it's time to take action. Below are 25 who are using their platform and voice to speak up on misrepresentation, oppression and marginalization.
Reese Witherspoon: "We have been siloed off from each other. We're finally hearing each other, and seeing each other, and now locking arms in solidarity with each other, and in solidarity for every woman who doesn't feel seen, to finally be heard."
Viola Davis: "I see a lot of sexy women who are hard, cold, look like they have windswept hair and lip gloss and light makeup when they say it's no makeup. I work out five days a week, and I'm still not a size 2. So I wanted to see a real woman on TV. I wanted to see who we are before we walk out the door in the morning and put on the mask of acceptability."
Meryl Streep: "We need 40- to 50 year-old white males to be interested in the stories of their wives and their mothers. Our industry will always depend on diversity in the boardroom, where the money is. All the talk about equality and diversity among the lower levels of the endeavor won't change things if the money and decisions are still made by one people whose taste will necessarily decide what kind of films will be made."
Solange: "There will be pain, there will be doubt there will be beauty, there will be the unknown. There will be so many moments of joy and delight that the whole universe will feel painted in hues of amber and wonder. there will be times you are so sad you can't lift your head. And there will be times you are so happy that the sensation of life knocks you down. But most importantly, there will be you. A whole, whole lot of it. and you will feel good about who she is and who she is still becoming."
Chrissy Teigen: "[Feminism] isn't saying this is wrong and this is right. It's having the power to do whatever the f— you want. It's about having your own beliefs and staying true to them. I love having every right to be as outspoken as I am, as any man would be."
Shonda Rhimes: "I am not lucky. You know what I am? I am smart, I am talented, I take advantage of the opportunities that come my way and I work really, really hard. Don't call me lucky. Call me a badass."
Eva Longoria: "I don't regret anything I ever do or say. I don't like to live my life being censored. I like to say what I feel, and I think people respect that because you're honest."
Lena Waithe: "Here's the thing. Life comes at you fast. So do what you love. And try to spread joy and some truth while you do it. The best things aren't made by man, but by God. No new year new me. No resolutions. I just want to keep going. Hope you guys don't just chase your dreams in 2018, but here's to catching them."
Ashley Judd: "I know it is hard to look at your own entitlement and privilege. You may be afraid of the truth. I am unafraid to be honest. It may sound petty bringing up a few extra cents. It adds up to the pile of change I have yet to see in my country. I can't see. My eyes are too busy praying to my feet hoping you don't mistake eye contact for wanting physical contact. Half my life I have been zipping up my smile hoping you don't think I want to unzip your jeans. I am unafraid to be nasty because I am nasty like Susan, Elizabeth, Eleanor, Amelia, Rosa, Gloria, Condoleezza, Sonia, Malala, Michelle, Hillary!"
Chelsea Handler: "There is a movement happening. There is a groundswell of passion and conviction rising among women and men. We have an opportunity right now to stand together and use our voices to fight for the very rights women fought for and won years ago. ... We all have to stand up and fight for equal rights and opportunities. It doesn't matter who you are or what issue you're fighting for — you can make a difference."
Kerry Washington: "We all deserve to have our stories told. And we all have much to gain by walking in other people's shoes."
Rowan Blanchard: "I love fashion. We all do… But we shouldn't be taken less seriously because we're in dresses."
Yara Shadidi: "My trouble with defining activism is that it tells you what it's not and activism is everything. For me, it comes through art: being intentional with the roles I choose, backing projects that are socially aware, or trying to push forward a progressive conversation and public speaking is another method."
Amandla Stenberg: "It can be really discouraging to see how far we still have to go and how much work still needs to be done before we can create a world where we're all judged by how we are and not how we look, but I'm strengthened every day because I'm still here, I'm surviving, and I'm using my voice.
Maxine Waters: "I have a right to my anger, and I don't want anybody telling me I shouldn't be, that it's not nice to be, and that something's wrong with me because I get angry."
Michelle Obama: "The Obama Administration had a Commander who had ethics, upheld and respected the office."
Hillary Clinton: "The Women's March was the biggest single protest in American history. Hundreds of thousands of people gathered in cities like New York, Los Angeles, and Chicago. Thousands also turned out in places like Wyoming and Alaska. In Washington, the march drawfed the crowd that gathered to see Trump's inauguration the day before. And it was completely peaceful. Maybe that's what happens when you put women in charge."
Salma Hayek: "Until there is equality in our industry, with men and women having the same value in every aspect of it, our community will continue to be a fertile ground for predators."
Cleo Wade: "And your superpower may just be remembering that every new day could feel like the start to a new year...new mood. New attitude, new goal. New perspective, new mission. New venture. And new opportunity to be the most kick-ass version of yourself possible."
Elaine Welteroth: "I've always been attracted to storytelling around women's lives. [Teen Vogue's mission is] to highlight underrepresented voices and role models, and to create a magazine that didn't exist for me growing up. I mean, when I was 14, I did not know what intersectional feminism was."
Gabrielle Union: "I'm not going to change the world overnight. It's one person at a time, and hopefully they're people in positions of power who can help people get in those roles and really, truly embrace colorblind casting."
America Ferrera: "Our dignity, our character, our rights have all been under attack, and a platform of hate and division assumed power yesterday. But the president is not America. His cabinet is not America. Congress is not America. We are America. And we are here to stay."
Tiffany Haddish: "Whenever I can, I always choose to laugh. Who wants to be around a bitter bitch? I don't want to be that chick. And that's why I think my life has turned out as good as it has. No matter how bad things get, no matter how dark life seems, there is a reason for it. There is a lesson to be learned. You can hold on to your light, and you can feel better. I know, because I've been there, done that, and I'll keep on doing it in the face of whatever comes my way."
Ava DuVernay: "I believe there are hundreds of universes within me. Within you. I believe our ancestors laid the groundwork for me. And for you. I believe if I listen, keep learning, and keep trying, I can overcome obstacles. But the short answer is: If even no one else does, I believe in myself."
Tracee Ellis Ross: "As a younger person, my philosophy was jump off a cliff. I realize now that there are stairs and elevators. I am learning every day to allow the space between where I am and where I want to be to inspire me and not terrify me. I can even ask for help! Not feeling that I have to know everything, and that's where the growth comes in, in the not knowing."
REAL LIFE. REAL NEWS. REAL VOICES.
Help us tell more of the stories that matter from voices that too often remain unheard.
This post was published on the now-closed HuffPost Contributor platform. Contributors control their own work and posted freely to our site. If you need to flag this entry as abusive,
send us an email
.