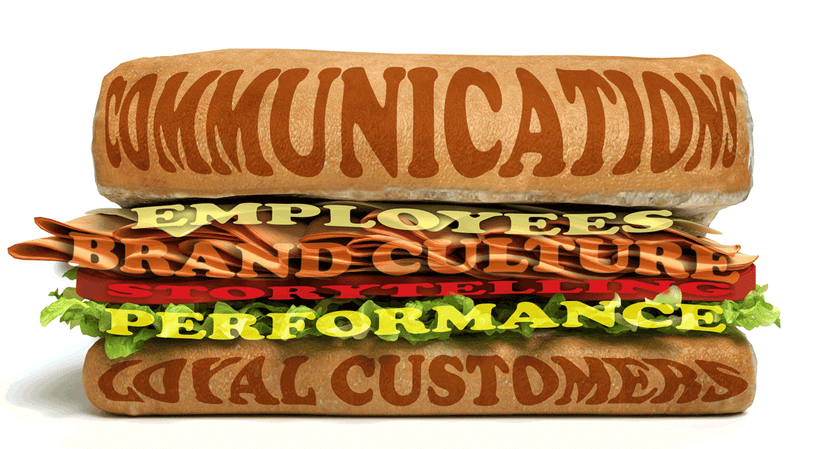 Latin restaurant chains get lost crossing continents when they lose touch with their brand culture, their true recipe for success. Menus may not translate to new U.S. markets, even heavily Hispanic ones, but authentic brand culture and communications will always transcend time and place.
To successfully cross over, brands must adapt, not transform. Becoming something the organization is not, never has been, nor likely will become, is a recipe for disaster. If that level of transformation is required, then you have targeted the wrong U.S. market to enter.
Learn from sandwich maker El Meson, a Puerto Rican-born company that wisely chose Central Florida to launch its U.S. mainland expansion. From its roots serving American beachgoers in Puerto Rico, El Meson has been building its crossover brand the right way – like a great sandwich.
It starts with a great bread (and butter)
A great brand crossover needs a firm base to layer upon. For crossover companies like El Meson, loyal customers are their bread and butter: A U.S. base with brand awareness to build upon and loyal customers to keep the delicious brand sandwich intact.
Brand culture can always be traced back to a company's roots and catering to both American and Puerto Rican palates has been baked into El Meson's brand.
Founded by Felipe Perez Sr., El Meson opened its first restaurant on July 4, 1972, in Aguadilla, a small beach town on the western part of the island that was home to Ramey U.S. Air Force Base.
El Meson identified Central Florida and its vibrant, growing diaspora of Puerto Rican culture, as the perfect first U.S. market for El Meson to enter in 2015. Central Florida provided El Meson a measure of brand awareness as well as a cultural base of advocates to build upon. The tourism-dependent economy also provides a trained hospitality workforce that continues to meet the company's service standards.
Brand culture is the flavorful meat
Safeguarding that tradition of cross-cultural taste and service excellence will be crucial for continued expansion. Authentic brand values are the essence of El Meson and other crossover's rich cultural flavor. Restaurant chains are often tempted to skimp on the meat, but cutting corners on anything that negatively impacts brand culture must be avoided at all costs.
The quality of brand culture and communications – from ads to signage, branded recruitment to HR training, and physical to digital customer experiences – are all essential for crossover expansion and success in new markets. As the old saying goes: You never get a second chance to make a first impression.
Expansion plans must be properly marinated and seasoned by brand champion leadership to maintain a brand's rich taste and unique cultural flavor. Market research insights must be gathered and vetted beyond data as well.
Who better than restaurateurs to trust their guts? Numbers don't eat. Humans do. Again and again at the same restaurant if inspired by exceptional brand culture communications and excellent brand experiences.
Employees are the cheese and lettuce who can make or break a sandwich
Recruit and retain brand-fit employees with inspired campaigns, training and generous compensation. The recruiting goal for new territory expansion must not be to fill positions, but to add employees who will live your authentic brand and inspire their customers to love your brand. Build a team of champions who will evangelize your brand instead.
To celebrate its success, El Meson rewarded employees with an extra 25 cents per every hour they worked, an unexpected, appreciated and loyalty-building bonus to keep its valued brand culture base close. Expansion is now believed to be rewarding for everyone in the company, so employees are even more invested it its success.
Brand storytelling is the secret sauce
While great bread and quality meat will always be timeless must-haves for a great sandwich, the sauces and toppings should adapt to local tastes. Likewise, your brand storytelling tactics may change per market, but the authentic brand values they are based on must not.
A brand is not a logo. It is a belief. An emotional belief imprinted on hearts and minds by human brand experiences, regardless if delivered in-person or on a digital platform.
In that sense, brands are like religion, and the basis of all great religions are authentic stories. Just like a great meal, stories should be a near religious experience. They should resonate via word of mouth, social media, traditional media, collateral signage and advertising, just as the brand experience must resonate across all customer and community touchpoints.
All organizations get branded, it just depends on who is doing the storytelling. Great crossover brand communications inform key audiences, while authentic storytelling inspires belief and eliminates doubt.
Consider your new neighbors who, like the human beings they are, fear change and the unknown. Unless given all the pertinent information in ways all types of learners can absorb it, humans fill in the blanks. Often with misguided assumptions that easily become market-poisoning rumors too.
Your established competition will do nothing to dissuade any rumors from spreading like wildfire. Brand storytelling is the difference between translating crossover brands and transforming negative perception, a much more difficult, dangerous and expensive undertaking.
Build the best brand sandwich
Quality brand culture and communications keeps the sandwich bread (core customer base) fresh, the cheese (employees) sharp, lettuce (performance) crisp, and secret sauce (storytelling) current. It is the crossover difference between a good brand sandwich and a customer experience that customers will crave market by market, time and time again.
This article first appeared in HispanicAd on March 4, 2017.
Calling all HuffPost superfans!
Sign up for membership to become a founding member and help shape HuffPost's next chapter
This post was published on the now-closed HuffPost Contributor platform. Contributors control their own work and posted freely to our site. If you need to flag this entry as abusive,
send us an email
.