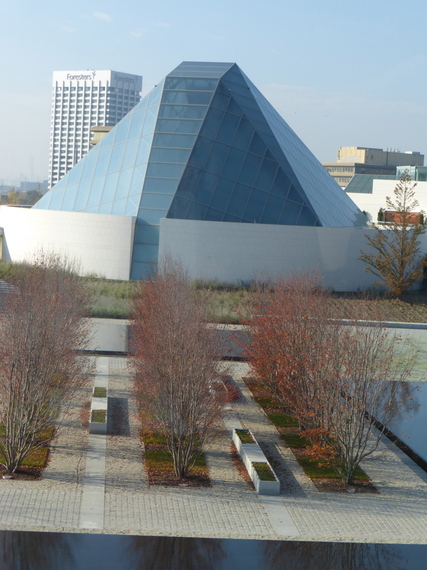 Ancient and modern, traditional and forward-looking, stark and ornate, spiritual and practical: Contrasting adjectives aptly describe the brand-new Ismaili Centre in Toronto. Adjacent to the Centre, its white Brazilian granite façade reflected in pools of water, is a state-of-the-art museum. Both structures highlight the diversity and depth of Islamic history and culture and offer a place that serves both the global, diverse Ismaili Muslim community and the Toronto community at large. As the Aga Khan put it during the opening ceremonies, traditional elements of Muslim architecture are given a confident, forward-looking vocabulary. Perhaps its most striking feature is light, "symbolising the spirit of enlightenment that will always be at the heart of the Centre's life." It offers an important, inspiring, and all too rare vision of Islam.
I was privileged to be invited last weekend as part of a group of Americans, from various cities, to visit and learn about the Toronto Centre. It was a festive visit, organized by a solicitous and proud group of Ismaili community leaders in both Canada and the United States. All of us savored Toronto's new jewel that opened just six weeks ago and the chance to learn more about the very diverse North American Ismaili community (governed by a network councils whose members are appointed by the Aga Khan, clear involvement of women and men on a common footing, with more than half of those living in America in Texas).
Both the museum and the Centre buildings are spectacular, and they are joined by a park. The whole is enlaced with symbolism, from elaborate calligraphy and sculptures, the soaring glass ceiling of the prayer hall (Jamatkhanna) to a tapestry fashioned from a million pins. The Aga Khan Museum celebrates the history of Muslim art and culture, and was designed by Japanese architect Fumihiko Maki. The museum houses some 1000 treasures on display from the Islamic world, ranging from Spain to China. Indian architect Charles Correa designed the Ismaili Centre, which includes both worship space and secular facilities. Both facilities will host concerts, lectures and other public events. Architect Vladimir Djurovic from Lebanon designed the park.
The Ismaili Centre reflects the vision of the Aga Khan (he was personally involved in its design) and the special character of the Ismaili community, both globally and in North America. It is presented as part of the deep ethical and spiritual responsibility that leader and community share, to God, to humankind, and to nature. Improving the quality of life is understood as a core part of this responsibility and it calls for action: whether commitment of resources or a deep tradition of volunteering. The vision is both of a strong commitment to the Ismaili identity and historical roots and to being part of a plural society. Without a clear sense of identity that is rooted in culture, the Aga Khan argues that mankind will not survive. But change is also part of culture. So is beauty, reflected in music, architecture, and dance. The Centre brings elements of 1400 years of Ismaili history and belief together with a living culture that is shaped by the Ismaili presence today in 25 countries.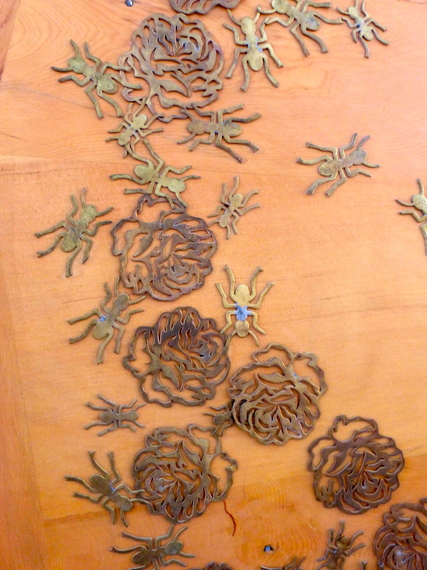 Ethics, diversity, pluralism and excellence: These four themes are woven through the Toronto Centre and the broader work of the Ismaili community.
The Ismaili Muslim community is renowned in international development circles for the remarkable work of the Aga Khan Development Network. Inspired and personally led by His Highness the Aga Khan, the community's spiritual head as the 49th hereditary imam, the network is a pioneer and exemplar of what development stands for and what it can achieve.
The network's programs range from agricultural development, a steady and heavy emphasis on education, urban development, medicine, architecture, cultural revival, to private sector investment. Like beads on a necklace, the various separate institutions (for development, culture, microfinance etc.) are distinct but firmly linked and reflect a clear common vision. Their work is rigorous, long-term in strategy, meticulous in attention to implementation, and shows a rare blend of thoughtful and daring global vision and practical humility.
The network's complex fusion of worldly wisdom, passion for life, and spiritual ideals represents an important part of what faith-inspired organizations offer to more secular organizations. They sum up the different parts of what they (and also Georgetown University) call human development. It's a vital message, one rendered especially poignant by the flags flying at half mast, a fresh memory of Canada's recent encounter with extremism.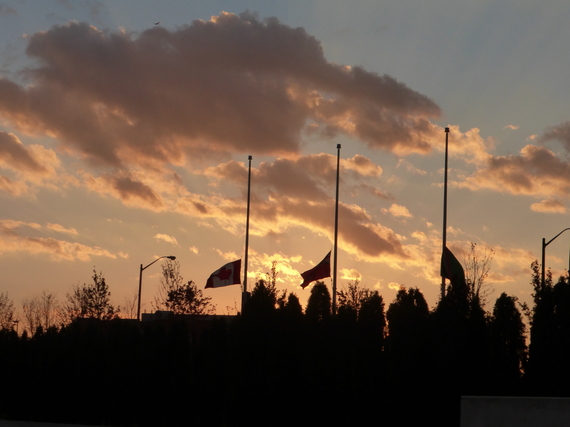 Calling all HuffPost superfans!
Sign up for membership to become a founding member and help shape HuffPost's next chapter