Los Angeles artist Julienne Johnson returns to the Ink & Clay Exhibition for a second time, with her newest work from the Touched series of sculptural mixed media paintings, "Touched No. 12," at the Kellogg University Art Gallery at Cal Poly Pomona.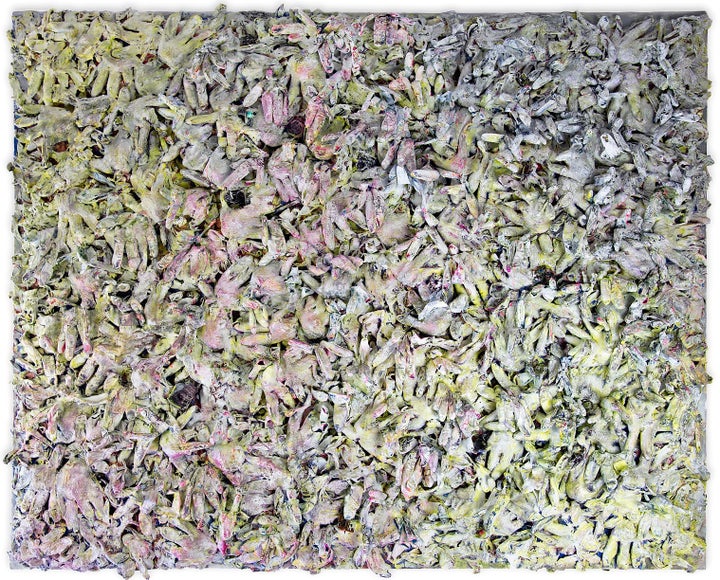 A lack of human contact can be deadly; but not every touch is healing, and the desire for interpersonal communication can feel as urgent and physical as an addiction. It's no wonder social media has captured the consciousness of modern man, in a bait-and-switch that promised exponential, perennial global connectivity only to deliver unmatched isolation. Into this paradoxical conceptual terrain strides painter Julienne Johnson, with a synesthetic approach to color, line, space, memory, and meaning. In her radiantly chromatic, subliminally symbolic, observational, autobiographical, and curious-minded mixed media compositions, Johnson devises an array of strategies to express deeply felt allegorical narrative in an idiom of literally and figuratively multidimensional abstraction. Her work is rich in personal and art historical references, her technique inventive and evolving, and her imagery mysterious and open-ended.
Perhaps her most iconic assemblage/found-object paintings are the glove-works of Touched, of which "No. 12" is the freshest and most complex iteration. This series succeeds equally on the strengths of her intensifying palette and her accessible, powerful symbolism of the human hand. Hands are good to grab, soothe, capture, seduce, control, treat, caress. Artists communicate with their hands, so do doctors, and serial texters. Johnson is striving in this series to capture the whitewashed addiction and seductive entrapment of computer technology. Formally she's after a trinity of depth, texture, and meaning -- and the gloves provide all three at the same time. In the broadest sense, this is an explorative abstract created between the parameters of a sculpture and a painting. Combined with acrylic, ink, plaster, and computer parts, this unconventional grounding for her painted surface speaks to shifting ideas about connection and communication, intimacy, healing, danger, and distance.
The palette gradients shade from dark to light and back again and, like all her compositions, the image works when hung on any of its four axes. "Touched 012" is an extremely mixed media assemblage featuring plaster, Chinese ink, printer's ink, acrylic, some 3200 surgical gloves, medical syringes, electronics chargers and earpieces, paper, rubber, metal, plaster with pigment transfers, and collage, executed on canvas mounted on birch panel box. At 53 x 56 x 7 inches and weighing over 125 pounds, it is heavy in its body, and in certain respects, in its psyche as well. Yet at the same time, its intensified prismatic colors are playful and ticklish, amusing the eye and energizing the mind.
While her choices of material always directly reference real life experiences from politics to family history, childhood memories, and currents in global cultures, in the case of "Touched No. 12" the work evokes a more specific, yet esoteric influence -- the indelible, unlikely inspiration taken from a performance by iconic French mime, Marcel Marceau. Johnson describes a feeling of deep emotional paradox, in which she intuitively recognized the dissonance between the performance's veneer of exuberance and its core of something darker. The adults around her laughed; she laughed too, but she already knew better. His costumes and makeup light-hearted, his characters often driven by loneliness. Like painting, his art was devoid of speech, and he built an invisible yet wholly solid world, using nothing but the movement of his hands.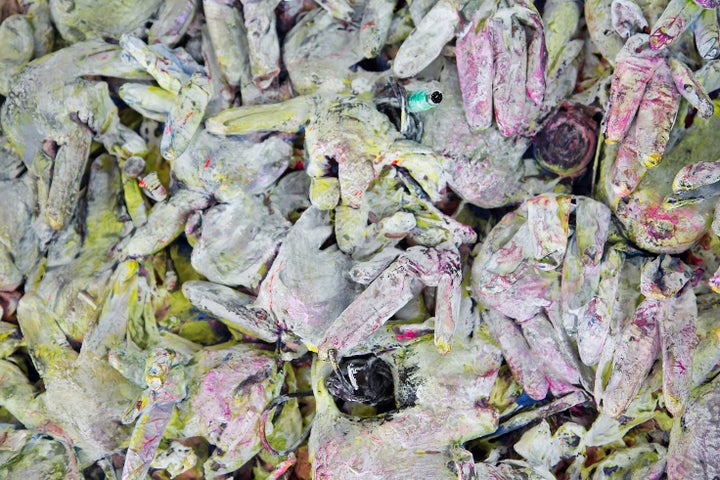 In 2015 Johnson was included in the INK & CLAY 41st National Competition and was honored to receive a painting award from Kellogg Gallery Curator and Gallery Director Michele Cairella Fillmore, for Bangkok Boogie -- a mixed media painting reflecting Johnson's experiences in Thailand in 2014.
Related
Popular in the Community