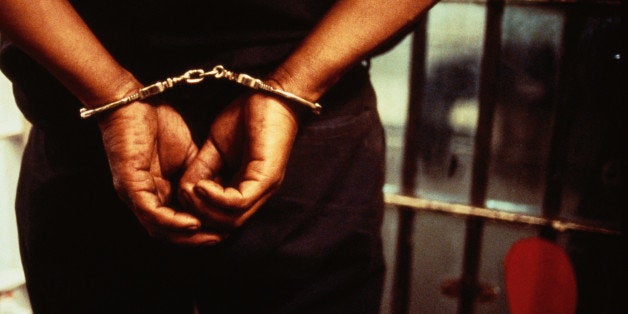 Six years ago, I got a first-hand look at the need for a transformative juvenile system, one that ultimately seeks to empower and change young people, not just punish them. At the time, I found myself--a scrawny, frightened, and confused 17-year-old--in a California Juvenile Justice Hall courtroom. My future was in the hands of a judge I only remember as "Judge K." I had heard from peers who had stood before Judge K that he showed no mercy. In the days leading up to my sentencing, I mentally prepared for the worst.
"How did you end up here?" the judge asked of me, a question for which I had no sure answer.
If the judge were considering statistics alone, I suppose I fit all the criteria of an "at-risk" youth. Growing up as a young Black man in a low-income and single-parent home, I had been humorously warned as a child that "the system had three hots and a cot" waiting for me. My own family had felt the impact of incarceration across generations.
But, I also was a peer educator in my community, a high-performing delegate in a statewide mock legislative program (at the time I was coincidentally drafting a joint proposal to end felon disenfranchisement), and perhaps most importantly, a teenager without a criminal record - up until that point.
After a nearly year-long drawn out pre-trial process, I was advised by my public defender to plead "no contest" to a felony charge of grand larceny in Alameda County for being an aggressor of a fight that resulted in someone's pain. The public defender assured me pleading "no contest" was in the best interest of my future. (This counsel is considerably problematic when taken into context: over 90 percent of criminal cases are settled through plea bargains -- before a trial can ever occur.)
As the Sentencing Project reported in 2013, one in three Black males is expected to face prison at some point in their lifetime. Sitting in that courtroom, I faced the reality of becoming "another statistic." Luckily, Judge K did not treat me like a statistic. In fact, leniency, coupled with judicial pragmatism, resulted in Judge K deciding that the appropriate disciplinary measure was six months of formal probation. I often think about my peers then and young people today, who are indeed looked at like statistics, ripped from their families and sent to juvenile hall or California Youth Authority.
The juvenile justice system is supposed to emphasize education, guidance, and rehabilitation, not punishment. But, in my experience, the system emphasized punitive measures over any attempt at real rehabilitation. Outside of the judge's adjudication, what I encountered while navigating the system was a "one-size-fits-all" approach. This was particularly apparent with my probation officer. While I could sense her intentions were ultimately good, she was more of a reference manual about probation than someone from whom I could seek counsel. When we'd meet, I could feel her waiting for me to fail, preparing for me to step out of bounds, to behave in a way she had been conditioned to expect.
I was lucky: being reduced to a statistic and finding myself so limited by stereotypes motivated me to never again place myself in a situation that would leave me feeling so small. But, it is not hard for me to see how being reduced to a statistic and failed by our juvenile justice system could launch one into a perpetual cycle of run-ins with the law. In fact, I get it all too well. A vital step was acknowledging the wrong-doing and offense I had committed. I also decided to become apart of the solution and to advocate for change, rather than simply decrying the problems I saw.
Since my experience, I've been working in nonprofit organizations to advance social justice, finding my voice in my community, and humbly remembering the lessons learned from my youthful transgressions. I hope to one day build on my lived experience by enrolling in law school, which I believe will help me grow into a stronger advocate for transformative practices in both the juvenile and adult criminal justice systems.
In this process, here is what I've realized: we all have a role to play in ensuring a transformative experience for young people who find themselves in the juvenile justice system. For young people, looking forward keeps us motivated to stay the course, whether in school, sports, community, or any other goal. A truly transformative system would hold young people accountable while also allowing them to work toward a more hopeful future. It would also consider the existing conditions that place certain youth within courtrooms more often than others. It would humanize youth in a process that all too often seems to do the opposite.
Achieving a truly transformative juvenile justice system will require that we transition from punitive measures to restorative processes, and recognize that young people are the future of our communities. We must realize that we cannot continue to allow a retributive system to operate under the guise of being rehabilitative.Tangibly, this might look like policies that would incentivize law enforcement officers to bring young people under their wing, not into their cuffs. It would mean implementing a participatory process across the state where passionate young people who have had contact with the juvenile justice system are at the decision-making table when it comes to policies and funding decisions for community-driven programs. These programs could then serve as viable alternatives to what county probation offices, juvenile halls, and California Youth Authority currently provide, and they would large be designed by those who are most acutely aware of our current systems inefficiencies.
Together, we can ensure our justice system allows all young people to have access to hopeful redemption.
Support HuffPost
Every Voice Matters
Popular in the Community