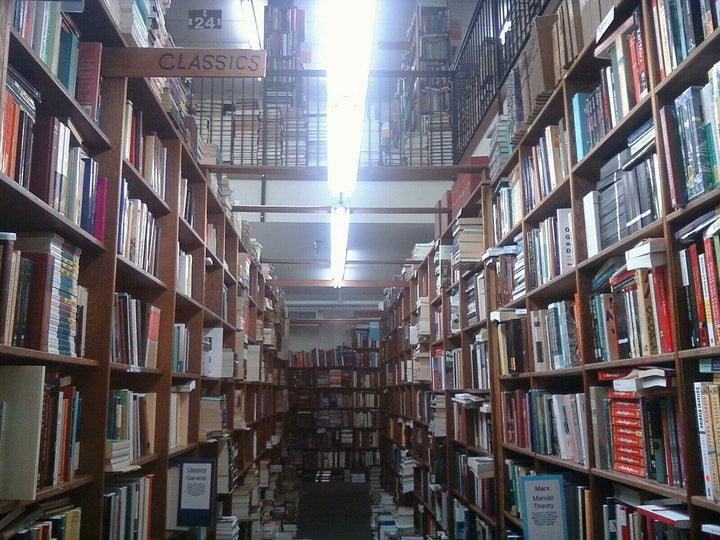 When it comes to being competitive in publishing, it's important to know as much about the landscape as you possibly can. In prior blog posts, we've already discussed the model in general, but now we're going to dig a little further. Because regardless of how you publish, it's important to have a clear understanding of the publishing landscape in general. While you may not work within the traditional publishing model, you should always be aware of new models emerging, new trends, and publishers breaking new ground. For example, did you know that a few select publishers are starting to dabble in self-publishing? It's big news in the industry and when you keep your head in the market, you'll be able to stay in tune with what's happening out there.
We all know what the big six are good at. They know how to produce a quality-looking book and get it into bookstores. They know the publishing landscape, and they know how to get a title to market. But making yourself and your book competitive is not about understanding the strengths of these publishers, but understanding their weaknesses. To know where they miss the boat is to gain access to a market segment and marketing ideas that you might have overlooked.

Weakness #1: New York Publishers Don't Think Outside the Mainstream

Publishers have particular criteria they look for in a successful book, the first is mainstream appeal, which is understandable since they have to appeal to a larger bookstore-driven market. If you have a book that is outside the mainstream, this is actually good news, unless you're trying to find a major house to pick you up. The idea here is to understand that traditional publishing dominates the mainstream, but it's the niches that tend to do very well. To give you an example, let's look at the writing and publishing market. Very few, if any, traditional publishers will pick up a title like this one you are reading now. You'll see these books in places like the Writer's Digest book collection and smaller, off-the-radar publishing houses.
Weakness #2: New York Publishers Don't Do Consumer Research

I know this probably seems like a pretty unbelievable statement, but it's true. Most publishers (not all) do not do consumer research. How do publishers know what to publish? They often rely on bookstores to direct their attention, as well as trends, both cultural and celebrity. What does this mean for you? If you have access to consumer data, you are light years ahead of the big six. This doesn't have to be an exact science either. Sometimes just having a mailing list on your website or even having a website where you interact with your consumer is sufficient. What this also means is that if you have access to this data and you are publishing mainstream, you are a very valuable writer to any publisher out there. Having access to this data is crucial for most of us and seen as a bonus when a publisher is considering a manuscript.
One of the reasons I recommend getting online early and having a mailing list is that the sooner you jump into the fold, the quicker you can start gathering this information.

Weakness #3: New York Publishers Don't Publish to Niche Markets

We have had the discussion about mainstream appeal to a book, but to underscore this again I wanted to include this bullet point. Niche markets have no appeal to publishers and ironically, that's where the trend of successful authors is headed: into the niches. Chris Anderson addressed this in his book The Long Tail: niches can be powerful but New York publishers stay away from them.
The popularity or lack thereof isn't the reason that these publisher divert from printing these titles. It's because their entire model is set up to cater to mainstream product, so to slot some obscure, niche work in there would never work.

Weakness #4: New York Publishers Don't Sell Direct to Consumer
Publishers don't sell from their websites; many have tried and failed. Why? Because the publisher isn't the brand, the author is. This is starting to change in some areas as publishers seek to bypass Amazon and gather their share of the consumer market. Most consumers don't really identify with a publisher as much as they do an author or a trusted online shopping portal like Amazon or BN.com. What this means to you is that if you can sell direct to consumer and bypass the traditional consumer model, you might actually do better than if you try to compete in a cluttered sales space. The other option (and usually most preferred option) is that the author sells from their own website as well as from Amazon and other online stores.
Weakness #5: New York Publishers Only Promote Their Authors to the Top 30 Media Markets

When a publisher develops marketing plans for their books, they don't look at markets that aren't in the top 30 (the list of top 30 media markets follows this blog post). What does that mean? Simply that if you're in one of those markets, you might want to consider promoting there as well as in any outlying areas that aren't considered "top markets," especially during heavy promotional seasons. It can be tough to get into these areas, but we have seen success stories of authors who live totally off the grid, so to speak, who have marketed in an area that New York doesn't care about and suddenly, other markets respond. While it might seem discouraging to try to compete with a major publishing house if you live in Los Angeles or New York (both are top five markets), keep in mind that there are a number of markets not even on this list. For example, if you live in Los Angeles, maybe you want to saturate the Orange County market. It didn't make the list but it's close enough to the Los Angeles area that it could affect interest there as well.
I think in order to succeed in publishing, you must have a working knowledge of all facets of the market. Understanding traditional publishing is one of them. Knowing the landscape and marketplace will position you for success and you likely won't get caught off guard by a stumbling block or situation that could have been avoided. Know your market -- the more you do, the faster you will succeed!

Top 30 Media Markets (US) (according to Nielsen, accurate as of 2010)
New York
Los Angeles
Chicago
Philadelphia
Dallas/Fort Worth
San Francisco, Oakland, San Jose
Boston
Atlanta
Washington, DC
Houston
Detroit
Phoenix
Tampa, St. Petersburg
Seattle-Tacoma
Minneapolis, St Paul
Miami, Ft. Lauderdale
Cleveland, Akron
Denver
Orlando, Daytona Beach
Sacramento, Stockton, Modesto
St Louis
Portland, OR
Pittsburgh
Charlotte
Indianapolis
Baltimore
Raleigh-Durham
San Diego
Nashville
Hartford & New Haven
Popular in the Community