It's hard to overstate the value of a good night's sleep. If you've ever missed one, you know what I'm talking about. During the hours that you spend sleeping, your bed is your entire world. Yet, so many beds are messy, unimaginative, and thrown together without a second thought. You spend a third of your life in bed. Shouldn't you feel the same ownership over where you sleep as, for instance, what you wear? What if your bed was a reflection of your style, a textured mirror for your personality, and a centerpiece for the environment you want to live in? How would that impact your days?
Your master bedroom says a lot about who you are and who you'd like to be. It should be an inspiring place to wake up in each morning and a sanctuary of calm each night. Your bed is the key to achieving both of these effects. Fortunately, it's also one of the most adaptable design Features in your room, a focal point that you can revitalize each and every season to match your mood and your mindset.
A well-chosen set of soft, durable, and high-quality fabrics can transform your bed and the space around it. With just a few smart design moves, your room could look like a two-page spread in Architectural Digest: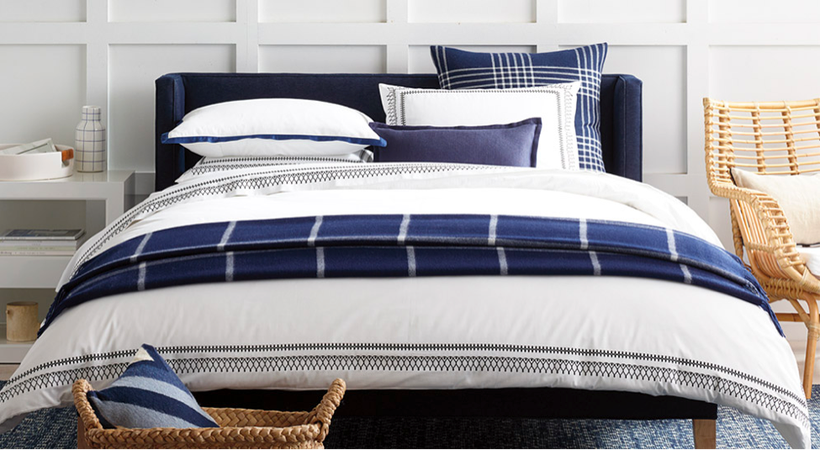 Choose your sheets wisely. This is the color palette for your masterpiece and an essential feature for a deep, satisfying sleep. For a bold impression—the kind that infuses your wakeup routine with energy—choose a distinctive pattern. To achieve the kind of serenity that envelopes you each night when you sleep, choose a rich, monochromatic hue.
Consider an adaptable design, one that is every bit as inviting on a covers-down summer's eve as it is buried in a nest of lush winter quilting. Choose a style that matches your sleeping preferences too—sateen for smooth texturing and sumptuous warmth; percale if you like it cool and crisp. Check out these popular styles, along with embroidered, flannel, linen, and other fine sheets and sheet sets.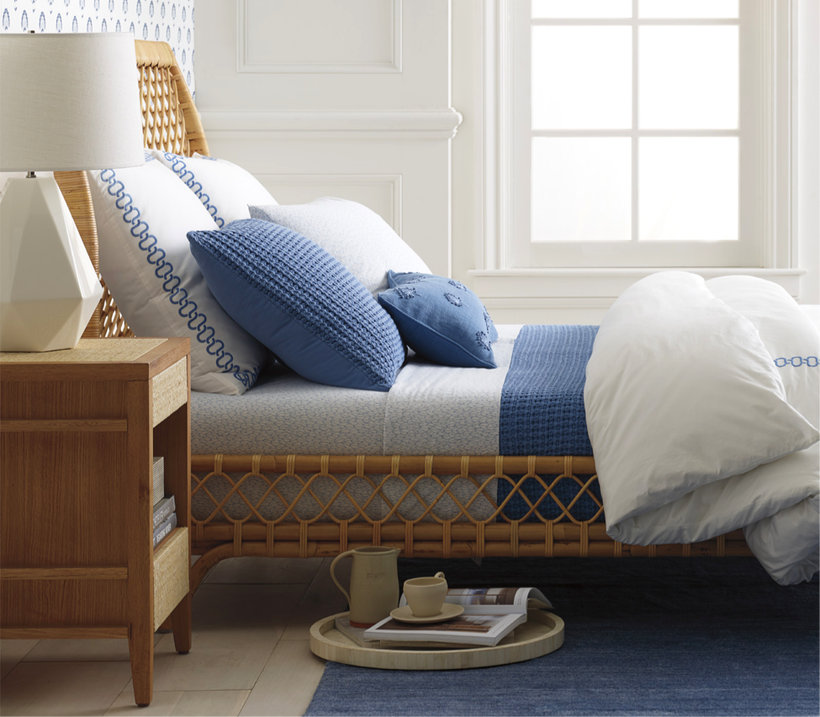 Of course, blankets are warm and snuggly and generally awesome. But they're also a great way to bring texture and depth to your sleep space. Look for something that offsets your sheets—a solid-colored blanket to go with patterning; a bolder print to go with your solids.
You have a few options here. Bring out the dimensions of your bedding by layering your blanket above your sheets and below your quilt. For a sophisticated and functional approach, fold a blanket at the foot of your bed or drape it over a front-facing corner. If you really like blankets—and honestly, who doesn't—you can layer one and drape another. Mix and max from a selection of soft and seasonal blankets.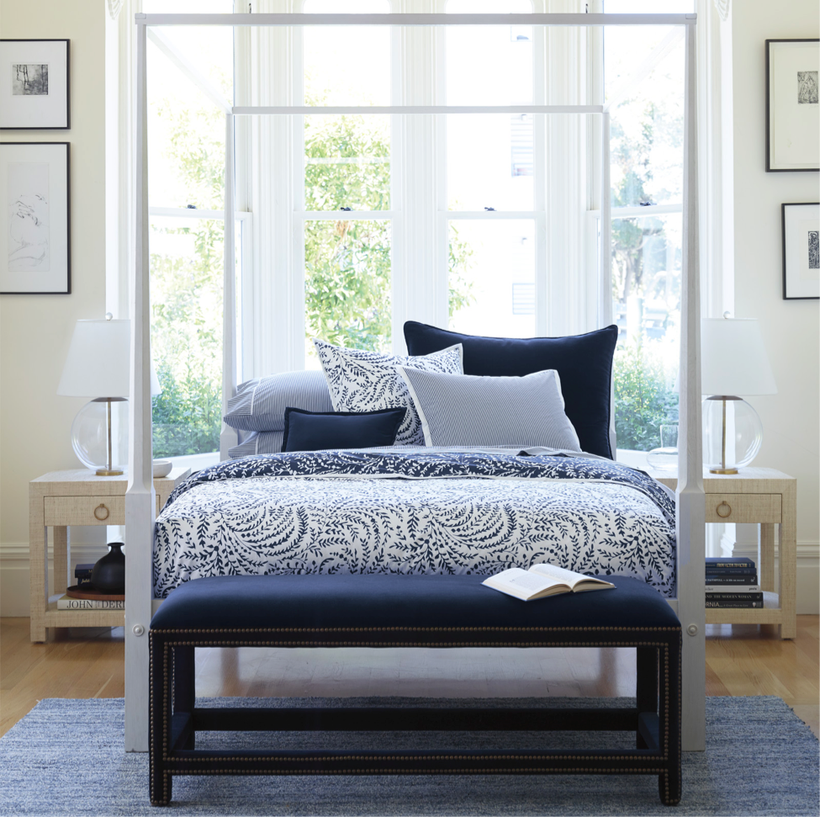 Your quilt or duvet is a central feature, not just of your bed, but of your master bedroom. It should draw together the collective elements of your bedding and reflect the mood of your space. Whether you choose a quilt or duvet will depend on personal and seasonal preferences.
In fact, your bedspread is a great feature to consider refreshing every few seasons. Swapping out your fuzzy winter quilt for a breathable duvet can be a great way to celebrate the arrival of spring. This simple change can have a transformative effect on your sleep environment.
Also, a quick insider tip: it's never a bad idea to size-up your quilt for more coverage. Get a queen-sized quilt for your full-sized bed or a king duvet for your queen bed. The longer draping gives your bed a grander, cleaner and more composed appearance. Choose from a selection of quilts and duvet covers that strike the perfect balance between ease and refinement.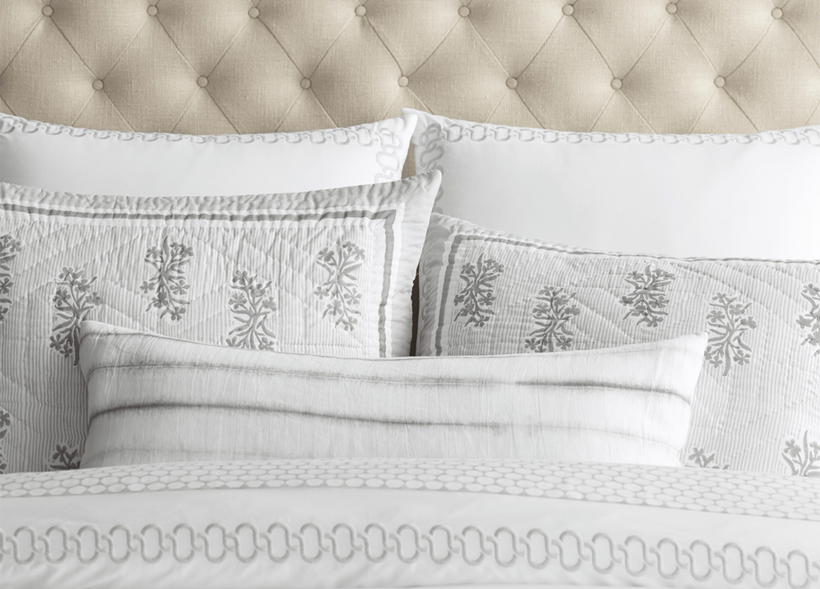 Add height and comfort to your bedding with upright Euro Pillows and Shams. Choose colors that compliment your quilt or duvet and place them at the perfect angle for bedtime reading to achieve an effect that elevates both your design and your posture.
You'll need at least two shams but you could go as high as four for a king-sized bed. You're going for a look that is full yet uncluttered. Draw from a smart collection of Standard or Euro shams for the perfect combination.
This is where your attention to detail makes all the difference. You have a tremendous amount of freedom when it comes to colors, patterns, shapes and sizes. Use your established color scheme as a springboard but don't be afraid to use your imagination as well.
This dimension of your bedding is ripe for seasonal reimagining. Swap out pillows and experiment with different combinations as the weather changes. You'll want anywhere from one to four throw pillows of varying texture and design. Achieve that luxurious and layered look with an array of thoughtfully-curated throw pillows.
Once you've done all of this, all that's left is to climb aboard your tastefully-appointed cloud and get the best night of sleep you've ever had.
When you transform your bed, you transform your relationship with sleep. That means you've transformed the very experience of waking up in the morning and laying down at night. Your best self is just waiting for great night's rest. There's no telling what waking up on the right side of the bed could do to transform your life.
REAL LIFE. REAL NEWS. REAL VOICES.
Help us tell more of the stories that matter from voices that too often remain unheard.
This post was published on the now-closed HuffPost Contributor platform. Contributors control their own work and posted freely to our site. If you need to flag this entry as abusive,
send us an email
.