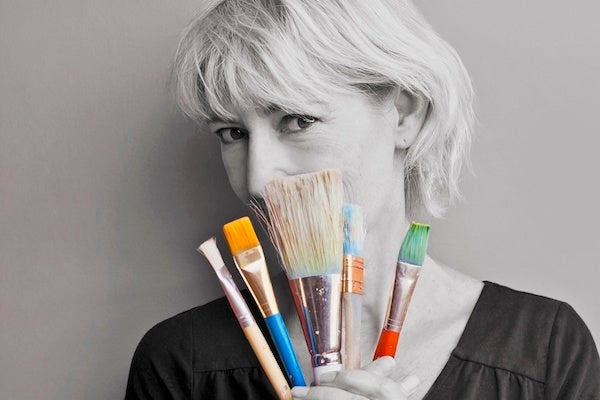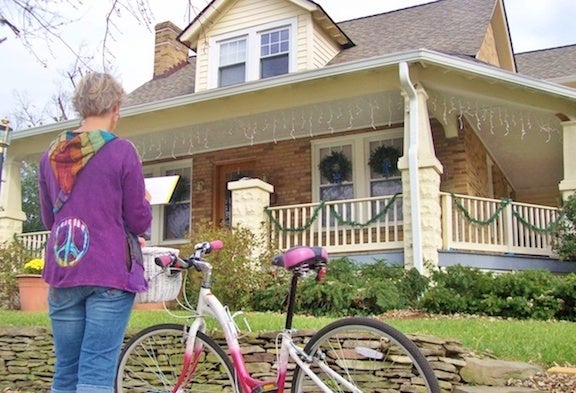 Having now created house portraits in 46 states and in 35 different architectural styles — Craftsman bungalows, Victorian, Tudor and other historic homes — Collins' work reflects an architectural tour of buildings across America.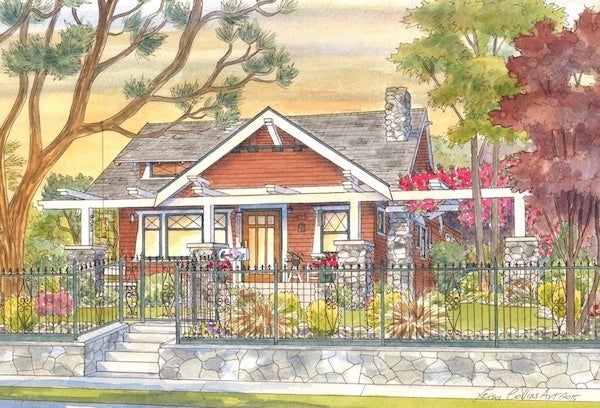 Born in New Zealand but now U.S.-based, Collins paints buildings in ink and watercolors, catching the essence and uniqueness of her subjects and making them into works of art. When I first viewed her paintings of ordinary people's homes, the poignant lyrics from the Guess Who's song "Sour Suite" came to mind — "Whatever happened to homes as opposed to houses..."
Indeed, Collins' architectural art, her passionate renderings of common or grand houses, all seem to capture a certain warmth that makes her customer/owners give gushing testimonials: "you caught the little touches that mean so much to me"; "how welcoming the painting is"; "you translated a lifetime of memories."
In essence, she makes them warm "homes" not just houses — which is decided advantage to have as an artist. Collins explains:
When you take a photo of a home, there are telephone wires, utility boxes. I try to capture the magic and the unique features. I'll add the pine trees in the back, or the flowerbeds out front, and find the details you may not notice at first glance — like an intricate brick pattern — details that make it special. I also don't worry about what the day looks like, I always make it a sunny day. So, I highlight the aesthetically pleasing, and take away the obstacles, things that detract from the home's beauty.
But beyond that, Collins is also one of the most proactive artists I've come across.
Collins originally started her art career in New Zealand and then it was put on hold when she got involved in worldwide social causes and events. But a few years ago she and her Michigan-born husband/partner Bruce Goodman moved to Old Town Alexandria – one of America's most historic cities – and relaunched her art career.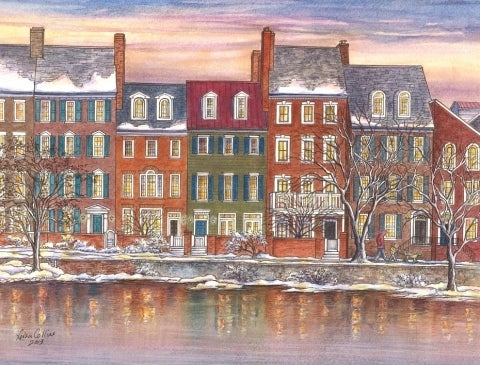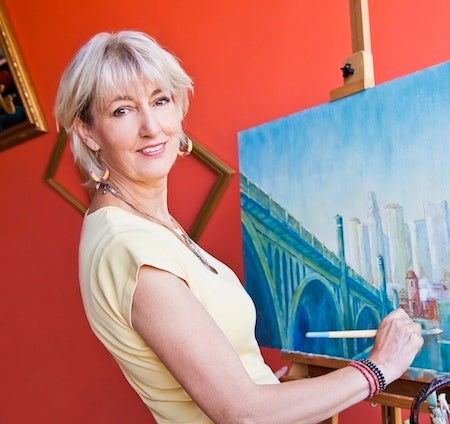 We all know splendid artists who're struggling to make a living — even some of history's greatest artists from Rembrandt, Modigliani, Vermeer, and Gauguin to Van Gogh have died penniless. It may be the reality of many artists past and present, but Collins has a remarkably fresh take on finding work, which involves getting beyond one's studio walls:
I'd been traveling around the world for 25 years, during which time I'd seen so many beautiful buildings and gorgeous architecture. I'd done some sketches and taken photos, and it built up my desire to express myself creatively again. So at 50, I announced, 'I'm going to make my living from my art again.' But friends were saying, 'Are you crazy? You can't wait for 25 years and then suddenly relaunch!'
Gregarious and people-oriented, Collins took a completely new approach to finding commissions, recalling:
Rather than waiting for the odd commission to come my way, I decided to select my favorite homes in Alexandria, do a series of paintings then leave handwritten notes, saying: 'I've selected your home to be part of my series of paintings, depicting Old Town Alexandria. I'll be having an exhibition and they'll be on display, but I'd like to give you the first option to buy the original.' I was suggesting that, 'You've made your home beautiful, and it's only good manners to offer you the original. My new approach worked like a firecracker. From day one, when I started promoting and selling my paintings of local homes, I also began creating an email list which is now at 3,500. I built up my website and now have about 1600 clients. As an entrepreneur, you can't just depend on one channel. I got involved in the local art scene, started a calendar for Old Town Alexandria, and became commissioner for the Alexandria Commission for the Arts.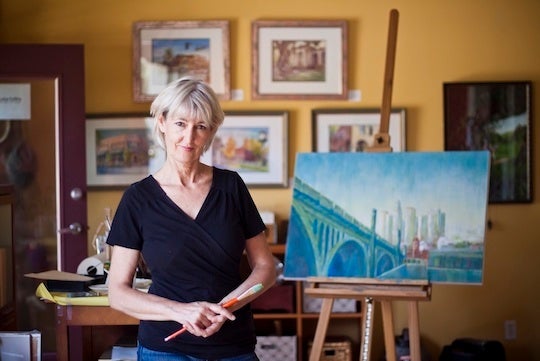 But as she outgrew Alexandria, she and Bruce took their artistic approach nationally, setting up in different cities and selecting a new series of homes to paint. She's now become a top architectural artist, getting all sorts of commissions from painting City Halls to little cabins and historical artifacts. 'Have brush will travel' because she admits, "Wherever we hang our hat, that's our home for awhile. We get into travel mode, we settle down for a bit then move on again."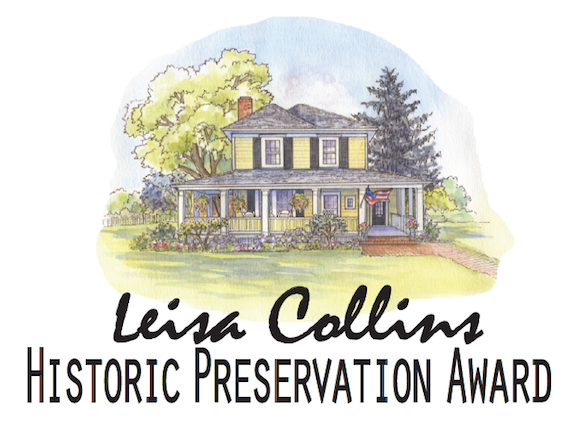 And then there's the Leisa Collins Historic Preservation Award, a brilliant way to achieve many purposes. She explains:
I've made a satisfying career but I wanted to give back, especially to homeowners who've brought something that was a wreck back to life again. They're heroes, preserving our homes and history. I was in Michigan at the time, and the first recipient of my award was a man who'd taken five different, old crappy houses and beautifully restored them, reclaiming the whole street. Joined by the Mayor's representative and city councilors, I teamed up with the local historic societies, and we had a special presentation. My award is an original framed painting of the restoration project. Eight individuals have been awarded so far — from Lansing Michigan, Chicago, Woodbine Iowa, New Mexico, San Marino, and Monrovia in California. Through media coverage, the award helps promote the cause around the US.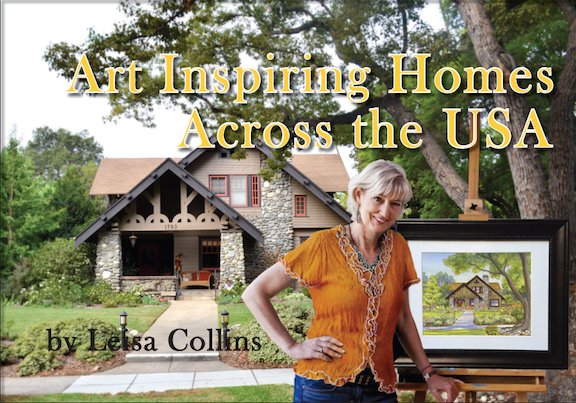 Additionally, Collins' social conscience to help others hasn't left her, as she's setting up a coalition called Artists Taking Action, which will inspire artists to depict pressing social issues in their art, then donate the art and build up their profile. Then there's Art Inspiring Homes Across America, a coffee table book in the works, and a future plan to offer on-line resources to help other artists make their living from their art. Leisa Collins is an irrepressible artistic force.
Related
Popular in the Community