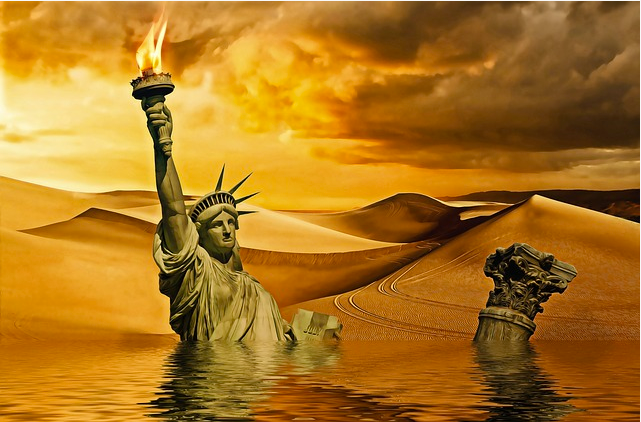 On December 12, 2015, a very broad international consensus known as the Paris Climate Change Agreement was signed by 195 countries. In a humbling display, United Nations Secretary-General Ban Ki-Moon announced the historic achievement among a roaring applause from diplomats, journalists and the like. This agreement, which is slated to become effective in 2020, is an international effort to collectively prevent planet earth's temperature from continuing to increase. Despite this awareness, President Trump has caused the U.S., who was among the original leaders in this pact, to turn its back on a global commitment that addresses one of the most pressing problems in our world – climate change.
Nearly three decades of work, primarily led by the U.S., was broken the moment Trump authoritatively announced that the U.S. would leave the Paris agreement. The controversial and hard route to today's pact started in 1988 when the U.N. and the World Meteorological Organization created the Intergovernmental Panel on Climate Change. In 1992, the Earth Summit took place in Rio de Janeiro, in which 180 countries signed a Climate Change Treaty. The Kyoto Protocol was signed in 1997 and enforced in 2005. And, in 2009, the Copenhagen Summit failed, merely leading to a deal between five nations, including of course the U.S. With climate change brought to the forefront through these actions, the scientific community also worked to verify that global warming is indeed a result of human activity.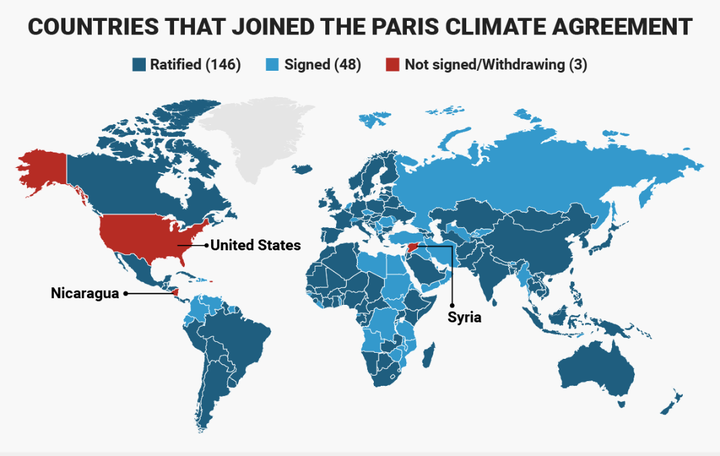 Despite the fact that Trump is politicizing this issue as irrelevant, it does not negate the fact that global climate change is a real problem. According to U.N. technical reports, climate change, high carbon emissions and other environmental factors cause a quarter of the world's deaths. An example of this is displayed in the original causes of the ongoing war in Syria. The six years of horror that has ravaged this war-torn nation is underlined by a drought in the so-called Fertile Crescent, a circumstance that has caused over 1.5 million people to become displaced from their homes.
Not only did Trump break from his political and moral responsibility to every human being on the planet, he also highlighted his lack of foreign policy awareness and knowledge in operating within a multilateral framework that is inevitably guided by values and governed by rules. When he broke from the Paris Agreement, he also broke with an organized consensus, or the U.N. Sustainable Development Goals, which is a set of 17 "Global Goals" universally calling to action an end to poverty, protect our world, and peace and prosperity to all people.
The world is astonished about these unprecedented actions of the President. But, why should U.S. citizens care about worldwide reactions, especially in Europe, generated by Trump's decision? In short, it reinforces an image of the United States as a predatory and greedy country, ready to deny basic human rights, and instead uses the precepts of freedom and democracy to hide its short-term economic voracity, or greed. In other words, Trump's decision feeds, in the worst way, to the old and complex stereotypical and narcissistic, much like himself, American reputation in the world.
However, just as important, is the defensive and irrational nature of the arguments itself: from fallacious statements, such as stating that complying with the Agreement will lead to a loss of 2.7 million jobs, to absurd proclamations, such as Trump advocating for Pittsburgh workers and not workers in Paris – talk about inconsistent reasoning.
U.S. cities, states, businesses, like Exxon, Chevron, and General Electric, and citizens, including those in Pittsburgh, have voiced their concerns. Survey results, such as a study from Yale University, has even polled the question to ask ourselves what we generally think about Trump's decision-making processes and basis of analysis. For example, the falsity of his arguments on employment, especially in his opposition to investments in alternative energy, is far from sound. With a 5:1 ratio of clean energy versus fossil fuel jobs, Trump should be determined to expand on one of the driving job growth enforcers for our nation's economy. Thanks to policies put in place by the Obama administration, Trump found the U.S. economy in a blessed state and with a historically low unemployment rate of 4.5% when he took office, much thanks to sustainability jobs carrying 4 to 4.5 million of this growth. He should not rollback progress made for our country just to make a buck.
What motivates Trump to act in this regard? Why does he have this desire to aggravate and attack everything achieved before him? Or, to disparage fundamental issues that affect not only the U.S., but the entire human race? Does he really believe that his governing style is putting "America First"? Is there something deeper and more uncontrolled than the populist and dictatorial drive and persona he displays? Does he not realize that he is essentially ingratiating himself with an electorate that, for the most part, disagrees with his rollbacks on climate change?
Like any narcissist, Trump seems to rule via his self-promoting obsessions. The press continuously poises well-meaning questions to determine who he listens to for advice or what compels him to act distinctively. Perhaps these questions do not hit the core of the issue; maybe the answer is that he just doesn't care. It could be that certain problems are simply of no concern to a man fascinated by himself, such as how the planet's temperature is increasing on an average annual basis of one degree, 30,000 species are in danger of extinction, and almost 3 billion people, or 40% of the world population, are vulnerably within proximity to the greater impact of climate change.
So, what's the damage to Trump breaking away from the Paris Agreement? He broke with the fight against desertification, efforts to protect hydrological systems and prevent rising sea levels, and impeding the growth of extreme climate event related casualties… to name a few.
As Newton stated, "for every action, there is an equal and opposite reaction." Trump's irresponsible behaviour has produced a social and political response throughout the U.S. and the world that moved from criticism to resistance. Billionaire Michael Bloomberg, for example, pledged to donate the $15 million that the U.N. stands to lose from the U.S.'s early withdrawal from the climate agreement, ensuring that an American delegation will maintain a seat at the table. And immediately following the pull-out announcement, the Mayor of Pittsburgh, Bill Peduto, gave a statement calling Trump's decision "disastrous for our planet." This standpoint was also echoed instantly after the decision, in a bipartisan fashion, by mayors of over 175 cities and governors of 27 states. This included a proposal by California Governor Jerry Brown – California itself is the sixth-largest economy in the world – to create an alliance of states that vow to commit to the objectives and climate policies in the Paris Agreement without federal government support. In short, Trump has also broken the limits of ridicule, degrading once more the majesty and investiture of the Presidency inside and outside the U.S.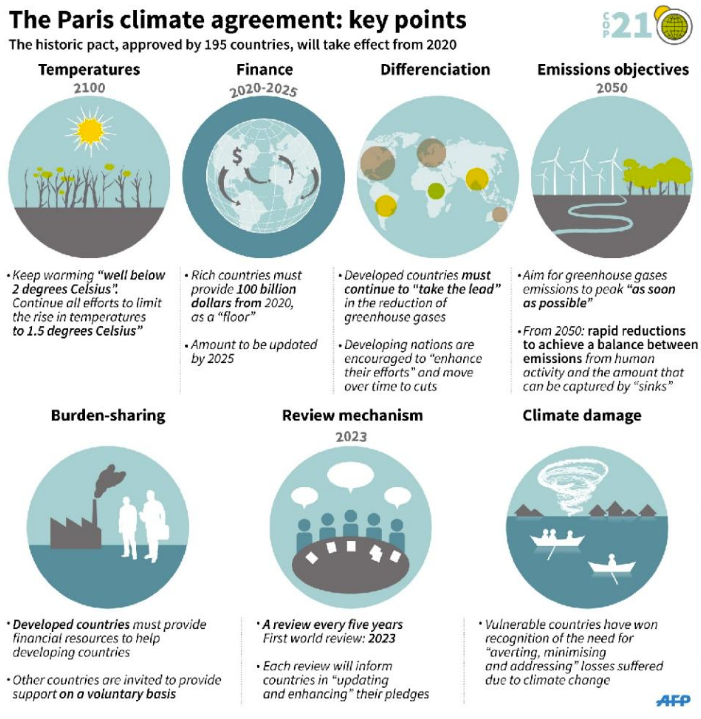 Finally, an additional factor that must be considered is the U.S.'s role as a global leader. By Trump breaking away from the Paris Agreement, he abandoned a vital, strategic goal for the U.S. to be the world frontrunner in alternative energy, a position we were heading towards under President Obama. The comparative advantages, strategic positioning, and scale of the economy allow the U.S. to make the required investments and sustainable innovations outlined in the Paris Agreement. If continued, the U.S. would have carried influence for many years as the global leader in clean energy. This is what our U.S. state and city level elected officials and business leaders understand.
Instead of putting America's interests first, Trump is putting us in the back of the line. Now, another developed country will become the clean energy leader in the coming decades, like China who employs 3.5 million renewable energy jobs, or 40% of the industry jobs worldwide, and has plans to create 13 million more renewable energy jobs by 2020. Trump has turned his back on science, the climate problem, and to economic opportunities related to the struggle for environmental conservation.
By pulling out of the Paris Agreement, President Trump has broken all reason, sensibility, and hope for a better future – all characteristics that are inevitably embraced in the pact. Fortunately, there's solid resistance and alliance at the heart of American society that will continue to stand up against the backward actions brought by the current administration.