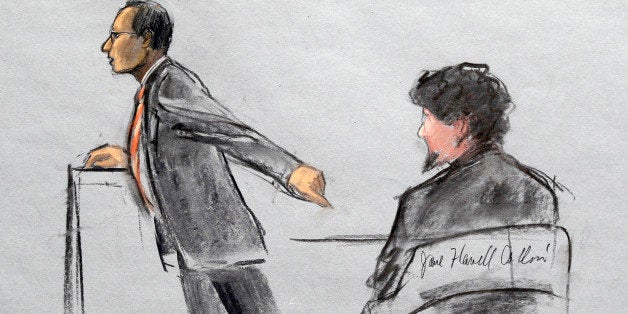 BOSTON -- Dzhokhar Tsarnaev always had an encouraging word for teammates on his high school wrestling team. But his older brother, Tamerlan, told vicious jokes that brought the young woman he would later marry to tears.
A friend of Katherine Russell, who married Tamerlan, told jurors in the Boston Marathon bombing trial Tuesday about a time in 2007 when she found Russell crying and Tamerlan laughing. The couple by then had been dating for months. Russell explained later that she was in tears because Tamerlan told her after having sex that he has AIDS.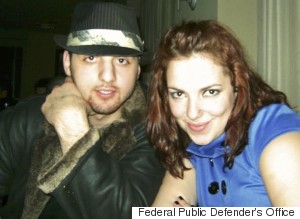 The friend, Amanda Ransom, 25, testified that she intervened another time during one of the couple's frequent arguments and Tamerlan responded with the cryptic threat, "If I ever see you again."
Attorneys for Dzhokhar, 21, are trying to spare him from death row for the Boston Marathon bombing in April 2013 that killed three spectators and injured 264 people. Tamerlan, 26, carried out the attack as well, and was the mastermind, according to lawyers for the younger brother. Tamerlan died in a gunfight with police hours before his brother was captured.
With Dzhokhar now convicted of 30 charges, his attorneys are trying soften his image to jurors, who will sentence him either to spend his life in prison without parole or condemn him to die by lethal injection.
Much of the testimony Wednesday focused on the Tsarnaev household, including the long list of serious mental and physical ailments that afflicted Dzhokhar's father.
Jurors also learned about the history and customs of people from the Caucasus region of Russia, the area of Tsarnaev's ancestors. Family ties in the region are characterized by a subservience to older siblings, according to a historian's testimony, and the defense tried to show jurors that the hierarchy compelled Dzhokhar to follow Tamerlan's violent lead.
The day's testimony closed, however, with a high school wrestling coach explaining why he made Dzhokhar co-captain of the Cambridge Rindge and Latin School's wrestling squad.
"He showed leadership and he showed hard work and dedication to his peers," said Roy Howard.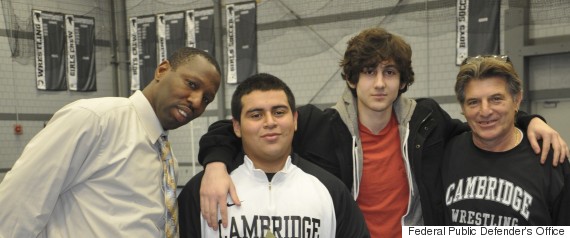 Tsarnaev, in the red shirt, as a college freshman posing in 2012 with his high school wrestling coach Roy Howard (far left), Henry Alvarez, then a co-captain of the wrestling team and another coach.
During Dzhokhar's three years on the team, Howard said he never saw his parents after a practice or at a wrestling tournament -- and he made it a point to schedule meetings with each wrestler's parents at the start of every season.
Jurors heard earlier in the day that Dzhokhar's father, Anzor Tsarnaev, was a "very sick guy," according to a psychiatrist who treated him for two years.
Anzor, pictured below, worked as a mechanic and immigrated with his family to Cambridge, Massachusetts, from Russia in 2002. Russian soldiers tortured him in an internment camp during a war with Chechen separatists in the 1990s, according to Dr. Alexander Niss, the psychiatrist.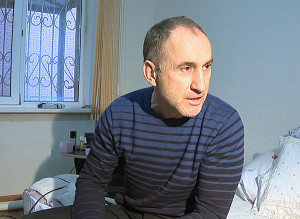 "He experienced a lot," said Niss, who prescribed numerous medications to treat post-traumatic stress disorder, panic attacks, flashbacks and nightmares. "He had a lot of paranoia. He thought the KGB was following him."
A childhood head injury caused Anzor to experience seizures even as an adult, Niss said. He'd also had concussions from his days as a boxer.
The medical misfortunes and his quiet demeanor pushed Anzor into the background of the family. A family friend who owned a Russian language book and video testified Tuesday that Anzor's wife, Zubeidat Tsarnaeva, stood out with a loud personality.
The defense has argued that Dzhokhar participated in the Boston Marathon attack because Tamerlan had a powerful influence over his life. They called a Russian historian whose testimony melded with their argument that cultural factors explained Dzhokhar's fidelity to Tamerlan. The unwritten code that traditionally governed Chechen society and other groups in the isolated mountainous area is known as adat, according to Michael Reynolds, a Princeton University professor.
Under adat, the father or oldest male sibling bears responsibility for the family's financial well-being, and occupies a special place of authority. In the patriarchy, family members are expected to defer to him in decisions from the mundane to the monumental, such as whom to marry.
"It is expected the younger brother will listen to the older brother," Reynolds testified.
On cross-examination, the prosecution attacked the idea of using the ancient code as an excuse for bombing the marathon.
"Are you here to say that a Chechen terrorist is less morally culpable for their crimes?" asked Assistant U.S. Attorney William Weinreb.
"No," Reynolds said.

The prosecutor also questioned whether adat meant anything to the Tsarnaev family, pointing to examples of relatives who ignored the custom. Anzor married Zubeidat, an ethnic Avar, against his father's wishes. Tamerlan's marriage to Katherine Russell, who was Christian before converting to Islam, was atypical.
To cement the point, Weinreb highlighted passages of an article that Reynolds wrote, "The Northern Caucasus, the Tsarnaevs, and Us."
"Identity most assuredly is not destiny," Reynolds wrote in the 2013 article for the Foreign Policy Research Institute. "Moreover, Tamerlan and Dzhokhar Tsarnaev were hardly typical of Chechens, and one might justifiably question whether they can even be properly described as Chechen."
Calling all HuffPost superfans!
Sign up for membership to become a founding member and help shape HuffPost's next chapter
BEFORE YOU GO
PHOTO GALLERY
Boston Marathon Bombing Verdict Reactions