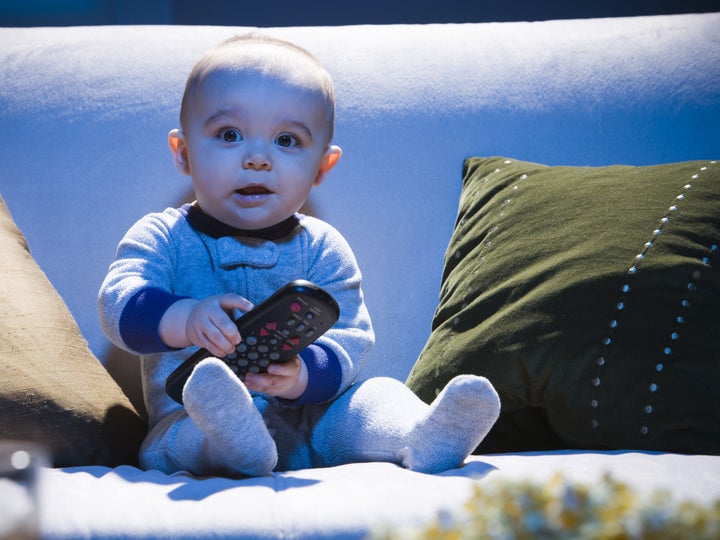 Breastfeeding while catching up on "Dancing With The Stars," or changing a diaper with "Modern Family" in the background could be called multi-tasking. But, not so fast, super-mom, the AAP says. "Secondhand TV," (their term for when the TV is on though no one is watching) can harm development for babies under two, the New York Times reports.
"When you think no one is really watching, someone is watching, and it's your child," says Dr. Ari Brown, lead author of the new policy.
According to TIME, Brown cites research showing that a child who is playing with toys while the TV is on in the same room will look up at the screen every 20 seconds. Studies also show that parents speak less when there is background television noise. The trouble says Brown is, "The less talk time a child has, the poorer their language development is."
Even though the AAP issued the exact same no-TV-under-two advice in 1999, 90 percent of parents say their infants consume electronic media in some form, NYT reports.
Because how realistic is it to never have the TV on -– or a computer, or an iPad -– near your baby for two whole years? What about all of the so-called educational programs, ranging from Baby Einstein videos to PBS programming and anything on Nick Jr. which calls itself "like preschool on TV"? The AAP warns there's no such thing. In fact, Dr. Brown says this update to their recommendations was necessary because of the massive amount of learning DVDs meant for babies under two that aren't beneficial to little brains at all. Plus, shows like Sesame Street that are proven to improve language skills in older toddlers can delay development in babies, TIME reports.
"Most of us don't have the luxury of extended family nearby and count on our televisions for sporadic breaks so we can shower or feed ourselves or just breathe."
Despite the challenges, HuffPost Blogger Devon Corneal followed the original guidelines. She refused to let her son watching anything (no YouTube videos, no Diego) before he turned two. But, she says, she was a "complete nightmare" and made everyone's life difficult by sticking to the rules. It's only now that her son is three and a half and allowed to watch a moderate amount of television that her family understands why she was so vigilant.
"Just last night my teenage stepson said that he regretted that we ever let my son start watching TV because he feels like Bob the Builder is the fifth member of our family. They get obsessed... TV is like crack for kids. Honestly, I half expect my son to be out on the street corner trying to score a half an hour of Curious George," she says.
Maureen, a mom who lives in New York City and has a PhD in neuroscience keeps her home completely screen-less. And despite Elmo's absence, she says her two and three-year-old kids are never bored.
"We read books because I want them to hear my voice, my inflections, my stresses and tone (the material itself is secondary). I'm big on variety; we have over 1k children's books in our home library (all bought at thrift stores and library sales)," she says.
Related