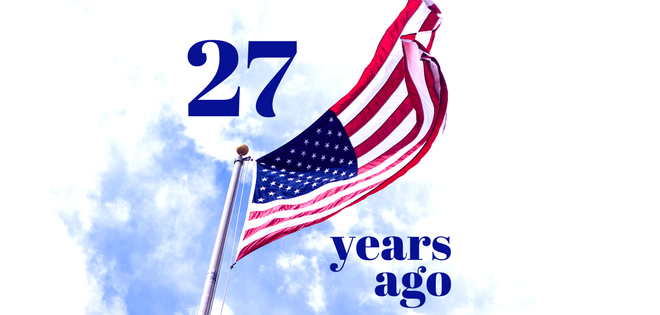 Twenty-seven years ago, The Simpsons were seen for the first time on television, Julia Roberts became a star with the release of Pretty Woman, the Dow Jones Industrial average closed above 2,800 points for the first time ever and the Berlin Wall fell. The Berlin Wall, however, was not the only wall to be dismantled in 1990. On July 26th, more than 1,000 disability activists gathered on the White House South Lawn and listened as President George Bush made these remarks: "I now lift my pen to sign this Americans with Disabilities Act and say let the shameful wall of exclusion finally come tumbling down."
Fast forward to 2017 and across America many a physical barrier has been removed and many social barriers have been reduced or eliminated. Ride the Metro in Washington, D.C. and it is not unusual to see Gallaudet students deep in conversation with their fingers and hands moving rapidly with the beauty of sign language. In retail, professional services and government, it is no longer unusual to see people across the spectrum of disabilities as co-workers, team members and valued contributors. On television, in movies, in advertisements, it is becoming more frequent to see people with varying disabilities playing prominent roles. And more students with disabilities than ever before are moving up from high school to higher education with heightened expectations about career pathways and being a part of the economic mainstream.
I asked Alexandra McArthur, National Disability Institute Board Chair, what the ADA meant to her. Alex was nearly three years old when the ADA was signed into law. As a former Miss Wheelchair America, a disability activist and a nonprofit leader working with other millennials with disabilities on self-advocacy and economic empowerment, Alex is optimistic about the continued shift in attitudes and culture that is full of opportunity for creative, talented young people to be entrepreneurial and find new ways to create disruptive innovation. Alex is not defined by her disability, but by her drive, intellect, positive thinking and desire to change the playing field for people with disabilities in which individual differences are respected and new pathways to economic mobility and security are explored.
Technology has been a great equalizer for people with disabilities. The explosion of possibilities with emerging technology in the next 10 years will change the quality of life for millions of individuals with disabilities. The next generation of curb cuts will produce driverless cars for new freedom of movement and wearable devices to extend health and wellness. The next group of Fintech tools will improve financial decision making, expand access to affordable credit and accelerate savings.
In the next 10 years, more than five million individuals with disabilities and their families will have opened ABLE accounts, a tax-advantaged savings account which became law in December 2014. Parents with children with disabilities will be able to set long-term financial goals for their sons and daughters to secure a future of greater independence and productivity. For working-age adults, ABLE accounts will help them purchase homes of their own, affordable and accessible transportation and the latest technological innovations that multiply opportunity for self-directed lives. Ten years from now, more Members of Congress will be elected from across the country, defined not by their disability, but by their advocacy for an affordable national system of long-term care and supports that enable individuals to live at home. Ten years from now, the next generation of individuals, like Alex and others that you know, will know no boundaries to their expectations regarding social, economic and civic participation that recognizes the power of diversity and inclusive communities.
To achieve this vision, one must break down these expectations into smaller achievable parts. Each of us, as individuals, as organizations, as communities, must define our roles to create the opportunities for this next stage of collective impact. Twenty-seven years ago, President Bush defined the values that made, and still make, this country great, "For ours will never be a truly prosperous nation until all within it prosper."
Are you ready to do your part?
Since its inception in 2005, National Disability Institute (NDI) remains the first and only national nonprofit organization dedicated exclusively to designing pathways to economic stability and mobility for persons with disabilities. Through public policy research and development and customized training and technical assistance, NDI has become a recognized leader nationwide demonstrating that individuals across the spectrum of disabilities can work, save for the future and advance their financial capability and economic stability. To learn more, visit www.realeconomicimpact.org. Take the DISABLE POVERTY pledge at www.disablepoverty.org.
Calling all HuffPost superfans!
Sign up for membership to become a founding member and help shape HuffPost's next chapter
This post was published on the now-closed HuffPost Contributor platform. Contributors control their own work and posted freely to our site. If you need to flag this entry as abusive,
send us an email
.