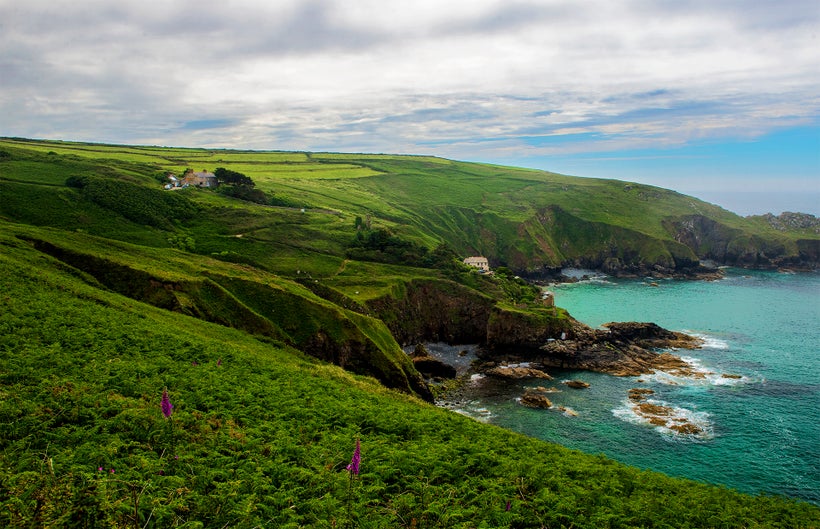 It's been four years since my friend Sandy and I "abandoned" our husbands and dogs for a 10-day journey to Tuscany, and we decided it was time for another girls' trip. Our destination this time was England's far-west county of Cornwall, a place neither of us had visited but had caught tempting glimpses of thanks to the British television shows "Doc Martin" and "Poldark."
Like our Tuscan travels, this English escape was filled with beautiful scenery, delicious food, and friendly people, along with a few pretty stressful moments.
Let's address the fear factor first. When it comes to driving, Cornwall is not a destination for the faint of heart…especially if you're not accustomed to driving on the left side of the road. With few exceptions, getting almost anywhere involves winding your way along narrow roads, usually between high walls or hedges that make it impossible to see vehicles coming in the other direction until they're almost upon you. And when I say narrow, I mean narrow. Even the roads wide enough to allow two cars to pass are only just wide enough. And more than a few are too narrow, requiring cars going in one direction to back up to one of the periodic little dimples in the side of the road about half a car wide to allow cars going the other way to pass.
Once, while driving on just such a road—followed by a truck—we encountered three cars emerging around a corner toward us. The truck backed up quickly and I attempted to do the same. But trying to back up when sitting in what to Americans is the passenger seat while staying to the left side of the road is more difficult than one would imagine, so I was creeping along at a snail's pace. I guess the other drivers figured they'd be there all day before I reached a place to pull over because all three of them suddenly reversed rapidly and allowed us to proceed—which I did while nodding and mouthing, "Thank you!" repeatedly as I went past.
And as if the narrow roads weren't enough, our driving challenges were compounded by an "interesting" and unexpected design element of our rental car called a speed limiter. I'm not sure what the intended purpose of this feature is but what it did was cause us to lose acceleration at seemingly random—and often dangerous—times. Imagine the terror of exiting a roundabout and slowing down, even when flooring the accelerator, as cars caught up from behind going 40 or 50 miles an hour. Only by stopping and restarting the car could we seem to overcome the problem.
There was no car manual in the car (really?!) and a test drive and computer diagnostics by a service guy revealed no mechanical flaw with the car. Fortunately, an email exchange with a rental car representative led to the diagnosis. She surmised that our problem might be caused by the aforementioned speed limiter—a small lever on the steering column just below the larger turn signal/windshield wiper lever. If you're sitting in the driver's seat, the padded nature of the steering wheel obscures any view of this speed limiter, so I never even knew it was there. Apparently, however, when I used the turn signal, I sometimes brushed this "hidden" lever, causing the speed limiter to engage. (What the…?) Once I knew this—in my mind unnecessary—piece of mechanics was there and I took care to avoid nudging it, we had no more problems. Whew!
Car issues resolved, we were free to truly appreciate and enjoy all that Cornwall has to offer.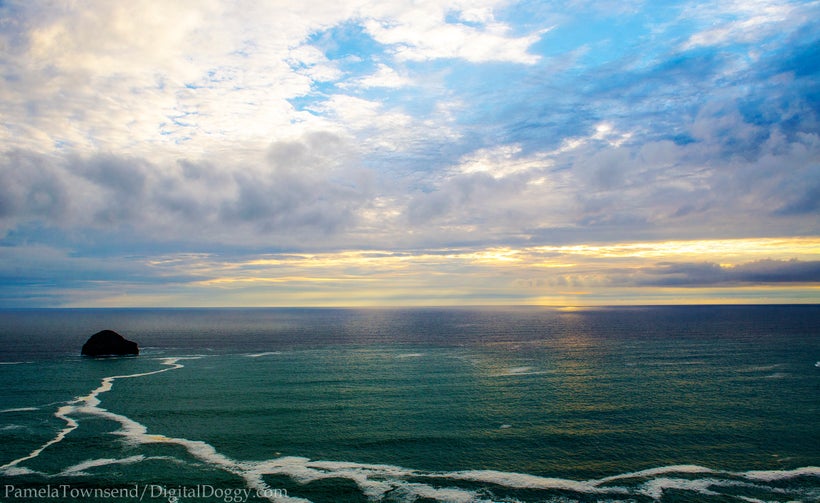 First, the scenery. Put simply, it's spectacular! Cornwall features a rippled, jagged, 400-plus-mile coastline dominated by granite cliffs punctuated by small rocky coves, sandy beaches, tranquil estuaries, and busy fishing harbors. A 300-mile section of the famous Coast Path gives visitors access to this natural beauty, although, not being dedicated long-distance hikers, Sandy and I limited our explorations to relatively short walks leading to specific destinations of historic or scenic interest.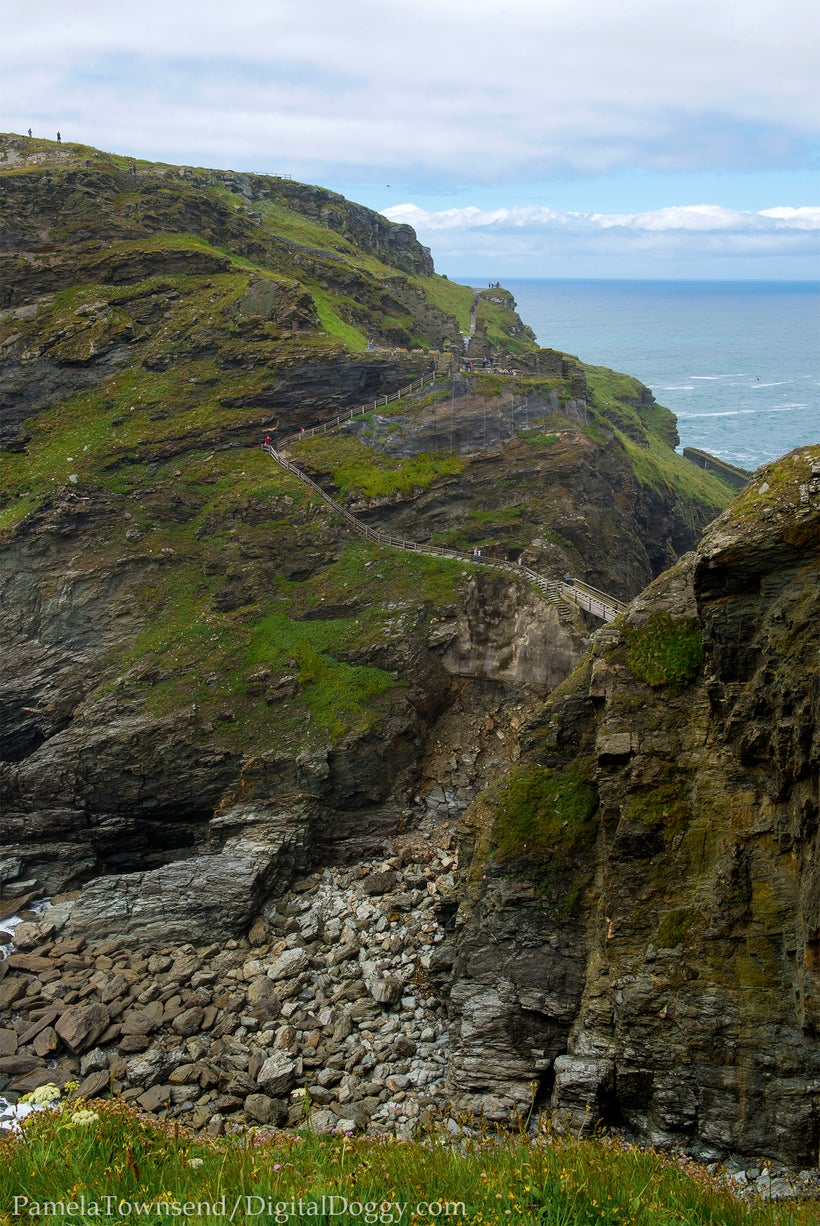 Our first walk, for example, took us to Tintagel Castle—legendary birthplace of King Arthur—just as some heavy fog burned off and sunlight gilded the rugged landscape and medieval ruins. The remains of the 13th century castle, along with several small buildings constructed some 700 years earlier, only enhanced the extraordinary views.
Another walk ended with a pint at the Tinners' Arms in the village of Zennor, where writer DH Lawrence and his wife holidayed in 1916. And a memorable stroll—too short to count as a real walk—took us across a causeway from the seaside town of Marazion to the medieval church and castle on of St. Michael's Mount. We managed to make it back to the mainland before the tide came in and covered the path. Others were not so lucky and had to pay for a boat ride back.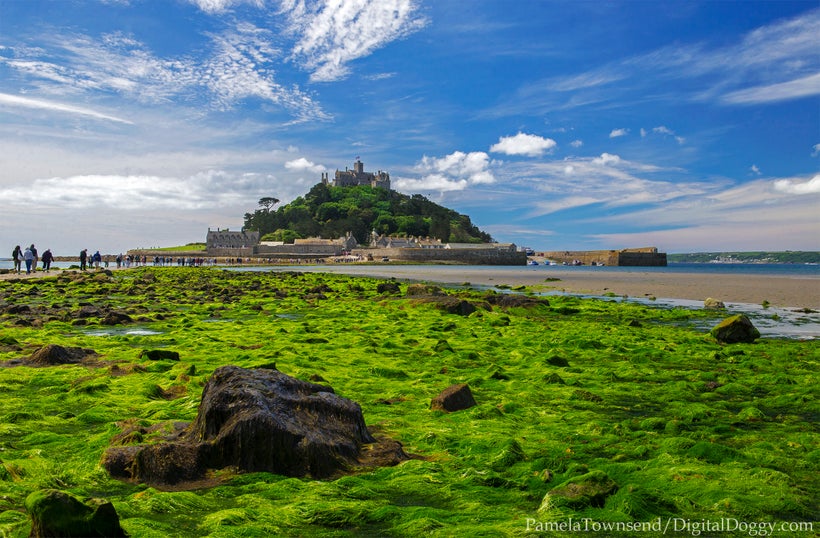 Weary but fulfilled after such walks, we happily refueled with some great Cornish food and drink. We eschewed traditional afternoon tea in favor of beer, cider, and wine. And although we sampled a Cornish pasty, we weren't overly impressed; as I understand it, this handheld pie filled with meat and vegetables was created originally as a hearty, inexpensive, easily transportable meal for workers in the region's tin mines. We found it a bit heavy for our tastes.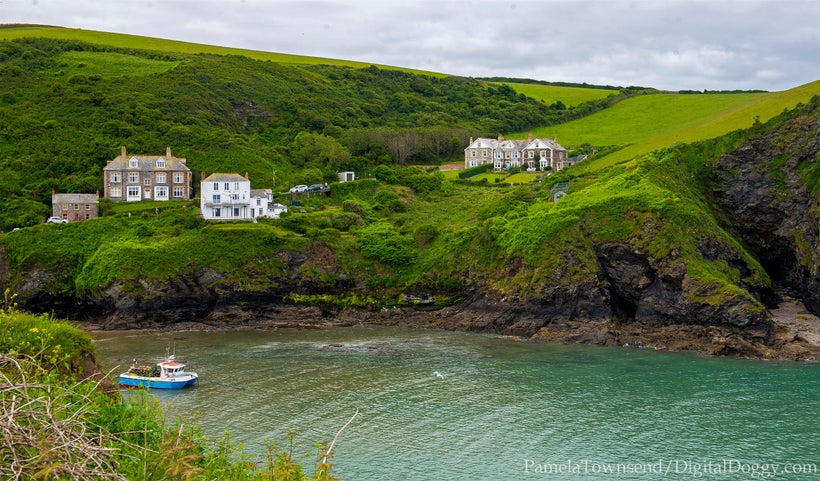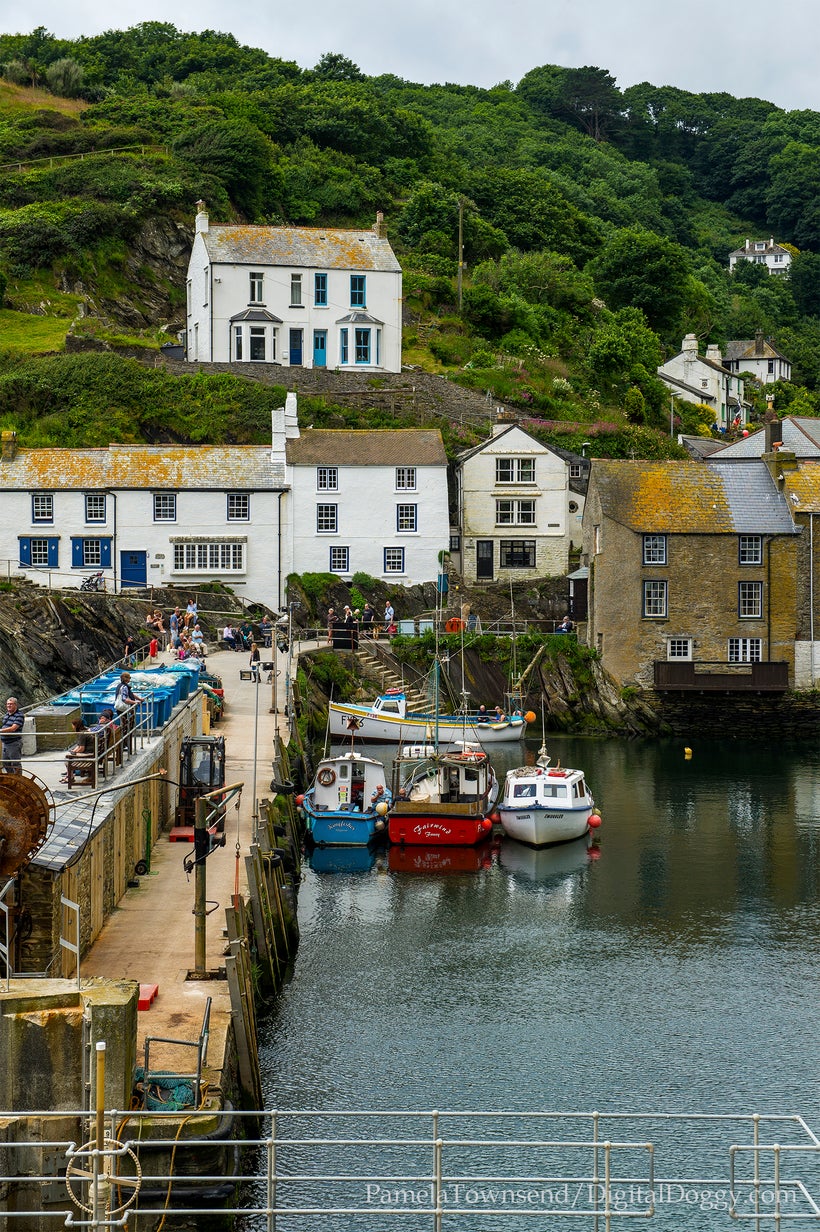 Seafood was another matter entirely! From mussels at The Mote in Port Isaac (known to you "Doc Martin" fans as Portwenn) to scallops at Michelle's in the charming fishing village of Polperro, to sea trout at the Gurnard's Head Hotel (a popular "restaurant with rooms"), the bounty of the sea was universally delicious. And thanks to all the calories we burned walking, we even indulged in some sweets: sticky toffee pudding at the Gurnard's Head, lemon cheesecake at the Polperro Bakery, and a decadent confection of chocolate mousse on a crumb crust topped with caramel at the Lanhydrock House café. Truly a foodie's heaven—and one that's gone to the dogs.
Even in a country where dogs are popular and welcomed in many places, Cornwall is special. From Joyce, the lurcher; Amadeus, the boxer; and Lulu, the Basset hound; to Stanley, the Staffordshire terrier; Ted, the Saint Bernard/Irish wolfhound cross; and Striker, the Lucas terrier (yes, that is a real breed); dogs were literally everywhere! And we made a point of meeting as many of them as possible. Not surprisingly, these encounters often led to pleasant conversations with their human companions.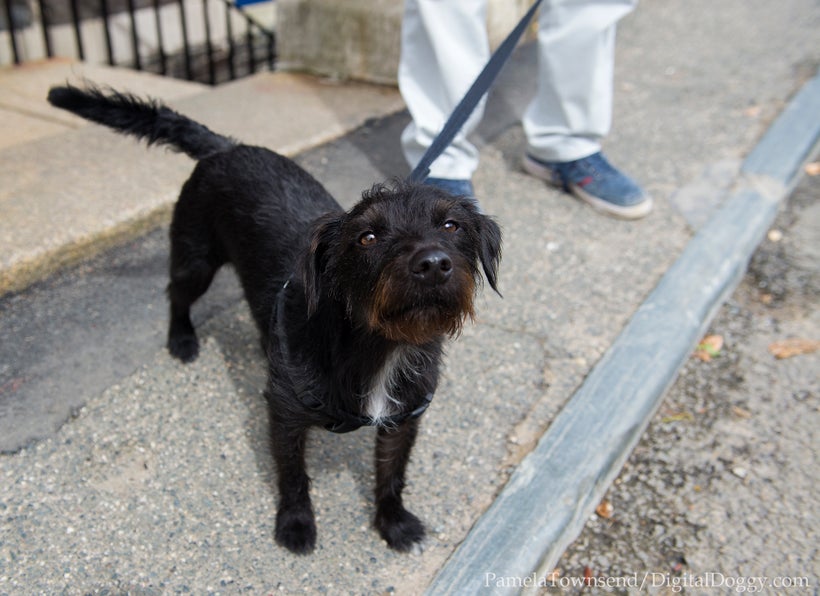 Stopping to photograph a small, scruffy black dog in Port Isaac, I ended up chatting with his owners—a lovely older couple—for quite a while. After talking about Dino, a Jack Russell terrier-Patterdale terrier cross, we discussed "Doc Martin" and its impact on the village. The woman told me how surprised she was when, watching a recent episode, she recognized the cottage her grandmother had lived in being used as the Doc's temporary residence. And she recalled how, as a little girl, she would be sent by her grandmother to the harbor with money and purchasing instructions to wait for the fishing boats to come in with the day's catch.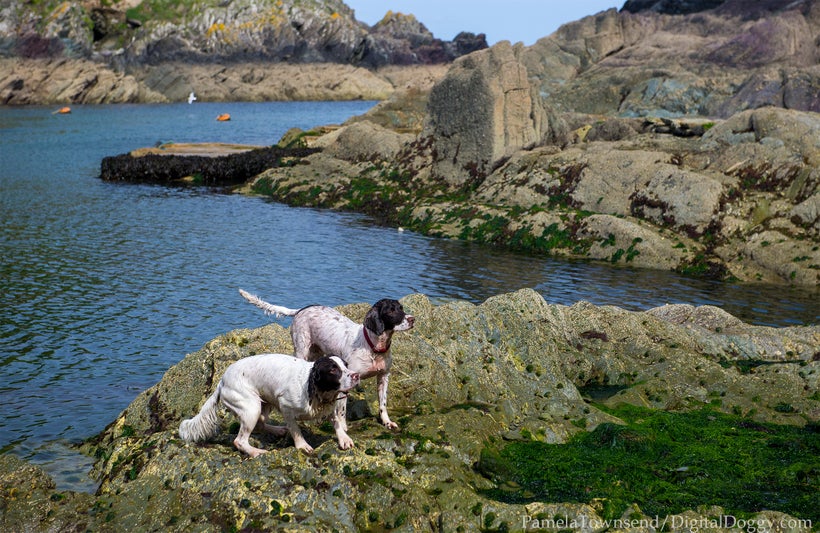 Another conversation—between Sandy and a woman throwing balls for her two Brittanys at the harbor in Polperro—led directly to our delightful dinner at Michelle's. The woman not only recommended the restaurant but guided us there and, because it wasn't yet open, called the owner to ask if she had room for "two American ladies" that night.
With or without dogs, the people we encountered were warm, welcoming, and friendly. After a tasty lunch at the Queen's Arms—the single pub in the village of Bottalack—and receiving permission to leave our car in the parking lot, we headed down the road to remains of tin and copper mines that dot the coastline. On our way, we paused to admire some flowers growing in a stone wall. The next thing we knew, a short, white-haired woman hurried out of the house. She was immensely pleased that we liked her flowers, especially because her husband had been complaining that they were overgrown and needed to be cut way back. She then offered to take a picture of us together—in front of her flowers. Given the small size of the village, we guessed she didn't have many people to talk to; I wouldn't have been surprised if she had invited us in for tea.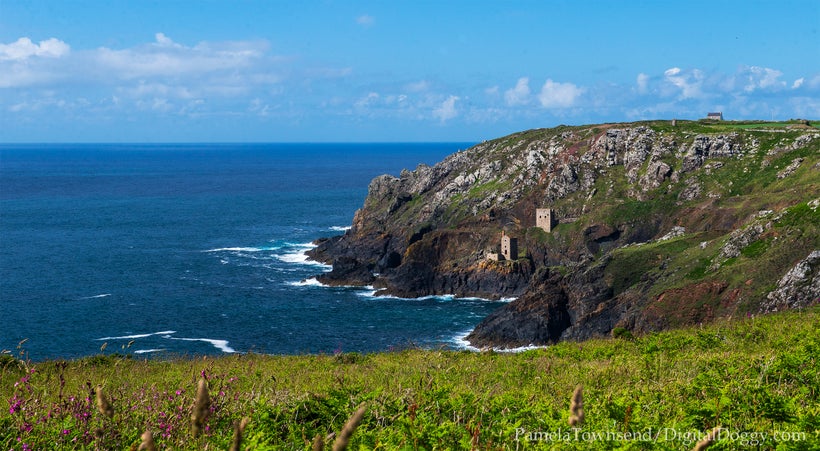 While exploring the old mine buildings perched on the cliffs, we met another older couple and discovered that the man's grandfather had actually worked in the mines.
And we'll never forget the brief—and fortuitous—encounter with the woman who appeared miraculously when we needed someone most. We were heading back to Trenderway Farm after spending the day in Polperro. We'd walked there along the Coast Path and were taking an alternative—reputedly shorter—route back through fields and woodlands after dinner. Somewhere along the way we missed a hard right turn off the path. Eventually, about an hour after we set out, we emerged onto a road near a farm but the fields around prevented us from seeing anything beyond the road itself. Suddenly a car approached and the driver rolled down her window to ask if we were lost. When we explained where we were trying to go, she provided us with directions and then drove off. Some twenty or so minutes later—just as the sun was sinking below the horizon—we arrived back at Trenderway for the last night of our memorable stay in Cornwall.
Here's hoping I return someday.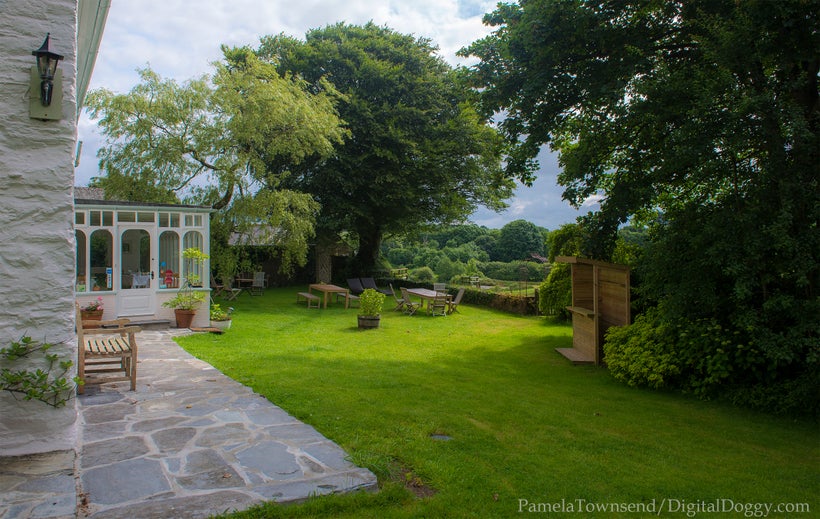 REAL LIFE. REAL NEWS. REAL VOICES.
Help us tell more of the stories that matter from voices that too often remain unheard.
This post was published on the now-closed HuffPost Contributor platform. Contributors control their own work and posted freely to our site. If you need to flag this entry as abusive,
send us an email
.