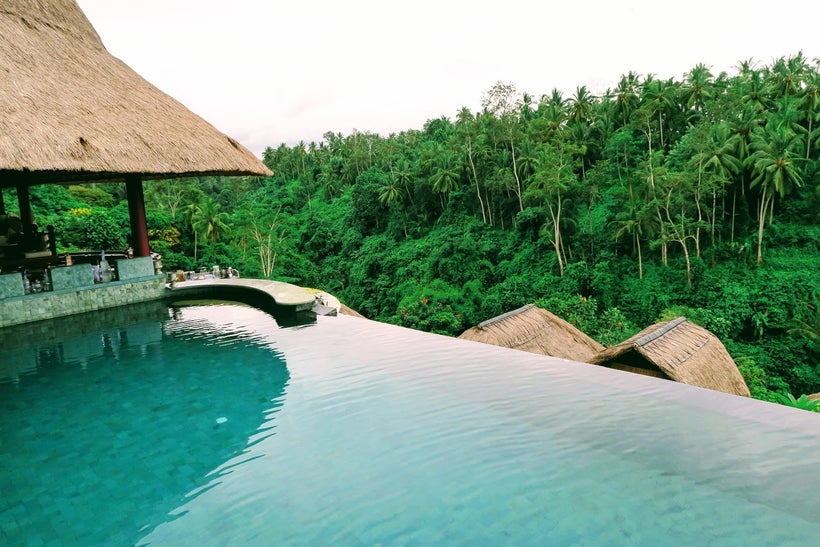 Shrouded in bucolic splendor, Ubud is unlike any other place in the world. The center of town is a bustling district where locals, tourists and monkeys share the charming streets that lead to mystic temples, artisanal shops and organic cafes.
Just outside the village, the landscape consists of terraced rice paddies and secluded luxury resorts where travelers can relax on a completely different level, whether it's by taking a dip in an infinity pool, re-invigorating at the spa or having an out-of-body experience with yoga or mediation overlooking the morning mist floating through the luscious valleys.
All these different facets make Ubud the place to capture enchanting hotspots set against stunningly scenic landscapes. To get started on your own picture-perfect adventure, here is a travel guide to Ubud's most Instagram-worthy places that will leave you feeling #blessed.
Viceroy Bali
It's no hyperbole to say the Viceroy Bali feels like your very own private paradise. There are only 25 villas, each with an infinity plunge pool just a few steps away from the bed. So, you can wake up to a refreshing morning swim or take a midnight plunge if you're feeling adventurous. If Ubud's tepid temperature is not warm enough for a late-night swim, don't worry: the plunge pools can be heated.
The Deluxe Terrace Villas also have an outdoor balé, or Balinese gazebo, where you can dry-off, eat fresh fruit and unwind. It's appropriate that these elegant balés are perched over the lush Valley of the Kings, because lounging here certainly makes you feel like royalty, as the sounds of the Petanu River gorge serenade you from down under.
Inside, the villas are just as majestic, decorated with lavish details and equipped with modern amenities. Turn up the volume on that Bowers & Wilkins Zeppelin speaker, for example, as you spend a relaxing time in the marble bathtub or gaze at the beautifully-lit alang-alang roof that gives the villas a tropical opulence.
As much as you'll enjoy spending time in your own private paradise, the Viceroy Bali also tempts you to step outside your villa. CasCades Restaurant, the fine-dining option on-site, has garnered multiple awards by offering impeccable tasting menus blending French and Indonesian cuisine. The Lembah Spa is consistently ranked the best in Ubud, offering Balinese wellness techniques by Swiss-accredited therapists.
To get to the restaurant or the spa, simply call for a golf cart to be sent down and pick you up from your villa. That's how most guests get transported through this sinuous property. There is also a car service that will take you to the center of Ubud, and pick you up as well so you can explore all that the charming town has to offer.
Despite its familiar name in hospitality, the Viceroy Bali is one-of-a-kind, literally, an independent family-owned property with the ultimate in luxury touches, including an on-site helipad so you can get to the Denpasar airport via private helicopter in just 12 minutes. During your stay, you can also coordinate a helicopter ride to get to an unparalleled view of Ubud.
Sacred Monkey Forest Sanctuary
Ubud may be synonymous with tranquility and relaxation, but the monkeys at the Sacred Monkey Forest Sanctuary didn't get the memo. These little guys sure are feisty and will stop at nothing to snatch a banana from the travelers who come to visit them.
It's all a big game of "monkey see, monkey take." They will climb on you, jump on your head and steal your sunglasses all in an erratic attempt to take your bananas. Which makes taking the perfect monkey selfie that much more of a challenge.
Just make sure you don't accidentally step on one of them... Because, let's just say, some of these monkeys can have a serious attitude problem if they feel like you're overstepping into their personal territory. When you buy bananas from the on-site fruit vendors, you can cut them up into smaller sizes so you have more chances to lure one of these monsters into playing with you.
Bambu Indah
Staying at Bambu Indah's brand new treehouse will make you feel like a real-life Tarzan, while enjoying the luxury perks that would lure even Indiana Jones. This treehouse, known as Copper House, is perfect for adventure-seekers and intrepid types looking to get a truly-unique sense for Ubud's natural wonder.
Wake up to a bird's eye view of Ubud's bucolic rice fields, with the gentle cascading sound of the Ayung River as your natural alarm clock. Get ready to take on the day with a waterfall shower or a dip in the copper bathtub, both unrestricted by walls so you never miss a glimpse of the great outdoors.
To get to the rest of the property, you'll have to trek alongside the riverbank, cross a wobbly bridge, go through a cavernous hallway, and take the man-made bamboo elevator. This secluded layout incorporating the natural area is by design, and a big part of what makes this boutique resort popular with travelers seeking a restful getaway.
Built by world-famous jewelry designer John Hardy and his wife, Cynthia, Bambu Indah epitomizes Ubud's boho-chic lifestyle. Besides the treehouse, you can stay in 100-year-old Java cottages decorated with Tibetan rugs, antique furniture and other lost-world treasures the Hardys have collected over the years. The brightly-colored chipped paint only adds to the resort's rustic charm.
Despite its Instagram-worthy aesthetic, Bambu Indah actually entices you to unplug. Teak wood huts throughout the resort are at your disposal for anytime yoga or meditation. And there's no more natural way to feel refreshed than by using the rope swing to plunge into the chemical-free swimming ponds. The resort cultivates a sustainable approach by using the vegetable garden and free-roaming chickens in the restaurant's organic menu.
But Bambu Indah also caters to travelers looking for a little bit of understated luxury. The resort embraces its eco-luxe ethos with modern-day innovations like the elevator using a bamboo-built apparatus. And if the temperature becomes unbearable, you can turn on the air conditioning that's siphoned through the bamboo canopies right above the bed. When it comes to using the A/C, however, the staff will remind you to be mindful.
Kubu Restaurant at Mandapa
If it weren't for the fact that this is arguably the best restaurant in Ubud, Kubu could pass off as a hidden gem: Nine private cocoons right on the edge of Ayung River that you can only get to via an adventurous golf cart ride through the lush Mandapa resort, a Ritz Carlton Reserve.
As for the food, expect Mediterranean and European cuisine taken to molecular gastronomy levels thanks to the chef's creativity and presentation. The tasting menu begins with some serious amuse-bouches, perfect for sharing those #foodie photos on Instagram. You'll get to try a bloody mary spherification that bursts in your mouth, chestnut cream with a side of balsamic jelly and a truffle egg custard with parmesan foam served inside an eggshell.
For the entrées, get ready for cod ravioli, lobster gazpacho and Wagyu beef ribs. And as for dessert, make room for chocolate petit fours served on a sanded piece of driftwood.
Calling all HuffPost superfans!
Sign up for membership to become a founding member and help shape HuffPost's next chapter
This post was published on the now-closed HuffPost Contributor platform. Contributors control their own work and posted freely to our site. If you need to flag this entry as abusive,
send us an email
.