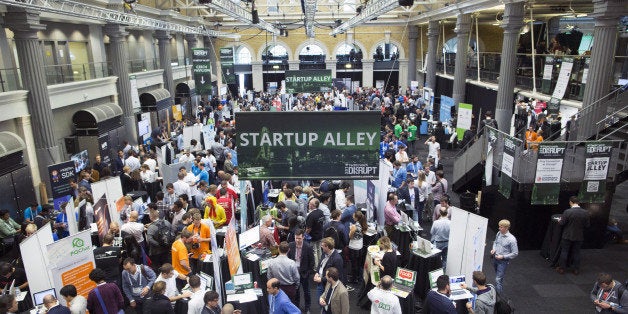 Over the next decade, it's predicted that 46,000 new tech jobs will be created in this country's capital city alone. Any guesses where we're talking about?
It's not the United States. It's not Germany. It's the United Kingdom.
And the mounting tech explosion isn't confined to London; the entire U.K. is quickly becoming Europe's next big tech hub. We've partnered with the HQ-UK team, a new initiative to encourage and assist international tech businesses to expand in the U.K., to bring you these seven reasons why:
1. A highly skilled and educated workforce
It's hard to argue with both size and smarts. More than 64 million people live in the U.K., and in the most recent Global Talent Competitiveness Index -- which ranks countries based on their "ability to attract and incubate talent" -- the U.K. emerged as one of the world's highest-rated powerhouse economies, placing seventh among the 93 countries studied. There is also a strong culture of education: The U.K. topped the 2013/2014 QS World University Rankings and boasts three of the world's top 10 universities, according to the latest Times Higher Education World University Rankings.
2. Gateway to Europe (and the world)
The U.K. has a prime location with easy access to both the United States and the rest of Europe's nearly 680 million people. On average, around 6,000 flights go in and out of the U.K. per day, with London's five (yes, five) major airports offering direct flights to a multitude of destinations. Extensive ground transportation options are also available for domestic and international travel -- you can even take a train to Paris in less than three hours.
So although the U.K. hangs out in the Atlantic, it doesn't stand alone. Its central location and comprehensive transportation network make it an attractive base for international expansion. Not to mention it's in between the time zones of the U.S. and Asia, which makes workday conference calls a lot easier to organize.
3. A vibrant culture and expat community
The Royals. Wimbledon. "Downton Abbey." Fish and chips. Radiohead. Though it's a small country, the U.K. has no shortage of culture. Entrepreneurs and employees who live there enjoy the many unique aspects of modern life in the U.K. -- from food to art to music, it has something for everyone.
Not only does the U.K. keep its 64 million subjects well entertained, it's also home to a large expat community. Almost 8 million people in the U.K. were born abroad, accounting for over 12 percent of the population. Most U.K. cities have vibrant expat communities, including large numbers of people from the U.S. (Apart from the free healthcare, the culture and the countryside, many American expats say that the traditional British pub is one of the U.K.'s most cherished gifts to the world.) And with English as the national language, it's easy to do business -- no matter where you're from.
4. Business-friendly tax laws
Over the past decade, the U.K. has worked hard to make the tax environment friendly for new businesses. The country's corporate tax rate has dropped by 9 percent in the past nine years: from April 1 it will stand at 20 percent -- which is half the corporate tax rate in the U.S. and the lowest among G7 nations.
Other features of the U.K. tax regime that appeal to international businesses include a territorial system that focuses on only taxing profits earned in the U.K., a "patent box" tax rate of 10 percent on profits earned from U.K.- or European Union–originating patents, and a generous research and development tax credit. U.K.-based businesses are also not required to pay any duties when moving goods within the EU.
5. Buzzing with tech clusters
The U.K. government is throwing a lot of support behind growing the technology industry within its borders: in 2012, it established the Tech City initiative in East London to promote and develop the tech ecosystem. It is now home to over 3,200 tech companies and cited as one of the hottest locations in the tech world right now.
However, although many think of London as the heart of the U.K. tech boom, a significant percentage of the digital economy is actually based outside the city. Twenty-one digital clusters -- where businesses gather to leverage collective expertise to accelerate growth -- are currently thriving throughout the U.K., according to a recent Tech Nation report. These clusters are evidence of some of the best conditions for business builders anywhere in the world.
Along with better-known hubs like Cambridge, Manchester, Leeds and Newcastle, some of the newest tech clusters are also among the fastest-growing. Bournemouth, a south coast town, is doubling its digital technology businesses year on year; Birmingham is now home to a quarter of the U.K.'s workforce employed in games development; and Edinburgh, part of "Silicon Glen," is home to world-class talent in the field of Fintech.
6. Poised (and protected) for business growth
It can take as little as 24 hours to register a U.K. company and just six days to start up. It's not surprising that three times more companies choose to base themselves in the U.K. over other European nations. The U.K. government is also taking growing concerns over cyber security very seriously; through a £860 million investment in a National Cyber Security Programme to combat cyber threats, the country is well positioned to become one of the safest places in the world to do business, digital and otherwise.
7. A community of success stories
Between 2009 and 2012, the number of technology companies incorporated in London increased by 76 percent, and in the most recent years, 15 percent of the companies formed in the U.K. were digital. Just two years ago, Yahoo acquired U.K. startup Summly for $30 million; some of today's most promising U.K. startups include Shazam, YPlan, TransferWise, SwiftKey and GoCardless. Of all the U.K.'s tech companies, 90 percent expect revenue to grow next year. This community of existing tech startups has fostered a welcoming environment for new companies on the scene. And, clearly, business is booming.
A tech company considering international expansion? Choose the U.K. as the location of your international HQ, and HQ-UK can help you every step of the way. HQ-UK includes a special concierge service for tech companies choosing to set up an international HQ in the U.K. Visit www.techcityuk.com/hquk for more information. HQ-UK is a joint initiative between UK Trade & Investment, the Department for Business, Innovation & Skills, the Department for Culture, Media & Sport and Tech City UK.
Related