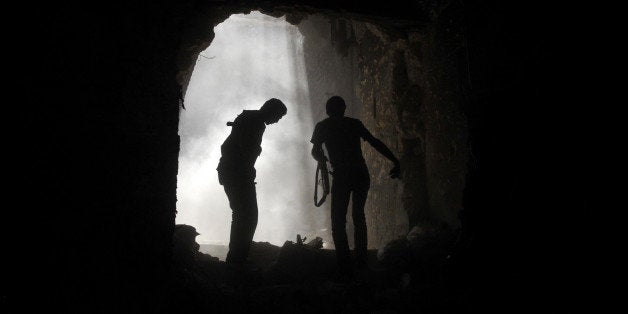 UNESCO Director General for Culture Francesco Bandarin said the theft of historic artifacts, which are often sold on international markets, is causing the most irreversible damage, Reuters reports. Interpol has confiscated nearly 100 artifacts at Syria's porous border with Lebanon, according to Reuters.
Syrian artifacts are reportedly a lucrative source of income for rebel groups fighting against the government of President Bashar al-Assad. A report last year in TIME said rebels had set up semi-official networks of antiquities smugglers in order to "fund the revolution." On top of the loss of artifacts, all six of Syria's UNESCO World Heritage Sites have reportedly been damaged or destroyed since the conflict began in the spring of 2011. In one of the most distressing incidents, the al-Medina Souk in the walled historic district of Aleppo was burned to the ground during a battle last year between rebels and pro-government forces, according to multiple reports. The souk, which was over eight miles long, was the largest covered market in the world before it was destroyed. Additionally, video uploaded from Syria in July appeared to show missiles fired during an air raid hitting the Krak de Chevaliers, a 12th-century Crusader castle near Homs. The 12th-century Umayyad Mosque in Aleppo, before and after its minaret was destroyed by shelling in April.(AP Photo/Aleppo Media Center, AMC, FILE)
Aside from taking a toll on Syria's ancient heritage, such destruction will also hurt the Middle Eastern nation's economy. Damage to historic and religious sites -- like the famed Umayyad Mosque in Aleppo, which suffered appalling damage earlier this year -- "rob[s] Syria of its best chance for a post-conflict economic boom based on tourism, which, until the conflict started...contributed 12 [percent] to the national income," TIME Magazine Middle East Bureau Chief Aryn Baker reported last year.
During bloody clashes in Egypt earlier this month at least one ancient museum's artifacts were looted and burned, while just two years ago in Egypt a break-in occurred at Cairo's Egyptian Museum, which is home to the Tutankhamen exhibit.
Calling all HuffPost superfans!
Sign up for membership to become a founding member and help shape HuffPost's next chapter
BEFORE YOU GO
PHOTO GALLERY
Syria's Rebels In Their Former Lives