When the Venezuelan National Armed Forces arrived in Pinchinat, Jacmel's largest refugee camp, it was news to the United Nations.
Every day for the past three weeks, representatives of all the medical and relief groups in this city of 40,000 on Haiti's southern coast have attended cluster meetings at the UN compound, just across the street from the newly international airport, where the Canadian Forces has established its base of operations.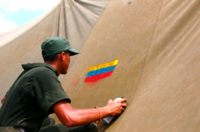 Organized by the UN Office for the Coordination of Humanitarian Affairs (OCHA), the meetings address the various challenges associated with earthquake relief in the southeast region of Haiti -- everything from shelter and sanitation to nutrition and logistics. And to date, the "cluster system" has worked fairly well. It has its hitches -- some people complain that minutes are rarely taken and that meetings often devolve into bickering. But all in all, the system works; it provides all parties with information about who is working on what, when and where.
And when one group -- such as the National Armed Forces of the Bolivarian Republic of Venezuela -- decides not to participate, it creates problems for everyone else. "The Venezuelans haven't showed up at a single meeting," complained Dr. Tiffany Keenan, founder and president of Haiti Village Health, which oversees the supply and distribution of private aid from its offices in the airport.
"We were all sitting there the other day and someone said, 'Did you hear they just put a bunch of tents in Pinchinat?' Nobody had had any idea they were there. We still don't know how many doctors they have or how long they'll be there."
When the Venezuelans first arrived, Pinchinat was a sea of makeshift huts assembled with sticks, bed sheets and scraps of plastic -- whatever could be salvaged from the collapsed homes that many of its residents had fled. Within days, some fifty Venezuelan soldiers in forest green fatigues had erected more than a hundred 40-foot, green canvas tents with "U.S." stamped on the side.
"It's like something out of a MASH episode," said Keenan, after visiting an American medical team from North Carolina that had set up its own tent in Pinchinat about fifty yards away.
For nearly a week, the two groups, American and Venezuelan, worked side by side, each seeing hundreds of patients with cases ranging from minor cuts and scrapes to malaria and tuberculosis.
"When they first got here, they had almost no supplies. They were always coming over to ask us for something," said Danny Pye, director of Joy in Hope, the missionary group that had sponsored the American doctors, providing them with a tent and a share of medicines from Jacmel's central depot. "So we gave them whatever we could." Since then, he says, they've been very helpful. "The other day our team needed cots for sick patients, and they brought a few over right away."
But while the American group had notified OCHA of its intentions to come and help, allowing Keenan to coordinate their arrival and placement with the many other groups of volunteers, the Venezuelans had not.
"They were brought here directly by the mayor's office," said Catherine Lefebvre, the UN's OCHA representative in Jacmel. "And unfortunately they've decided not to go through the cluster system. They haven't attended any meetings -- which may be due in part to the language barrier." OCHA meetings are conducted in French and sometimes in English, she said. "But the Venezuelans only speak Spanish."
While Lefebvre acknowledges that the tents have provided much-needed shelter, she points out that they don't have floors. "You know what's going to happen when it rains? That ground will turn to mud." Moreover, she says, with so little space between tents, and so many people living in each one, Pinchinat represents a major fire hazard. "It would be very, very difficult to evacuate everyone if you ever had to."
It was in rapid-fire Spanish that Capt. Chapparo explained how the Venezuelans had come to be in Jacmel in the first place: On January 13, the day after the quake, President Hugo Chavez dispatched a team of 100 experts to survey the damage and perform rapid needs assessments throughout the affected area, he said. A week later, soldiers were on the ground, digging latrines, setting up tents, clearing rubble, "working all day in the hot sun for the Haitian people.
"We were the first country in the world to put roofs over the heads of the people here," he said. "And we will be here for as long as it takes to get the job done. We still have to finish putting up the rest of the tents, and we're going to build a school big enough for 100 children. It could take 6 months. It could take 2 years. We don't know right now."
"I'm glad they're here," said Jean Pierre Moncy, a resident of Pinchinat whose home was destroyed in the earthquake. "The Venezuelans, the Spanish, the French, the Canadians, the Americans: they've all helped improve our situation. But the tents are very hot, and you have to share with other families. There isn't much privacy."
On a recent afternoon, Maximo Tampoa, a 25-year-old engineer in the Venezuelan Civil Defense, walked around Pinchinat with three cans of spray paint: one red, one yellow, and one blue. "It's important that they know who has provided this shelter -- that it comes from our country," said Tampoa. "So we paint the flag on all of the tents." As though mocking his efforts, the letters "U.S." remained clearly visible underneath.
Both Tampoa and Chapparo knew that the very flag they were painting had been created in Jacmel more than two centuries ago. On March 12, 1806, the "Generalísimo" Francisco de Miranda, predecessor of the revolutionary leader Simon Bolivar, whose vision of a unified South America has become Chavez's own, raised the original Venezuelan tricolor on the ship Leander, anchored at the time in Jacmel Bay.
At end of the day, said Lefebvre, it's the government that has to decide how aid is coordinated and who manages its distribution among populations in need. "We continue to advocate for moving half of Pinchinat to another location in order to reduce the crowding and provide a safer environment," she said. "We already have a site identified. Now we're just waiting for the government's approval."
With regard to the Venezuelans, Lefebvre said that communication has improved, but only marginally. "We learned the other day that they're moving their team of doctors to Leogane and that another team of Cubans will replace them." She hopes the latter will choose to work through the cluster system rather than going it alone. "We're only here to support them. That's our role. We would be more than happy to mobilize the resources they need, but we have to know what those are first."
Support HuffPost
The Stakes Have Never Been Higher
Related
Popular in the Community