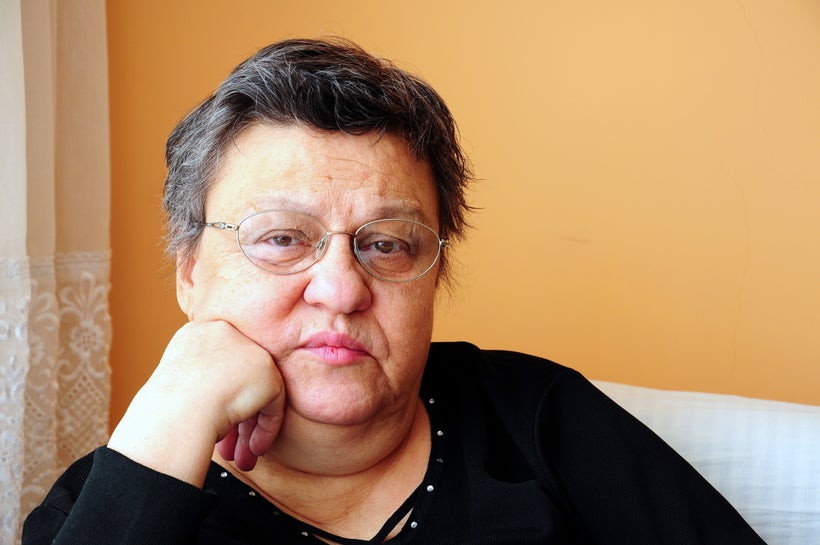 Since her eyesight began diminishing, 85-year-old Mrs. V had given up things she enjoyed, one after another. She was unable to read, which she missed enormously, then she grew frustrated by the blurry picture when she tried to watch television. Because of a recent fall, she lacked confidence moving around her Harlem apartment, let alone going for a walk. Living on her own, she was lonely and easily agitated.
Social worker Sandra Thomas was referred to Mrs. V's case because of her vision impairment, but she quickly discovered challenges—and began creating solutions—that went beyond vision loss. By listening closely, she heard signs of grief from the death of Mrs. V's only daughter a couple years earlier, and came to understand that Mrs. V was getting little pleasure out of life. When Sandra assessed Mrs. V for depression, her resulting score prompted a discussion about treatment.
Vision loss and hearing loss are common in older people. One in three Americans age 65+ suffers from some form of vision-reducing eye disease, and more than two-thirds of people 70+ have "clinically meaningful" hearing loss. But this does not mean the impairments should be dismissed as simply a normal part of aging. Rather, such symptoms should be addressed by a comprehensive care team that can provide both physical treatment and psychosocial supports. As a nation and a health care system, we are coming to appreciate that the best way to treat health issues—especially in vulnerable populations like the frail elderly—is to see each person as a whole and treat each issue in the context of an entire life.
As Mrs. V's case shows, vision and hearing loss, if not treated properly, can also cause a cascade effect, reducing mobility and day-to-day pleasure, deepening a sense of frailty, and potentially precipitating a downward spiral in health and well-being. Both hearing loss and vision loss have been associated with increased risk of depression, anxiety and mood disorders, as well as an increased risk of falling, as Sandra found with Mrs. V. These losses can add to an older person's sense of social isolation. A study by Johns Hopkins and the National Institute on Aging found that hearing loss increases the risk of dementia as well, while vision impairment increases the potential for medication mismanagement, and contributes to difficulty performing activities of daily life such as bathing and dressing.
Once vision or hearing loss is addressed in a comprehensive way, however, many people—including Mrs. V—experience a significant improvement in quality of life. The treatment may begin with proper eye glasses or hearing aids, and regular maintenance and assessment of that equipment. But the plan of care should also include patient education, coping skills, connection to community resources, and regular reassessment of needs.
As part of her coverage through VNSNY CHOICE Health Plans, Mrs. V received and was educated about adaptive equipment that included a talking clock, a light-up phone and a cup that sounds an alert when it is full. Sandra instructed Mrs. V's brother, who lived several hours away, on how to remove obstacles in the apartment to prevent another fall, and discussed with him the importance of extended family visiting his sister as regularly as they could. Importantly, Sandra also connected Mrs. V to community resources that might bring enjoyment back into her life. Recalling the delight Mrs. V expressed the few times a neighbor's grandson came over to read to her, Sandra connected her client to the Andrew Heiskell Braille and Talking Book Library, which is part of the New York Public Library and provides special-format audio books for New Yorkers who are physically unable to read standard print.
"She was elated about the talking books," says Sandra, a clinical support social worker with CHOICE Social Work and Behavioral Health. "She loved to read but hadn't been able to for so long, and her enjoyment really took off."
In fact, Mrs. V's symptoms of depression lessened significantly. While she had scored at the threshold for depression on an early behavioral health assessment, once she began digging into books of all genres again, a subsequent assessment found no concern for depression.
Mrs. V's story is a great example of how Managed Long Term Care (MLTC) health care plans help people age safely and comfortably at home. These plans, which are becoming more important as the U.S. population ages, coordinate all the various elements of an older person's care in a responsive and collaborative fashion, taking into account his or her psychosocial as well as physical well-being.
"When that call comes in for one thing—whether it be a plan member's vision problems, financial management, bedbugs, or losing their Medicaid card—you listen carefully to see what else is going on with the patient," says Sandra, who has been a social worker for eleven years. "You have to see the big picture, then use your professionalism, common sense and practical solutions to make suggestions. Sometimes, it's the little things that make a huge difference in how they feel and how they are able to manage. Seeing the big picture helps you see the little things."
Calling all HuffPost superfans!
Sign up for membership to become a founding member and help shape HuffPost's next chapter
This post was published on the now-closed HuffPost Contributor platform. Contributors control their own work and posted freely to our site. If you need to flag this entry as abusive,
send us an email
.