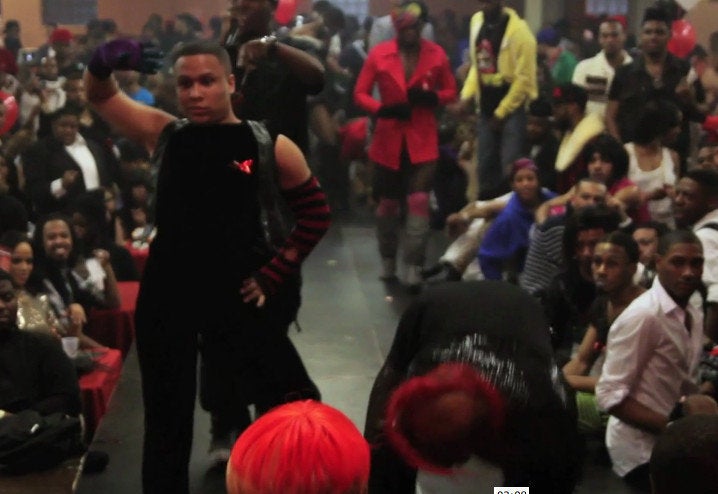 New York City is the birthplace of vogue, an artful dance that originated in the black and Latino LGBT community. Escuelita, opened in 1996, is the last remaining vogue club in the city. Because of an underage drinking and licensure violation, Escuelita's existence was threatened earlier this year.
"I came out as gay when I was 18 years old," said Louie Garay, the club's manager. "And Escuelita was the first place I went to meet people like me." For many people, Escuelita is also the first place they caught a glimpse of the artful dance form called vogue.
Madonna brought vogue into the mainstream in 1990 with her song by the same name. She saw vogue, danced the "old way," for the first time in the Sound Factory in Chelsea, a club much like Escuelita. Fascinated, she hired several dancers from the club and wrote her song in honor of the dance that was taking over the underground club scene in the LGBT community.
The Sound Factory in Chelsea closed almost 10 years ago. Other vogue clubs, including Better Days, Sally's Hideaway, and Club Spirit, have also closed, leaving only Escuelita to carry on the dance traditions.
By most historical accounts, vogue was first danced by black drag queens in Harlem. Admiring the rich and glamorous white women they saw strutting down Fifth Avenue and posing as models in the magazines, drag queens would emulate those women in the nightclubs. Using exaggerated hand gestures and elaborate poses, they stood in front of club mirrors and slowly played out the Fifth Avenue scene.
Eventually, they began to create their own scenes, using their hands to tell the stories of how they dressed in drag, put on makeup, pulled up stockings, and teased their hair. The result was a glamorous string of poses they named "vogue," after the well-known fashion magazine.
"To the drag queens of that time, vogue was a beautiful escape, a way to dance away the pain and oppression they were experiencing," said Kevin Omni Burris, a member of the community since 1975. "But beyond that, it was a celebration of their beauty."
Janese Bussey is a voguer. But her form looks very different from that of the pioneering drag queens. Bussey's style is highly demanding, athletic, a specialized dance with fluid arms, straight lines, and graceful backward falls, combined with feminine accents that almost seem out of place in such an energetic genre.
"Voguing is not easy," she said. "And it absolutely has to come from the heart."
Beginning in the late '80s, vogue started to involve the whole body, with four new elements -- the "new way" -- to enhance the hand performance.
The "duckwalk" involves crouching down near the floor, knees bent but remaining on one's toes and slightly kicking the legs out while moving the arms fluidly to the beat. The "catwalk" is performed by sashaying the hips back and forth while remaining strongly on the toes of the feet. Arms and hands are free to pose and move to the beat of the music. "Spinning" is a majestic series of turns that often leads to the last element, called the "dip."
Bussey describes the "dip" as a "free-fall onto the ground, back first, but then you tuck your strongest leg quickly underneath yourself and let it catch you."
But just as it was in the beginning, vogue is essentially still a tool for storytelling.
Dancing the "new way," Bussey says, the "dip" is equivalent to putting a period at the end of a sentence and allows the dancer to start a new sentence in their story.
Bussey sits on her bed in East New York, lipsticks, blushes, and eyeliners splayed out around her. The tall dancer is getting ready to go out to a late-night ball at Escuelita. She matches her hot-pink eyeshadow to the color of her lipstick and shirt. Her hair is perfectly smoothed down. She wears tight black jeans and sky-high heels. Her skin is flawless.
A transgender woman originally from Hartford, Conn., Bussey grew up in multiple group and foster homes. Left alone a lot, she danced. It was her comfort. She was caught several times in her middle-school gym, a lone figure on a dark stage, dancing until she literally passed out.
At age 15 she left for New York City and immediately went to the Christopher Street pier, where other kids from LGBT communities of color were congregating. There, she saw vogue for the first time. Immediately hooked, Bussey wanted more of the dance. Her friends took her to a ball to see how the legends were doing it.
Vogue contests started in the early 1970s. Competitors wanted to make better face, do more exaggerated poses, and create the most passionate dance. In order to compete, the community began to divide itself into houses named after famous fashion designers, such as Dior, Balenciaga, Yves Saint Laurent, and Chanel. The houses served as places where people found close-knit families, support, and acceptance. Houses also hosted and competed against each other in elaborate and glamorous competitions called "balls."
After 17 years as a voguer Bussey has won several competitions and now sits on the panel of judges at various balls. She also teaches LGBT youth between the ages of 10 and 16 to dance in a group called New Agenda.
"Each time I vogue I tell a different story," said Bussey. "If I am mad or excited, it will come out in my vogue. It is the ultimate form of self-expression."
For those in the ball community, vogue has offered a binding sense of identity through its art form, even when outside forces were threatening their very existence. In the mid-1980s the AIDS epidemic hit the community hard. While gay and bisexual men represent only 2 percent of the U.S. population, they are the population most severely affected by AIDS. According to the Centers for Disease Control and Prevention (CDC), it's also the only high-risk group experiencing a steady increase in new HIV infections since the early 1990s. Between 2006 and 2009 there was a 48-percent increase in new infections among black gay and bisexual men ages 13 to 29. Today, an estimated one in five gay men is HIV positive.
"I have lost 454 friends to that disease," said Burris. "No, 455," he quickly corrected himself. "Paris Dupree died last year."
Omni's experience is not uncommon for members of the ball community.
Luna Ortiz, 42, hosts Vogue Tuesday at the Escuelita Club. A member of the community since the '80s, he also works for Gay Men's Health Crisis (GHMC) and runs a YouTube channel where he interviews and documents members' stories.
He found vogue through HIV. "I was infected at age 14, with my first sexual partner," he said. "I thought I would die by the time I was 16, so I tried to fit a lifetime into two years."
Attempting to do just that, Ortiz came out as gay and began to dance and go out to clubs. It was there that he first saw vogue and became inspired by its artistic value and and the talent of those performing the dance. When he turned 16, still alive and healthy, he decided that he would beat the disease. Voguing, fashion, and the ball community have sustained him.
But the epidemic, he says, forever changed the ball scene. Ortiz says it was common during the early AIDS years to attend balls and hear who was the latest person to die.
"I became numb to the fact that all of my friends were dying," he remembers today. "From my group of 30 or 40 people, there a only three of us left," adding that the best voguers of his time are gone.
Edwin Zapata, using the stage name "Nunney Karma," teaches "vogue femme" classes to students from all over the world.
"You are thinking too much!" he yells to his students at a dance studio in Manhattan. "Let the music hit your body, not your mind."
One of his students, Nicole Renojo, describes herself as a "hip-hop and breakdancer" and feels that vogue helps her practice how to express herself. She says, "The results translate to my other practices."
Karma saw vogue for the first time when he was 17 years old at Club Spirit. Having just come out as gay, he went out that night to dance and meet boys. Instead, he found a dance that would change his life.
"I was walking around seeing what was going on when I saw this guy in the corner who was literally capturing the attention of everyone in the building." said Karma. "I gravitated towards him. I couldn't take my eyes off him."
Karma was watching Willie Ninja, a legendary fixture of the Harlem ball scene. Ninja taught kids late into the night on the Christopher Street pier and at the underground clubs, and he eventually became the mentor who taught Karma everything he needed to know about vogue.
Karma begins the class by teaching pieces of the dance's history and culture. In fact, he weaves those facts throughout every part of the class. "I think to the drag-queen pioneers of the past, vogue often meant survival," he said. "For me it's about keeping their legacy alive."
At the end of class, students compete against each other, as if they were attending a real ball.
Willie Ninja was HIV-positive and died from complications of the disease in 2006. He was 45 years old.
"That was a very hard time for me," Karma said slowly. "He touched so may lives. And he did it all through vogue. I strive to be what he was, as a dancer and as a person."
Last year, according to Garay, the New York State Liquor Authority began a campaign of stings, putting undercover cops into venues looking for underage drinking and licensure violations. One security guard at Escuelita, out of the six working that night, was found without a license in his possession. He claimed he left it at home. Moreover, one bartender sold an undercover cop alcohol without first checking for I.D. Both the bartender and the security guard were fired.
The ensuing Liquor Authority trial lasted for several months and forced Escuelita to close the club to people under 21, leaving the 18- to 20-year-old crowd, which previously wore arm bands that allowed them to dance but not drink in the club, with no place to vogue. "Many young people felt like this was the only safe space they had," said Garay. "I don't know where they're going now."
But even more severe was the threat to the club's liquor license. If that was lifted, Escuelita was out of business.
Garay held his breath on Feb. 29 as Authority Chairman Dennis Rosen looked out over the crowded meeting room and the 15 supporters who accompanied Garay to voice their concerns.
The club could keep its license.
Obviously relived, Garay hugged his supporters, thanking them for their help. "This club means so much to the community and to Vogue," he said. "God, we just keep surviving."
Support HuffPost
Every Voice Matters
Popular in the Community