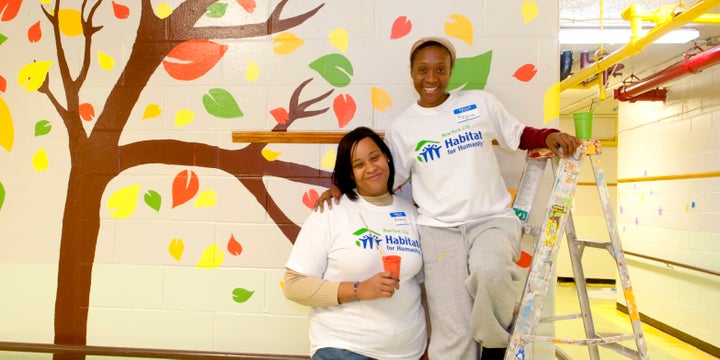 Americans are among the most generous people in the world – not only because of our substantial financial and in-kind contributions to charities, but also the countless volunteer hours individuals dedicate to thousands of community and national organizations.
Volunteerism is crucial to the success of all our communities – concerned citizens tutor children at after school programs, care for seniors, collect food for hungry families, respond to natural disasters and more. It is for this reason that the country recognizes April as National Volunteer Month and the last week of April as National Volunteer Week. Celebrating these efforts helps drive volunteerism and bring attention to the organizations that need hands-on support.
One of those organizations is my own – Habitat for Humanity New York City. We rely on our volunteers – thousands each year – to help us build and preserve affordable housing, revitalize community centers, make our ReStore a success and much more. We know that our city would lose not only safe, decent housing, but a bit of its spirit, if our neighbors didn't come together to help one another.
We depend on volunteers every day of the year, for there is good work to be done every day of the year!
We are blessed in New York City to have numerous organizations that can use your help right now and throughout the year. The opportunities are limitless – whether the issues are of personal importance to you or just sound like the most exciting activity!
First, check out New York Cares, a wonderful organization that can help you find ways to get involved in your community. They even sort volunteer opportunities by the issues you care about and that fit your schedule. But I also have some personal recommendations than span all five boroughs and varied interests:
For the Brooklyn-based animal lover, you might find a rewarding experience in dedicating some of your time to The Brooklyn Animal Resource Coalition (BARC). The non-profit, no-kill animal shelter provides food, shelter, and medical care for homeless and abandoned animals in North Brooklyn. Volunteers provide critical support roles, including dog walking! Whether you're headed home from work and have a couple hours to spare or if you want to get a group of friends together, BARC will have a need that you can help fulfill. And you get to hang out with dogs – it's a win-win!
New York City is a culture capital of the world for a reason – we have a lot of artists! Art is a transformative tool and can be especially transformative for our city's youth. CITYarts partners young New Yorkers with professional artists to create beautiful displays of public art. To date the organization has collaborated with more than 500 artists to create over 300 projects in communities throughout the city. And they could use your help – from applying the finishing touches to the Harlem Peace Wall Restoration, helping with office work, staffing their annual benefit gala, and more. You don't have to be an aspiring artist either – all you need is the will to restore, create, or re-create public art and engage youth in art education workshops and on-site projects.
Nearly 1.4 million New Yorkers face hunger every year, a staggering number that includes nearly one out of every four New York City children. Since 1982 City Harvest has pioneered food rescue by partnering with supermarkets, manufacturers, farmers markets, and restaurants to save excess or unused food and redirect it toward families in need. Last year the organization collected over 55 million pounds of food and delivered it free of charge to over 500 soup kitchens, food pantries and other community organizations throughout the five boroughs. Volunteers can work in their distribution center, or collect food from partners and hand it out directly to low-income New Yorkers. For the foodie flocking to Astoria, Queens, City Harvest also operates a volunteer-driven mobile market and can connect volunteers to pantries and soup kitchens throughout the borough or elsewhere in the city.
Since 2005 New York City's graduation rate has increased by nearly 26 points. Despite these remarkable gains, every year about eight percent of New Yorkers drop out before ever receiving a high school diploma. New York City's Department of Education program Pathways to Graduation (P2G) helps youth who exit the primary education system get back on a path toward receiving a High School Equivalency (HSE, formerly known as GED) diploma. Of the five boroughs, the Bronx has the highest dropout rate but through the help of volunteers at P2G, that rate is lower than ever before. P2G offers education-minded volunteers an plenty of opportunities, from tutoring HSE students to providing English-language learners casual conversations to help them build their confidence and vocabulary. No teaching experience is even required – if you can speak English or do basic arithmetic, you can share your knowledge and help a young person in need.
Did you know that Staten Island has some of the most beautiful parks and nature preserves in the five boroughs? For the urban-naturalist, Clay Pit Ponds State Park Preserve – a 260 acre nature preserve near the southwest shore of Staten Island – is an adventure waiting to be explored. The park includes wetlands, ponds, sand barrens, spring-fed streams, and woodlands. It also needs volunteers to help preserve nature trails, staff education programs, and support special events.
No matter what you're into or your borough of choice, there is a volunteer opportunity waiting for you step forward and fulfill! Don't just wait until next April – sign up today and make volunteering a part of your schedule.
And of course, don't forget Habitat NYC is always looking for caring volunteers to help us build a better city for everyone.
Get out there and volunteer! You'll help build a better New York and share in the personal reward that comes with an act of service to others.
Related
Popular in the Community