Wait a minute! Your dentist didn't let you in on the trade secret?!
But I must admit, this secret is so good, that the students, faculty, and staff at Harvard School of Dental Medicine (HSDM) just couldn't keep it quiet any longer! So at our Give Kids a Smile Event (GKAS) 2017, on the year of HSDM's 150th anniversary, we made the secret known: the dental office is really filled with treasure - dental treasure!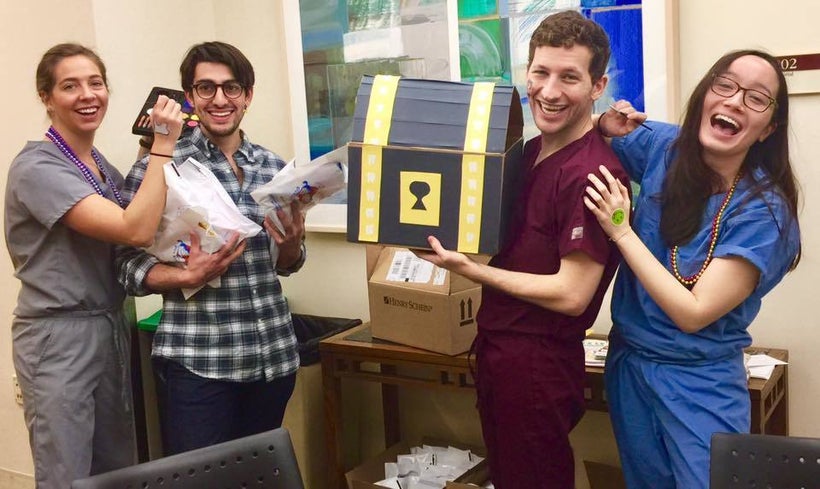 On Saturday, February 11, 2017, Harvard School of Dental Medicine took 35 Boston children on a treasure hunt at the dentist! With the incredible support of the Massachusetts Dental Society, the Harvard COOP, the American Dental Association with Henry Schein and Colgate, and, of course, Harvard School of Dental Medicine, volunteers provided sealants, exams, cleanings, mouthguards, xrays, education, and more. We even created scholarship opportunities so our GKAS patients can maintain continuity of care at their new dental home. The event placed medical health - and a Piglet Wellness Check! - side-by-side with oral health care and education. And as a result, parents left saying HSDM's GKAS event was a "wonderful opportunity," "terrific," and "a great reminder of how the heart and teeth relate." We at Harvard School of Dental Medicine, of course, were happy to reply that we proudly put the heart in the dental office every day!
But how did we put the treasure in the dental office, too? With a map, of course!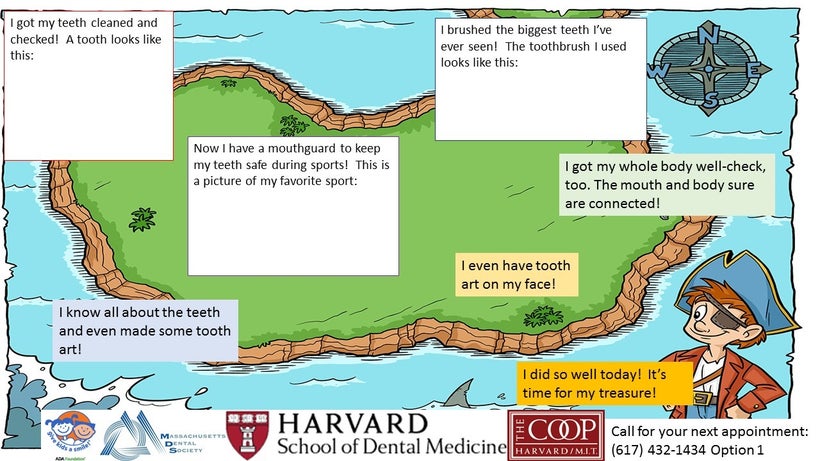 The kids at HSDM's Give Kids a Smile event went through five stops before reaching their treasure:
1. The dental cleaning. With xrays, Mr. Thirsty, some Fluoride, oh boy! Click here for some more about what you can expect at your child's dental visit.
2. Operation mouthguard. Because we all play sports, but it's time we play tooth-safe. Athletes are actually 60 times more likely to incur dental harm if not wearing a mouthguard!
3. Dental arts and crafts. Where our GKAS kids brushed some of the biggest mouths they had ever seen, and they learned the right way to brush and floss in both art and play!
4. Piglet's Wellness Check. The mouth is definitely connected to the body! And as our GKAS kids listened to their hearts, they were not shy about sharing those clean and sparkly smiles!
5. Facepaint Finale. Because it's fun to show off what we've learned with our well-brushed smiles, but it's even more fun to put some paint on our cheeks as a frame!
With patients of all ages at this year's Give Kids a Smile event, the HSDM clinic filled with such joy, smiles, and cheer. We are so grateful to all of our sponsors, our volunteers, and especially our patients for prioritizing oral health - even in the midst of a Boston snowstorm! Caries are a highly preventable and yet highly prevalent chronic disease among children and adolescents, four times more common than adolescent asthma according to the CDC. So, if those cavity bugs won't take a rest for the weather, neither will we!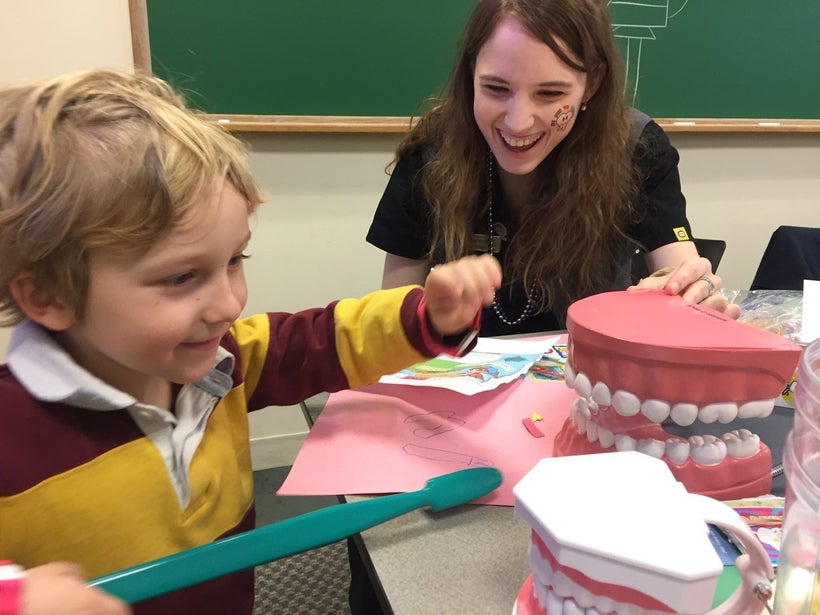 Are you ready take your kids on a dental treasure hunt? Contact your local dentist or pediatric dentist, turn the day into an adventure, and get ready for a lifetime of healthy smiles! And be sure to like the Harvard School of Dental Medicine Give Kids a Smile Facebook page to stay up to date with the next oral health care event!
"We came, we brushed, we smiled!" - Mirissa D. Price, 2019 DMD Candidate, Harvard School of Dental Medicine, Co-coordinator of HSDM Give Kids a Smile, Massachusetts Dental Society Foundation Ambassador, Future Pediatric Dentist
The doctor said she would live in a nursing home, confined to a wheelchair, crippled by pain. Instead, Mirissa D. Price is a 2019 DMD candidate at Harvard School of Dental Medicine and future pediatric dentist, spreading pain-free smiles, writing through her nights, and, once again, walking through her days.
REAL LIFE. REAL NEWS. REAL VOICES.
Help us tell more of the stories that matter from voices that too often remain unheard.
This post was published on the now-closed HuffPost Contributor platform. Contributors control their own work and posted freely to our site. If you need to flag this entry as abusive,
send us an email
.