Back in the mid-2000s, we met a charming young couple, Lee and Andrew Sequeira, who had just started a new business. It was called Sparkle Plenty Designs and they made creative, fun and sparkly T-shirts. They started the business in their home, which was a few blocks from ours, and in a short period of time, it began to really take off.
A mutual friend told them we had an apartment in our triplex that was available for rent and put us together. It was such a great match for all of us. We became great friends over the years and before long they outgrew our little space as the business continued to prosper and moved to a larger space.
One of the reasons we became such good friends was our mutual views on politics, human rights, and all things that we agreed made the U.S.A. the greatest country on the planet. The planet we care deeply about.
Lee and me at an Obama rally, 2007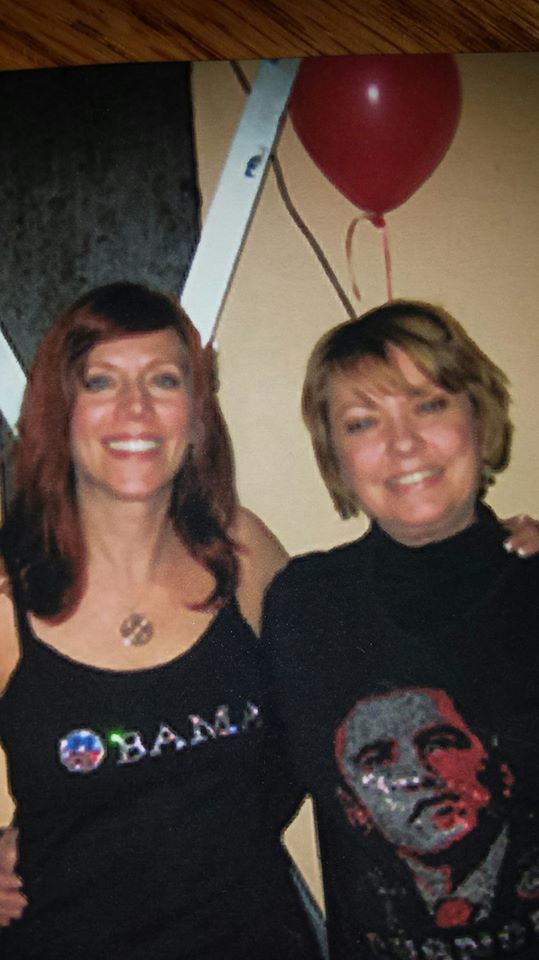 This year they took their love of country and democracy and created a new line of T-shirts for We The People and are donating the proceeds to The Human Rights Campaign.
You can read my interview with Lee below…
Lee, why did you feel a need to create these shirts and donate to The Human Rights Campaign?
With all the negativity swirling around us -- especially after the Presidential election last November -- we felt it was the perfect time to spread messages of love, unity, sisterhood, equality, etc., in an attempt to bring us together as human beings, not tear us apart.  We're giving the wearer a chance to project inspirational and powerful messages with shirts that make the perfect statement to spark up meaningful conversations.  I called the line "We the People" and I drew out those words into a heart shape in my handwriting, which we tweaked with a matching font, which became an actual screen to make the shirt in "ink". We usually work only with rhinestone ("bling") but this new move of venturing into screening has been a great move for us -- we were thrilled to see the finished product!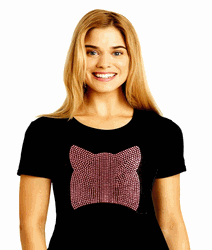 The Human Rights Campaign seemed like a fitting choice for this line, because the HRC covers so many causes we care about, plus we were heartbroken to read about the proposed budget cuts to programs created to help women in need (healthcare, women's shelters, etc.) and LGBTQ rights.  Feeling hatred for someone because of their race, religion or whom they choose to love is unacceptable to us, plain and simple - we believe in EQUALITY. I know you and Andrew have had a very successful business for years now. You have influenced many people to not be shy, enjoy the bling! This campaign seems to have more of a serious slant, to me. Will you be adding more of these designs? Yes, we hope so!  Usually, we're making custom shirts for small businesses, teams, groups, fundraisers, etc. which is fine, since it feels great to help someone's brand or message come to life in sparkling rhinestones, but with our very own new line, we're creating something we have a passion for, and we do hope it's a success! (and I have to say I love the way the 'kitty hat' came out in rhinestuds -- it's too cute!)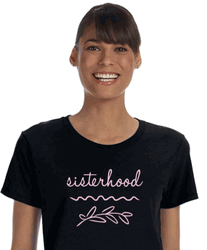 Do they come with care instructions?The shirts have a tearaway tag (which I love -- no itchy tags on your neck).  These tees are "tagless" - you just tear out the tag very easily, and machine wash in cool or warm water and air dry.  This is best for any t-shirt, and it will make them last much longer and look their best longer. You can dry on cool to "fluff" after you hang the tees first if you wish.  You can use the same care for our screenprint or rhinestone shirts, no need to hand wash (just please don't use heat). 
How do the sizes run?Because no woman wants to go to a store and buy a 2XL if she's a size 8, these shirts are sized for women (not tiny junior sizing like so many brands).  We always do tell buyers to check the size charts though, we love surprises, but not when it comes to sizing. We want the buyer to love their new shirts and begin showing them off immediately.
Lee, I LOVE this new line and, I love you and Andrew for being so conscientious and generous. Anything else you'd like to add, Lee?I'd love to end with this quote by Mahatma Gandhi "You must not lose faith in humanity. Humanity is an ocean; if a few drops of the ocean are dirty, the ocean does not become dirty." In other words, KEEP THE FAITH.
I hope you'll all check out this new line and get some for yourself and your friends! Any questions for Lee? Add them in comments!
REAL LIFE. REAL NEWS. REAL VOICES.
Help us tell more of the stories that matter from voices that too often remain unheard.
This post was published on the now-closed HuffPost Contributor platform. Contributors control their own work and posted freely to our site. If you need to flag this entry as abusive,
send us an email
.