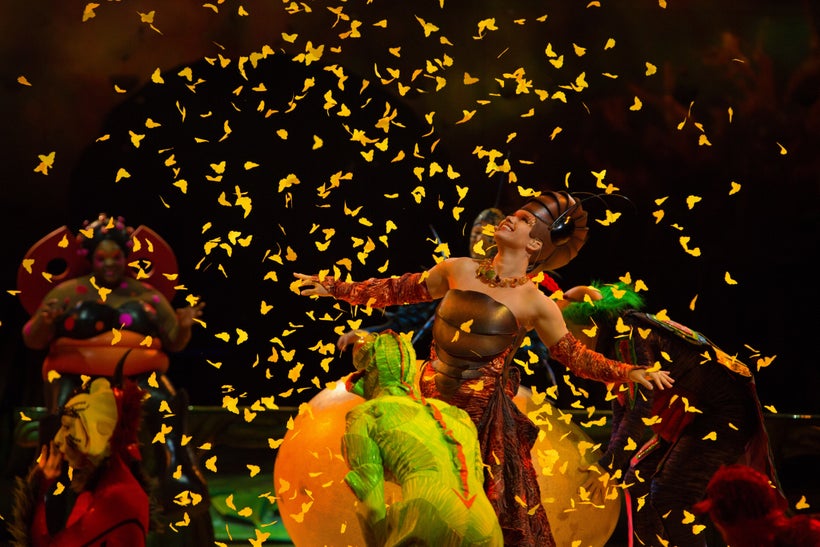 Cirque du Soleil's vibrant 'OVO' just landed and we're like, totally bugging. To the music of Brazilian Samba, OVO beats its wings in a flurry of butterflies, dragonflies and more. We sat down with Company Manager Heather Reilly and Artistic Director Tim Bennett to talk about Cirque's high-flying production.
I think a mythical return to the forest pulls at our subconscious, especially in urban areas. There's an Instagram of the Cirque bugs asleep on the subway, riding it to work. Some days it can feel like we are losing touch with our animal natures and the natural world. What themes does OVO explore?
OVO was created as an homage to nature, and as a celebration of the value of the natural world. OVO explores the playful, colorful, and surprising life that exists all around us. It looks at the bug colony and the harmony within it.
OVO also examines what happens when a Foreigner bug happens on the insular community, and how he is initially rejected because of his differences, but ultimately embraced and loved when the colony realized that the similarities between the insects outweigh their differences. It's a universal story of inclusion and acceptance, and is quite timely today.
OVO features a hundred people from 21 countries speaking 12 different languages. Bugs aren't very similar to people, and yet we are all descended from the same origins of life. What might be bug-like about human nature?
Humans, like bugs, are industrious, loyal, curious, flirtatious, courageous, and kind. We can be exhibitionists or introverts. We enjoy the comfort of those similar to ourselves, and may be frightened of people who are different… until we get to know them. One might also ask "what might be human-like about bug nature…"
OVO's emphasis on biodiversity is reminiscent of the opening ceremony of the 2016 Rio Olympics in Brazil, home to the world's largest rainforest, the Amazon. Cirque du Soleil artists tap into these same emotions. How can theater set the stage for environmental awareness and conservation?
OVO was created in 2009 as the 25th anniversary production for Cirque du Soleil. For that anniversary, the creative team decided to do a show that reflected Cirque's commitment to supporting the environment and the sustainability of our planet. It was decided a show celebrating the earth, and in particular the creatures of earth – insects – would be a great way to do that.
Theater, circus, or any type of public performing arts offer a wonderful opportunity to tell stories that reflect or support the value of environmental awareness. By offering stories that encourage respect for our environment, audiences have the opportunity to learn while being entertained – often without even realizing that a lesson is taking place!
Cirque du Soleil also supports One Drop, an organization founded in 2009 by Cirque's founder, Guy Laliberte, with the mission of providing sustainable access to safe water.  To date, projects have been done in Central America, India, and West Africa.  (More information can be found at: onedrop.org/en.)
I absolutely love the makeup for OVO, which is iridescent, colorful and fun. There has been an explosion of costume makeup as a form of creative self-expression, driven by social media influencers like Promise Tamang. How do Cirque's makeup tutorials and new YouTube series play into that?
Cirque has always been known for our fantastical make-up since we began. Costumes and make-up that stretch the imagination and delight the visual senses have been a hallmark of what we do, and they, along with uniquely identifiable music, top level acrobatics, rare and unusual circus skills, and the intimate big top environment are what have made Cirque groundbreaking and special, with an appeal that spans countries, cultures, and ages.
The YouTube tutorials and series give fans access to some of those imaginative elements that have previously been out of reach, and allow those fans to see behind the curtain into the "secret" world of Cirque.
Thanks for sharing that hidden world with us today! It's a beautiful reminder that there is magic and mystery all around us, if only we choose to see it.
Cirque du Soleil's 'OVO' is on tour in Baltimore and stopping next in New York, Boston and Quebec, Canada. Tickets are available at cirquedusoleil.com/ovo.
Calling all HuffPost superfans!
Sign up for membership to become a founding member and help shape HuffPost's next chapter
This post was published on the now-closed HuffPost Contributor platform. Contributors control their own work and posted freely to our site. If you need to flag this entry as abusive,
send us an email
.