In a time when some leaders handle words with the same respect as carry ons being thrown onto an airplane, Bruce was one person who taught me that the order of letters still matters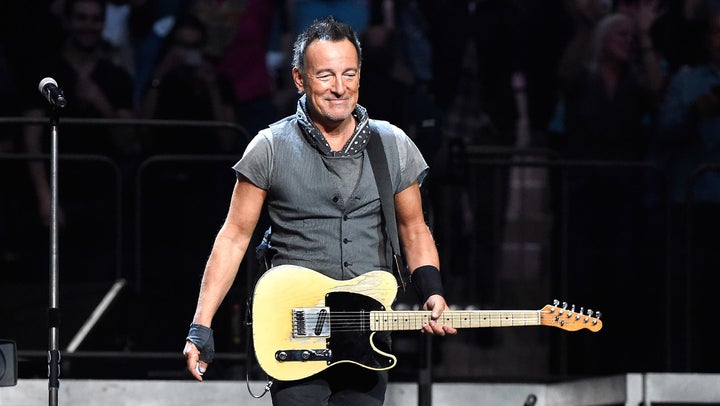 I was barely 20 when I travelled over 300 miles to see my first Bruce Springsteen concert in Nashville, Tennessee.
Admittedly, I wasn't a huge fan leading up to that first concert. Don't get me wrong, it's not that I didn't enjoy the music, I just had never taken the time to actually listen. I felt like Bruce's music was a TV show that I heard was good, so I would try to hop in on conversations, but I couldn't name any of the plot or characters. I knew some of the hits, "Born to Run, "Thunder Road," "Born in the USA." I also knew that my dad liked him. Can't tell if that made me like him more or less. But ultimately, I thought it would be a fun road trip with my roommates and a chance to skip class. So we packed the car and took off.
That show was like no concert I'd ever experienced before (and I saw Bone Thugs-N-Harmony when I was 12). A packed house, any attendee would describe it as three hours of lively, energizing Rock & Roll. But to me it was more that that — it was a seamless narrative filled with a stew made of honesty and genuineness that I'd never felt in any other music.
That night, as a college senior, I left the show feeling a few ways: rejuvenated, motivated and, most of all, empowered. Empowered to live. Empowered to be unapologetic. Empowered to be in the moment, and in turn help others do the same.
I began to write
I started playing his songs over and over — on my commutes, on my runs, when I was just laying around. And while his music has gave me a lot, one of the most important outcomes has been my love for writing.
The quote below is from his autobiography, Born to Run, and it's stuck with me.
"The primary math of the real world is one and one equals two. The layman (as, often, do I) swings that every day. He goes to the job, does his work, pays his bills and comes home. One plus one equals two. It keeps the world spinning. But artists, musicians, con men, poets, mystics and such are paid to turn that math on its head, to rub two sticks together and bring forth fire."
I remember putting the book down for a second. "Fuck. That's spot on," I thought.
I didn't want the mundane. I didn't want to go through the motions. Life wasn't always black and white to me.
Writing helped me figure out who I was. It encouraged me to share my opinions, challenge myself, make people laugh, and it often it pushed me to raise questions, even if I didn't have the answers.
For me, writing was more than a job or hobby. It was what I wanted to do from the moment I woke up to the moment I went to sleep.
Here's what Bruce taught me
A couple years passed between my first concert and the next time I'd see Bruce live. During that time I wrote, and wrote, and wrote, and wrote.
His songs acted as a guide:
"If I Should Fall Behind" taught me to be more honest about my relationships with others.
"Growin' Up" reminded me to always remember my roots, living in a Minneapolis suburb.
"Working On a Dream" was a constant reminder to work hard and be resilient in the face of failure and defeat.
The list goes on. It seemed as if I could effortlessly relate even the most specific songs to my personal experiences.
This is not as much about me as it is about the power of good storytelling. If anything, I'm the least important factor. My name can be substituted for so many others.
This is about believing that storytelling, and writing, can make a tangible difference. Good writing should be like a good meal: you don't forget about it after you're done eating. It sticks with you. One writer's article, or book, or song, is another person's inspiration to write — it's another person's inspiration to create and to make change. And the cycle continues.
In an era where some leaders handle words with the same respect as carry ons being thrown onto an airplane, Bruce was one person who taught me that the order of letters still matters.
The Importance of Writing
The bottom line is that writing can be powerful. Life changing, in fact. Writing can be a therapeutic way to reflect and make sense of the chaos around us. Even better, it's a way to educate ourselves and others. Intentional, thoughtful writing can help people come to terms with experiences and find a clearer path forward, creating lasting change and a more meaningful future.
Bruce Springsteen has continually helped me improve my writing. But more than that, his music and storytelling have helped me live a more honest, happier life.
Related
Popular in the Community